Overclocking the Radeon HD 5870: A Guide on Making a Good Thing Better
George Ross, February 22, 2010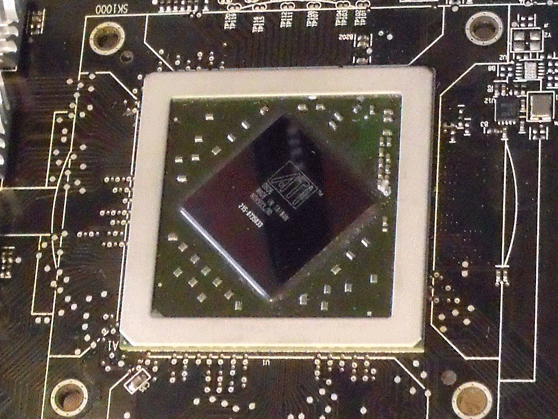 Introduction

Some people are content with having the fastest most advanced single GPU graphics card on the market. Then there are some people who want to see just how much if any more performance such a card has to offer. Today helping me to answer this question is Thermalright who supplied both the T-RAD2 GTX to keep that 334 square millimeter GPU cool and the VRM-R4 to cool down the HD 5870's toasty VRM area. Will I be able to reach the coveted 1GHz GPU clock?

VRM-R4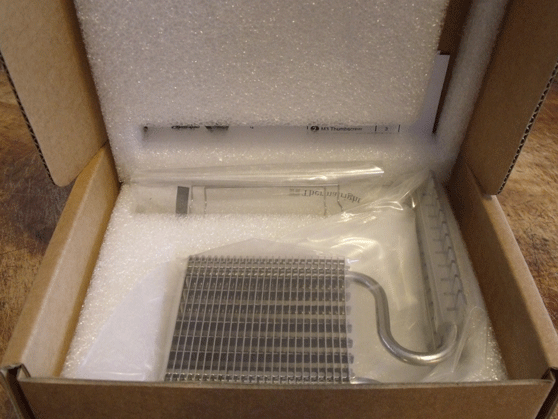 The VRM-R3/4 series of VRM coolers took right off where the VRM-R1/2 left off, but Thermalright was not content with just rehashing the VRM-R1/2 with the appropriate spacing between screw holes for the HD 5870/5850 series. They went and improved on there installation by adding 'Hand Trunable' screws to the mix making the installation a little easier than it was with the VRM-R1/2 series. They also moved the heatpipes around on the main heatsink some. They don't give you any thermal grease with the VRM-R4, but they do provide you with an extra thumb screw or 'Hand Turnable' screw as they call it. Bottom line is if your looking for the best way to cool your HD 5870/5850 series card's VRM area look no further than the VRM-R4 or R3 which ever way you swing.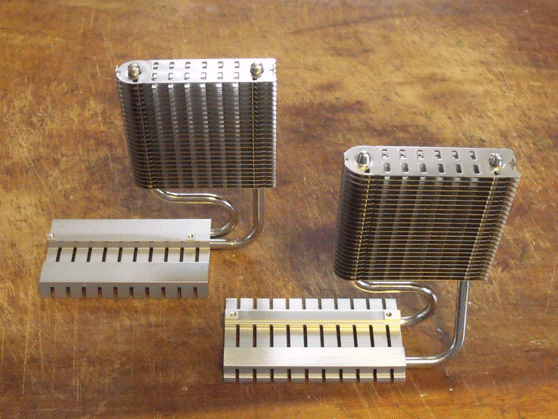 T-RAD2 GTX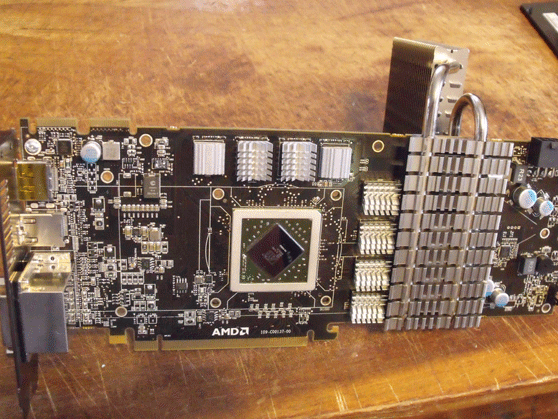 The T-RAD2 was Thermalright's answer to the criticism it took for the bulk of there HR-03 series of GPU coolers. The T-RAD2 GTX is also a little easier to install than the HR-03. The installation can be done without tools as could the HR-03. The T-RAD2 is also one of the few products of Thermalright's that I have seen come a fan or fans included. The only major drawback to the T-RAD2 GTX is that it takes up three slots because of the thickness of the fans. The T-RAD2 does a great job of keeping the GPU cool even when overclocked as you will see later in this guide. Even more impressive is how quite the two included 92mm fans are.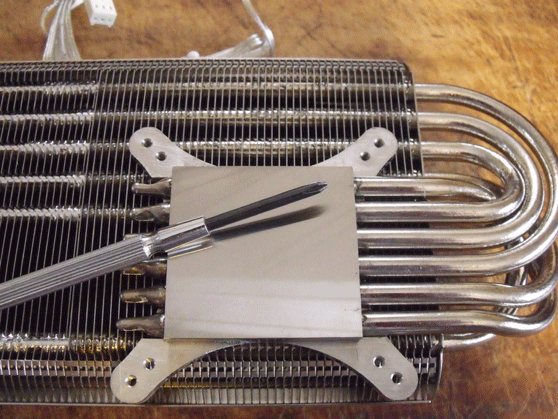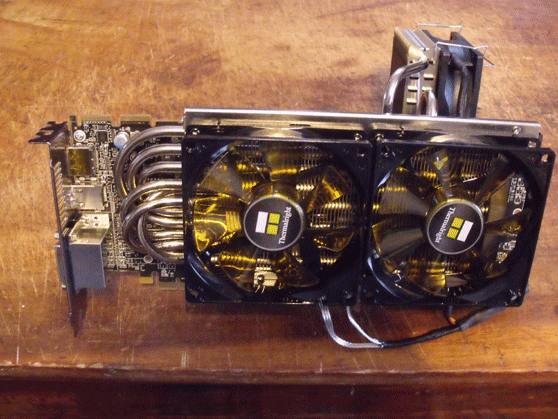 Overclocking

As is always the case with overclocking do at your own risk and your mileage may vary. While I did not reach the 1Ghz core frequency that I was aiming for settling for 955MHz core clock with no voltage increase feels pretty good.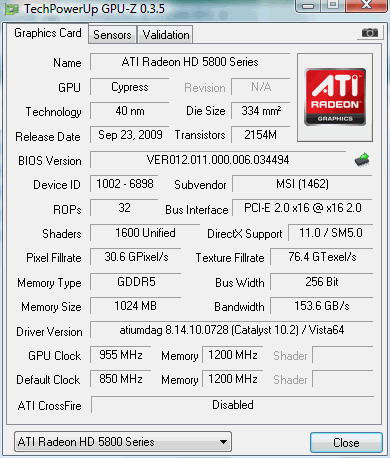 In order to use the Catalyst Control Center's Overdrive utility over the stock 900MHz limit I found a HD 5870 BIOS that allows you to clock your GPU at 1.8GHz and memory up to 2.6GHz. You can grab it here. After using the Overdrive utility to find the highest stable clock speed for the GPU I used TechPowerUp's Radeon BIOS editor to edit the BIOS with the desired clock rates and flashed it to the HD 5870 using ATIFlash.

Test Hardware

Used the old 3.4Ghz Core i7 rig to test this HD 5870 here are the rest of the particulars on this test system.
Processor
Intel Core i7-920 @ 3.4GHz
Motherboard
EVGA E758-TR
Memory
G.SKILL Trident 6GB DDR3 2000 (PC3 16000) @ 813 MHz (DDR 1626) 11-11-11-28 Triple Channel Mode
Hard Drive
Seagate Barracuda ES.2 ST3250310NS 250GB 7200 RPM 32MB cache SATA 3.0Gb/s
Video Card
Radeon HD 5870 @ 850MHz core 1,200MHz (4,800Gb/s) memory
Catalysy 10.2
Radeon HD 5870 @ 955MHz core 1,200MHz (4,800Gb/s) memory
Catalysy 10.2
Optical Disk Drive
Pioneer DVR-115DBK
Power Supply
Seventeam ST-850PAF 850W
Operating System
Windows Vista Ultimate x64 SP1
Gaming Benchmarks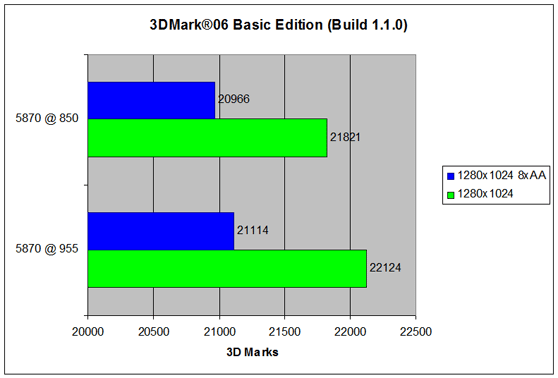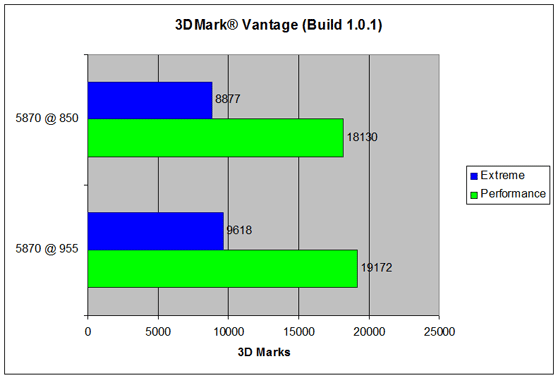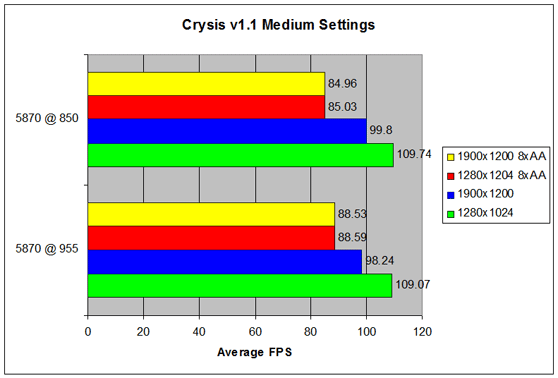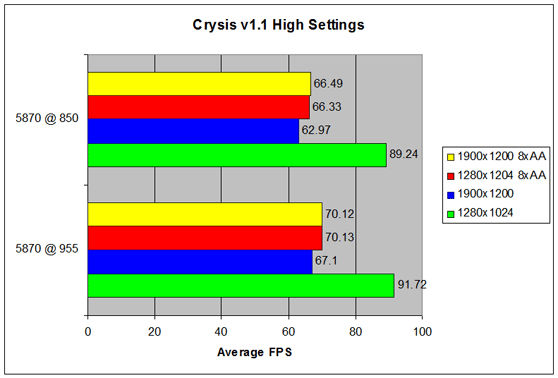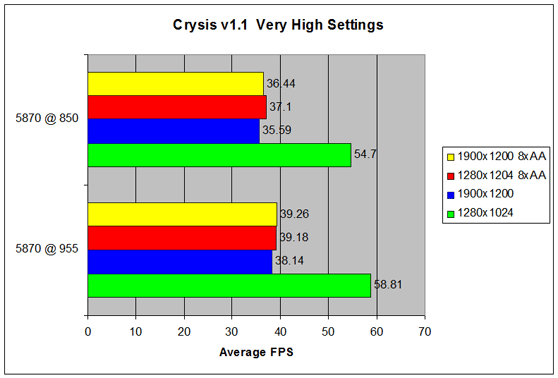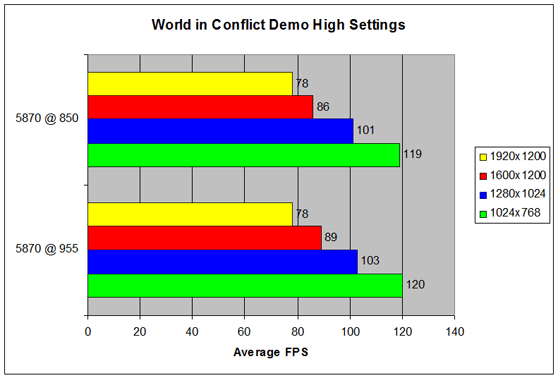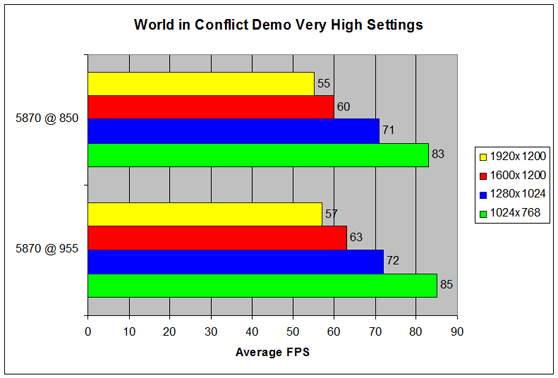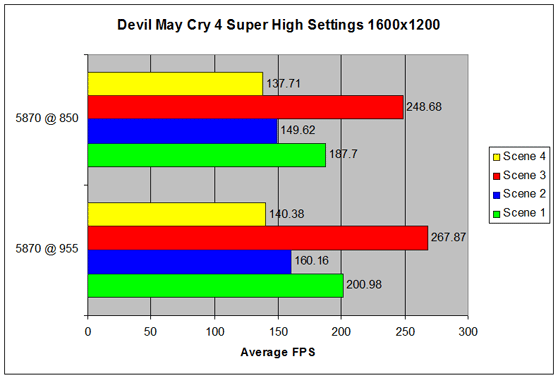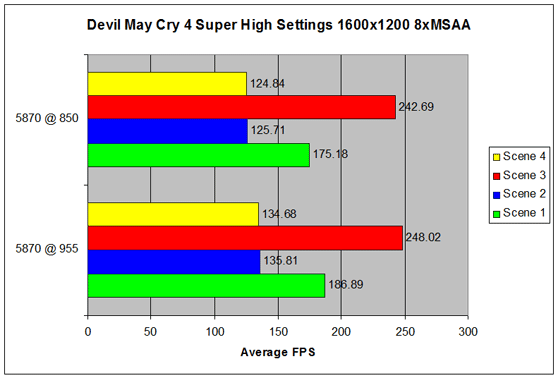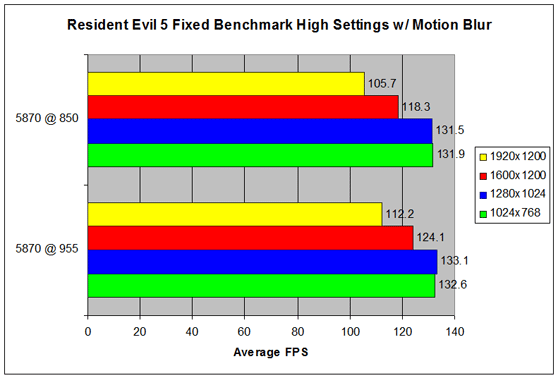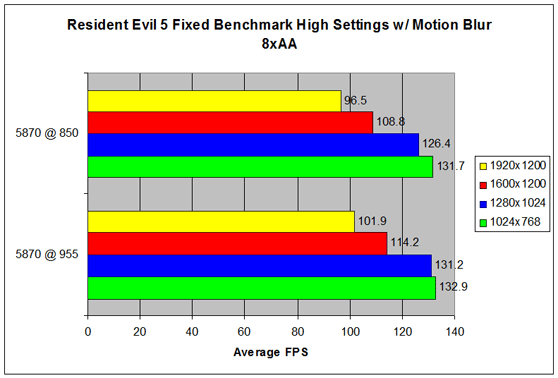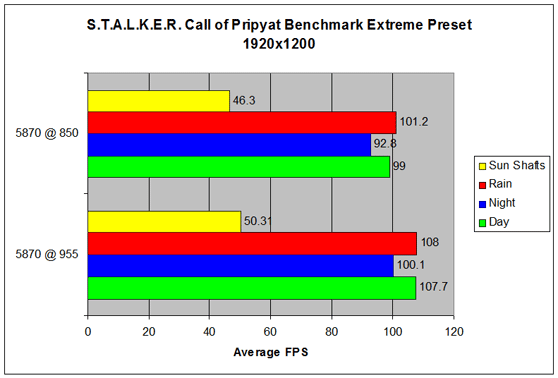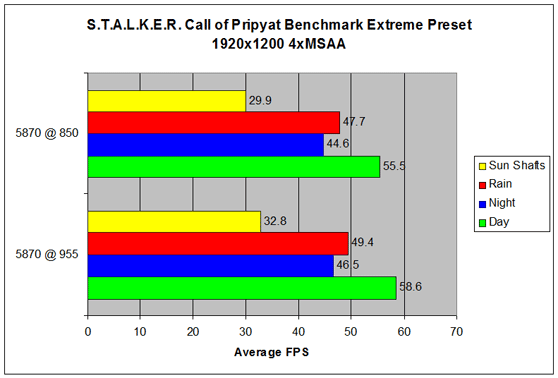 As you can see the 12% increase in clock speed gives you a 4% increase in overall average frames per second across all game tests.

Power Consumption

In order to achieve this 4% increase in overall average frames per second the power consumption went up 1.7%. Not to shabby.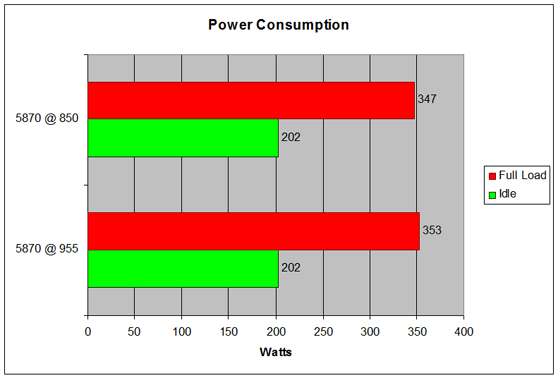 GPU Temperature

The T-RAD2 does a spectacular job in removing heat from the GPU keeping it at 50 degrees Celsius under load. These tests were done in an open case environment with an ambient temperature of 19.44 degrees Celsius.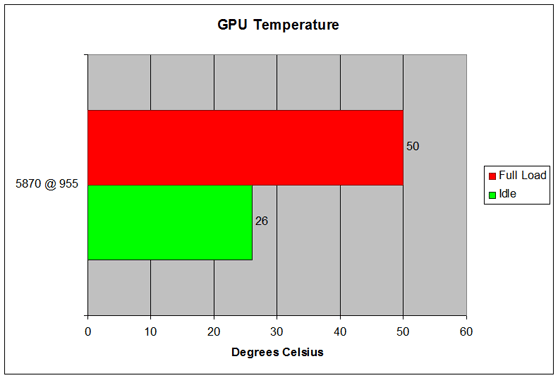 Conclusion

Thermalright has got the goods for those of you who want to get the most out of your 5870/5850 series GPU. The $50 T-RAD2 does a wonderful job of removing heat from the massive 5870 GPU die, and the $30 VRM-R4 is the best way to go for removing heat from your HD 5870/5850 series VRM area. As for overclocking your HD 5870 it would have been nice to see a little more of a one to one ratio with the increased clock speed to average frames per second, and of course it goes without saying that coming in under the coveted 1GHz GPU clock is a disappointment.