CrossFire and Vista x64: A Work in Progress
George Ross, February 11, 2008




Introduction

How does CrossFire perform when using Windows Vista x64? At the moment not to well, but with the introduction of Catalyst 8.3 (due out in March) AMD promises to have CrossFire X working and have better performance coming from the HD 3870 X2. It is not March yet so let's see what the situation is with the latest Catalyst 8.1. The Catalyst 8.2 is due out February 13 and I will look at it when it gets released. Hopefully there are performance enhancements with each new release, but for now lets see what happens.

Test Hardware

Here is what I ran the benchmarks on.
Processor
AMD Athlon 64 X2 6400+ "Windsor" @ 3.4GHz
Motherboard
MSI K9A2 Platnium
Memory
8GB GeIL DDR2 800 (PC6400) @ 5-5-5-15 Dual Channel Mode @ 426MHz
Hard Drive
Western Digital WD 150ADFD-00NLR1 150GB 10,000RPM 16MB cache
Video Card
EVGA e-Geforce 8800 GT KO ForceWare 169.25
SAPPHIRE Radeon HD 3870 Catalyst 8.1
SAPPHIRE Radeon HD 3870 Catalyst 8.1 x2 in CrossFire mode
Operating System
Windows Vista Home Premium x64
Gaming Benchmarks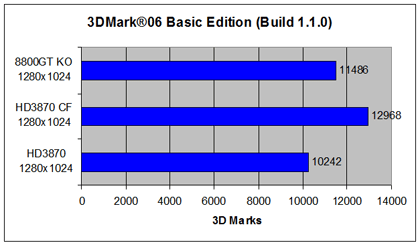 CrossFire is not much help here, but there is a 26% performance increase.
These are some tight numbers but overall the CrossFire setup was the worst overall. The single 8800GT KO and single HD3870 eat the CrossFire setup's lunch. None of these are bad numbers though.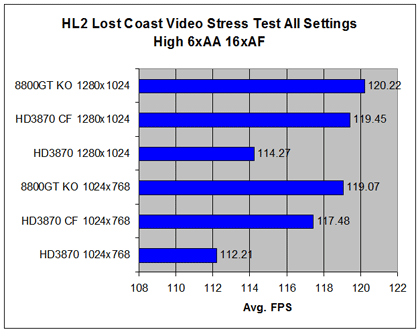 At least the CrossFire setup beat the single HD 3870 buy 4%, but it could not take down the single 8800GT witch is 1% faster.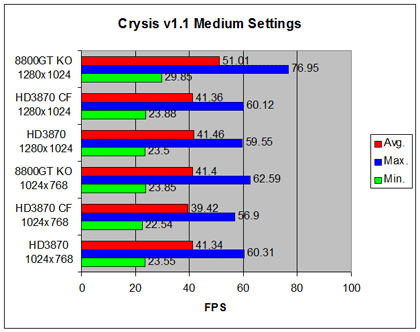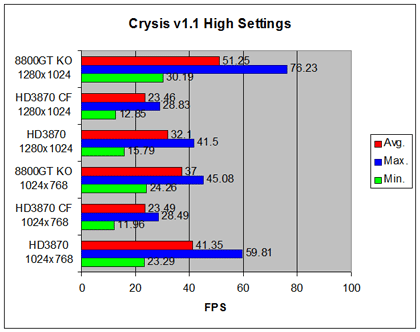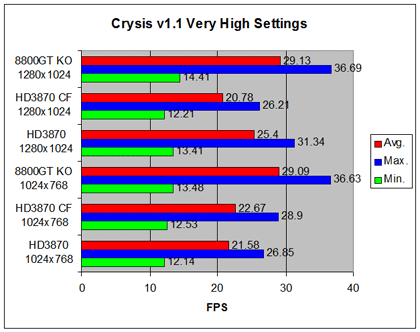 Again the CrossFire setup brings up the rear TWIMTBP seems to be working well for NVIDIA.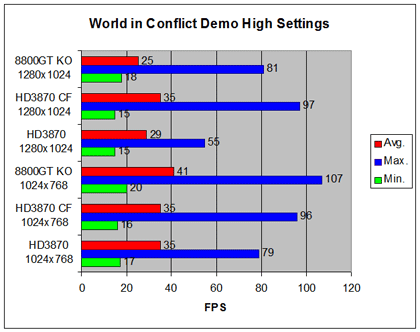 TWIMTBP pays off again.

Closing Thoughts

Right now it looks like you would be better off to spend two hundred dollars less and get more performance from a single 8800GT card or in some cases a single HD 3870 in witch case you would save two hundred and fifty dollars. Can the promised performance enhancements improve this situation or will CrossFire not be useful for DX10 applications until Microsoft caves and releases DX10 on XP. Only time will tell.