CrossFire and Vista x64: Catalyst 8.2 Still a Work in Progress
George Ross, February 18, 2008




Introduction

I have had a chance to play with the 8.2 release of the Catalyst driver, and while it does deliver some performance boost the CrossFire in x64 Vista still leaves a lot to be desired. While CrossFire performance did improve it still is not at a level that you would expect from a 2 card setup in my opinion. There should be at least a 50% increase in performance to make CrossFire cost effective. Let's take a look at the numbers and see how a CrossFire setup compares to a single card setup.

Test Hardware

I have added a PPU to the test setup. More on that subject at a later date.
Processor
AMD Athlon 64 X2 6400+ "Windsor" @ 3.4GHz
Motherboard
MSI K9A2 Platnium
Memory
8GB GeIL DDR2 800 (PC6400) @ 5-5-5-15 Dual Channel Mode @ 426MHz
Hard Drive
Western Digital WD 150ADFD-00NLR1 150GB 10,000RPM 16MB cache
Video Card
SAPPHIRE Radeon HD 3870 Catalyst 8.1
SAPPHIRE Radeon HD 3870 Catalyst 8.1 x2 in CrossFire mode
Physics Processing Unit
ASUS PhysX P1
Operating System
Windows Vista Home Premium x64
Gaming Benchmarks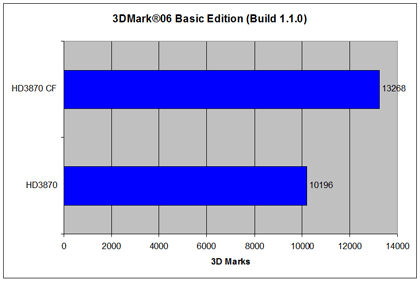 30% increase here that is better than the 26% in Catalyst 8.1.
The CrossFire setup lags 3% overall here, but no performance improvement is required here. UT3 runs great on a single card setup. This is a beautiful game that does not fully tax the newest video cards. However you would think CrossFire would give you some benefit, but it does not.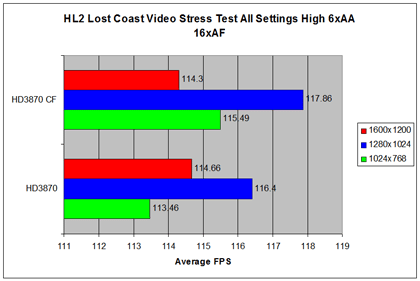 Here there is very little improvement. We are talking less that 1% improvement overall. Again there is no need for more FPS, but you still should see something.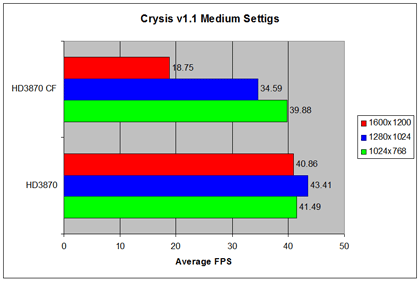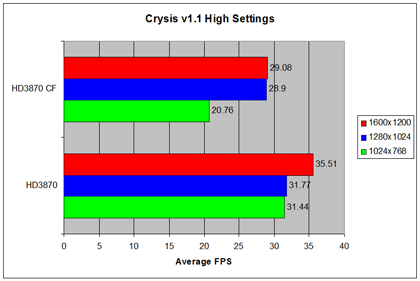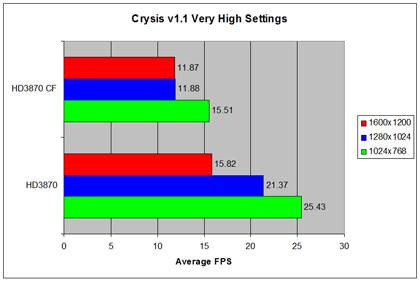 Catalyst 8.2 has some improvements as far as single card Crysis performance, but the CrossFire performance is still 35% less than that of a single card setup. This will never do.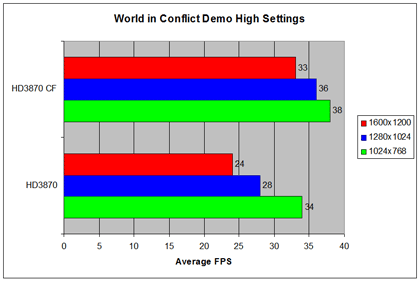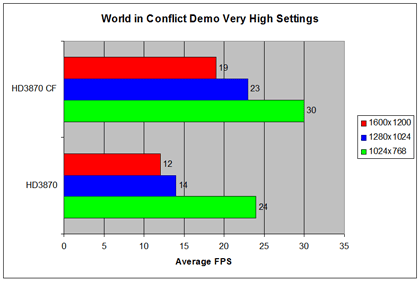 Overall a 31% improvement here this is better than what it was with Catalyst 8.1.

Closing Thoughts

AMD really needs to pull the rabbit out of the hat with the 8.3 Catalyst release. The whole point of adding a second video card to your system is to increase your graphics performance. As it is now I can see no real benefit to using a CrossFire setup in x64 Vista. Maybe in March everything will work it's self out and finally something good happens to the forced update to DX10 known as Windows Vista.