Crossfire and Vista 64-bit: Use More Power for Little to No Performance Gain
George Ross, March 10, 2008




Introduction

Lately we've been looking at Crossfire performance in Vista 64-bit, and the results were less than stellar. I had hoped that the CrossfireX driver (Catalyst 8.3) would help improve the situation. Those hopes turned out to be the dreams of a fool. Vista 64-bit is just not the way to go if you are going to use Crossfire. Let's see if there is any benefit to using the CrossfireX driver compared to the Catalyst 8.2.

Test Hardware

Here is what I used to test the two drivers.
Processor
AMD Athlon 64 X2 6400+ "Windsor" @ 3.4GHz
Motherboard
MSI K9A2 Platnium
Memory
8GB GeIL DDR2 800 (PC6400) @ 5-5-5-15 Dual Channel Mode @ 426MHz
Hard Drive
Western Digital WD 150ADFD-00NLR1 150GB 10,000RPM 16MB cache
Video Card
SAPPHIRE Radeon HD 3870 Catalyst 8.2 & 8.3
SAPPHIRE Radeon HD 3870 Catalyst 8.2 & 8.3 x2 in CrossFire mode
Physics Processing Unit
ASUS PhysX P1
Operating System
Windows Vista Home Premium x64
Gaming Benchmarks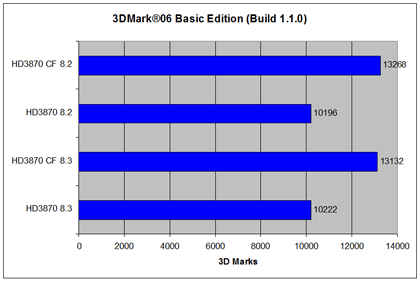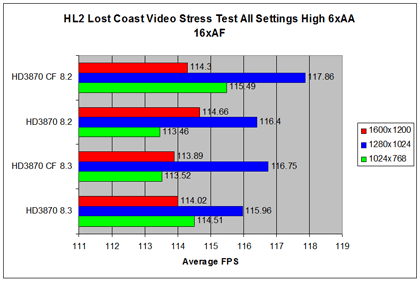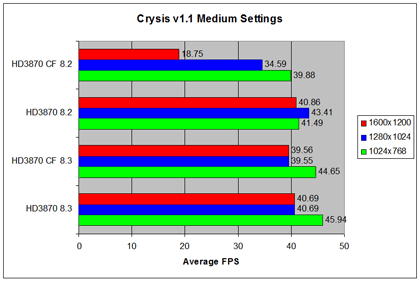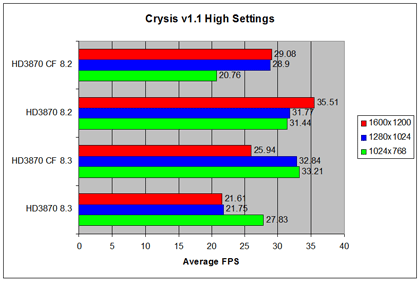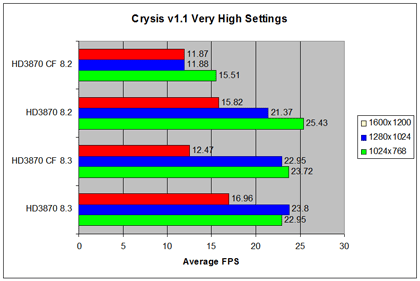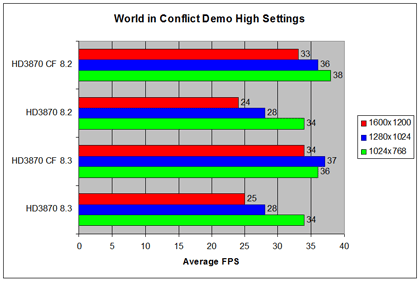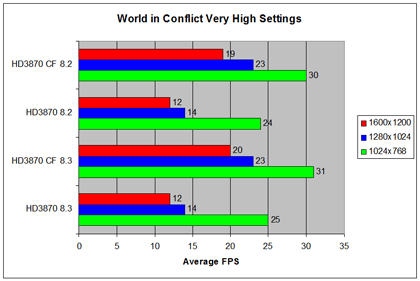 As you can see there is no real difference in single card or two carded Crossfire performance between the 8.3 or 8.2 drivers. Also the average overall game (excluding 3DMarks) performance is just up 5% with Crossfire enabled. Things appear better with the 3DMark scores included the average overall performance goes up to 26%. I don't think one should put to much stock in the 3Dmark scores however, because it is a synthetic benchmark. Plus it is not playable and ultimately it all comes down to how a card performs on the games you want to play. With just a 5% increase Crossfire is not worth it in this test bed.
Power Consumption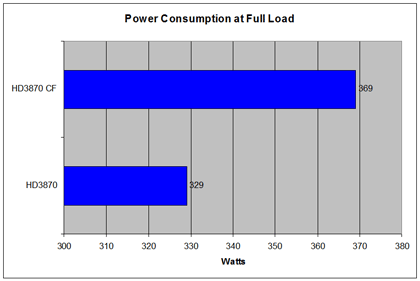 This was a bit of a surprise. There is only a 40W difference during game play between the two setups, but even with that there is still not enough of a performance increase to justify the second card.

Closing Thoughts

What is sad is that with twice the cost one could end up with only 5% increase in frames. Not a smart move. You are better apt to put that money into an 8800GTX or a HD 3870 X2 for now. Stay tuned we are going to see if SLI fares any better in Vista 64-bit. Don't think that the HD 3870 is a bad card. Heck with the release of the 9600GT that drove the price of the HD 3870 down it looks better than ever, but not in Vista 64-bit with Crossfire.