Catalyst 9.6 CrossFire: HD 4890 Two Times Makes for Some Good Times
George Ross, July 15, 2009




Introduction

Multi-GPU technology is something that is still a work in progress, but it can make the difference when trying to add a little more bit oomph to that gaming ring in order achieve higher playable resolutions and quality settings. Do not however expect a good return on your money because double the graphics cost doesn't always equal double the graphics performance. This time around we will be looking a pair of HD 4890's on a 3.8GHz quad core Deneb with DDR2 memory.

Test Hardware

The old 790FX+SB600 based motherboard I was using in the AMD test rig died making room for the newer 790FX+SB750 based A79A-S motherboard that is being used now, and I have to say I really didn't think the motherboards using the SB750 southbridge were that much better after using one I have started to see the light. Here are the rest of the particulars.
Processor
AMD Phenom II X4 940 Black Edition @ 3.8GHz
Motherboard
FOXCONN A79A-S
Memory
G.SKILL 4GB DDR2 1100 (PC2 8800) @ 533MHz (DDR 1066) 5-5-5-15 Dual Channel Mode
Hard Drive
Seagate Barracuda ES.2 ST3250310NS 250GB 7200 RPM 32MB cache SATA 3.0Gb/s
Video Cards
MSI Radeon HD 4890 @ 880 MHz core 999 MHz (3996 Gb/s) memory
Catalyst 9.6

MSI Radeon HD 4890 @ 880 MHz core 999 MHz (3996 Gb/s) memory
MSI Radeon HD 4890 @ 880 MHz core 999 MHz (3996 Gb/s) memory
Catalyst 9.6

Optical Disk Drive
Pioneer DVR-215DBK
Power Supply
Rosewill Xtreme RX750-S-B 750W
Operating System
Windows Vista Ultimate x64 SP1
Gaming Benchmarks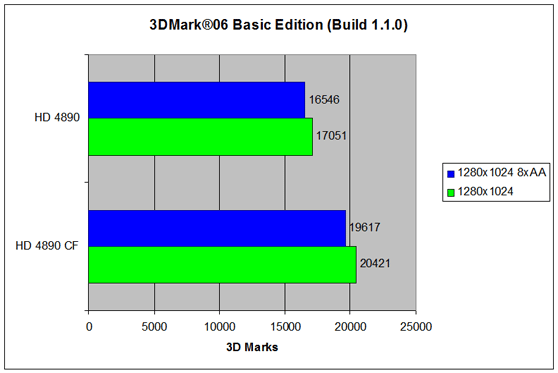 The added HD 4890 gives you a 19% overall average boost in 3D Mark 06.
In Unreal Tournament III the CrossFired setup only manages a 6% increase in overall average frame rates, and not helping that much in a game where the single card setup handles it just fine. Basically running Crossfire and Unreal Tournament III makes environmentalists cry.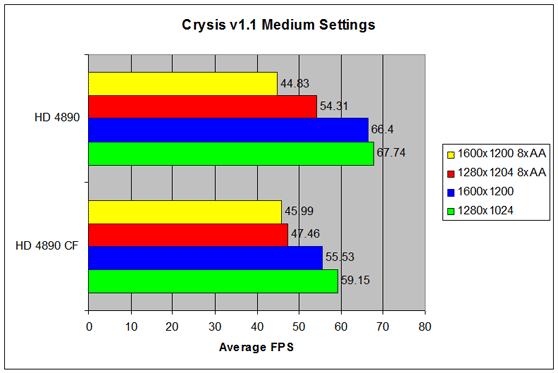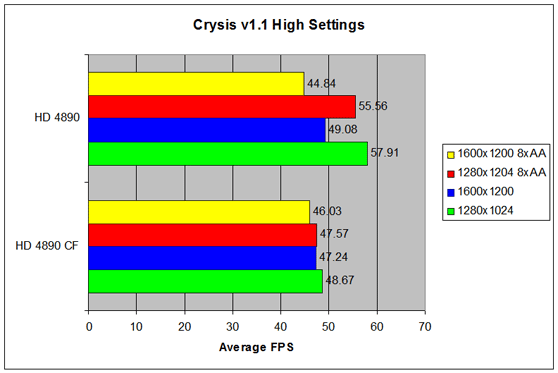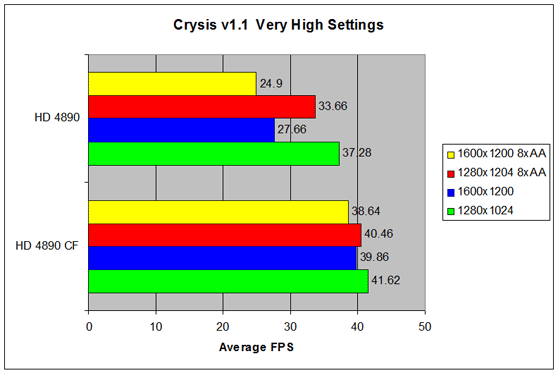 The CrossFired HD 4890's lose out to the single HD 4890 by 1% in overall average frames in the Crysis tests, but if you only look at the very high settings numbers the paired HD 4890's outpace the single HD 4890 by 30%. This of course results in higher playable resolutions at those quality settings.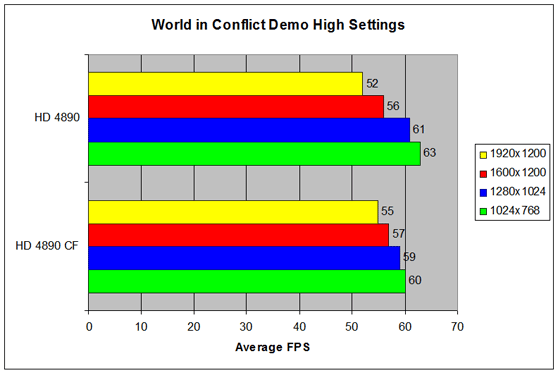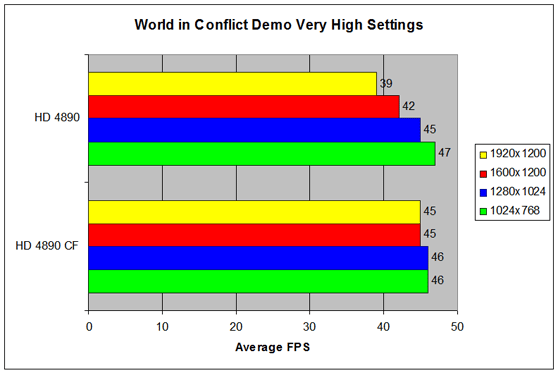 World in Conflict has never been kind to multi-GPU enabled AMD chips and this hasn't changed at least the CrossFired HD 4890's outpaced the single HD 4890 by 1% overall.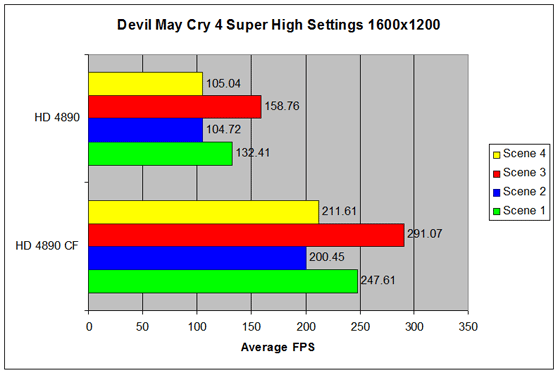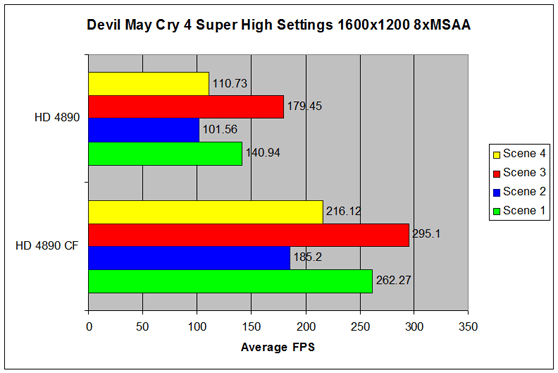 I love the developers of Devil May Cry 4 they made a beautiful game that scales well with any increase in graphics horse power. Pairing up the HD 4890's increased the overall average frame rates by 84%. Not that they frame rates needed any improvement it is just nice to see that CrossFire can work well.

Well folks it all adds up to a 38% overall average frame rate increase in all the game tests when using the CrossFired HD 4890's. This is the best scaling I have seen yet from CrossFire in my usual gaming benchmark routine.

Power Consumption

So how do running two HD 4890's affect the power bill? Well when in an idle state the CrossFire setup consumes 38% more power than the single card setup, and a whopping 49% when gaming. That is darn close to half of the overall system power consumption from just by adding a second video card. Your local utility company loves it when you opt for a Crossfired rig.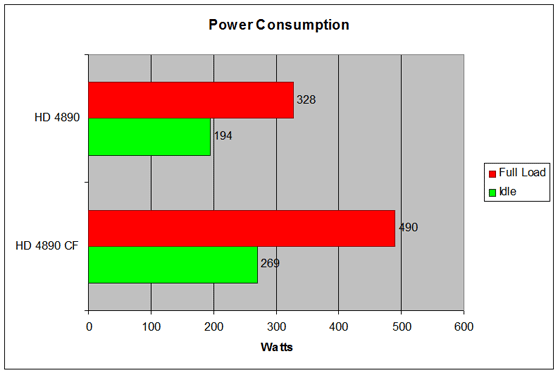 Conclusion

Using more than one graphics card to power a gaming rig has its ups and downs. In the end it is up for you to decide if the ups out weight the downs or vise versa. The one thing I can tell for certain is CrossFire is getting better with age. Slowly but surely.