SLI vs. CrossFire in Vista 64-bit: The only Loser is the Consumer for Now
George Ross, March 27, 2008




Introduction

If you are a good little consumer you have done what the marketeers have told you. You have those 64-bit extensions on your CPU. You even bought the 64-bit version of Vista so you can play the latest games in all there DX10 glory. You were even smart enough to wait for the arrival of the best of the current lineup of mainstream GPU's (8800GT & HD 3870). Everything is going along swimmingly. Then one day you decide you would like a few more frames at higher resolutions. No problem that what SLI and CrossFire are for. Right? People use SLI and CrossFire to break 3D Mark world records all the time, but they also use a 32-bit operating system. Before you shell out the cash for another video card know what you are doing.

Test Hardware

Here is the hardware that was used in the testing. You will notice the SLI board that was chosen is a nForce 500 SLI and the PCI-E is limited to x8 in SLI mode. Even at that the SLI setup outperformed the CrossFire setup by 10% overall. The same is true for the single card comparison.
Processor
AMD Athlon 64 X2 5600+ "Windsor"
Motherboards
MSI K9A2 Platnium
MSI K9N4 SLI
Memory
8GB GeIL DDR2 800 (PC6400) @ 4-4-4-12 Dual Channel Mode
Hard Drive
Seagate Barracuda ES.2 ST3250310NS 250GB 7200 RPM 32MB cache SATA 3.0Gb/s
Video Cards
SAPPHIRE Radeon HD 3870 Catalyst 8.3
SAPPHIRE Radeon HD 3870 Catalyst 8.3 x2 in CrossFire mode
EVGA 8800GT KO ForceWare 169.25
EVGA 8800GT KO ForceWare 169.25 x2 in SLI mode
Operating System
Windows Vista Ultimate x64
Gaming Benchmarks
Sadly both the SLI and CrossFire both gave under a 2% performance increase in overall gaming. With the 3D Mark scores counted the situation improves to a 10% increase for the SLI setup and a 17% increase for the CrossFire setup, but 3D Mark 06 is a synthetic benchmark and I choose to exclude it when talking about overall performance. As you can see the 3D Mark scores can be made to skew one's view on actual game performance. Ifn' one were so inclined to do so. Here are the numbers as you can see little to no performance improvement across the test bed.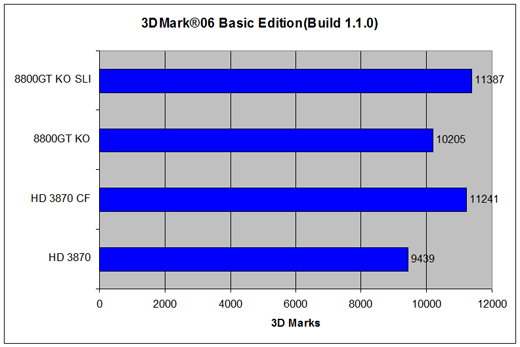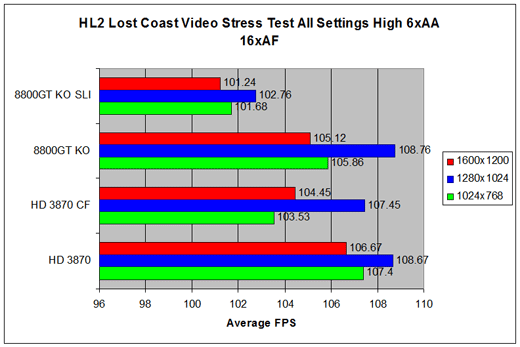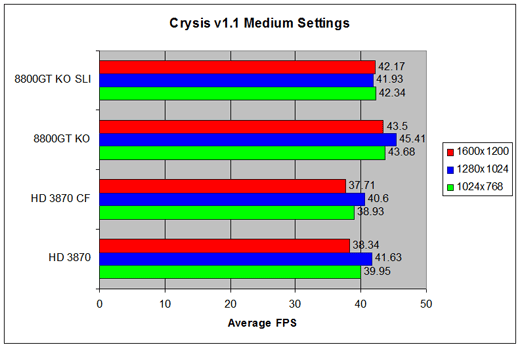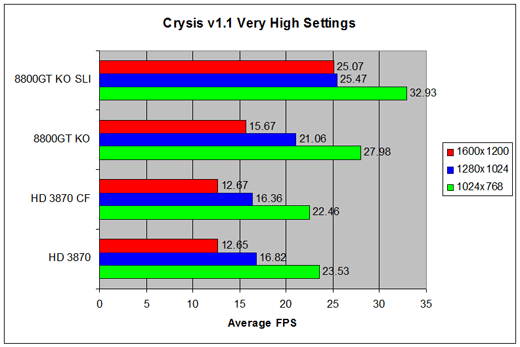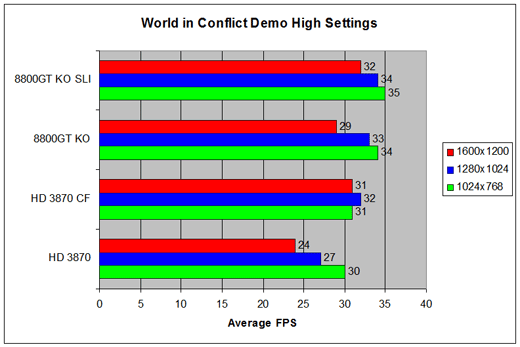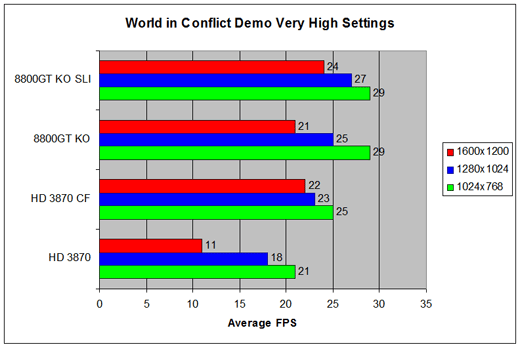 Power Consumption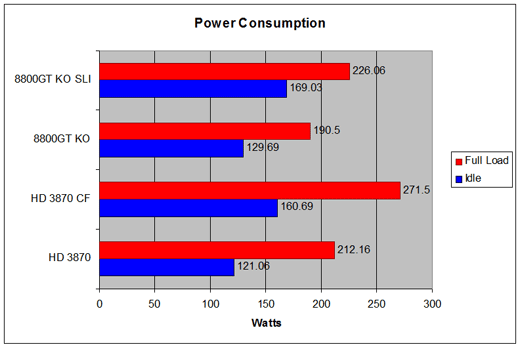 The extra HD 3870 adds 59W to the CrossFire rig and the SLI rig gets a 35W boost while gaming. With all the added wattage, heat, and noise that the extra card adds one can start see why it just is not worth the sub 2% overall performance increase.

Closing Thoughts

Even though right now 64-bit Vista users are few and far between. This market segment is the direction that the computer gaming industry is supposed to be headed. If Microsoft, NVIDIA, and AMD make good on there marketing promises this situation could be remedied in future driver releases or updates.

Double the money and around 26% more power usage (electricity also costs money) for less than 2% performance increase in your games. Makes sense if you are selling this stuff apparently. For now if you are a 64-bit gamer a better GPU means more than adding more GPU's for the time being. This is all subject to change in the future.