Vista's New Media Center
George Ross, October 10, 2006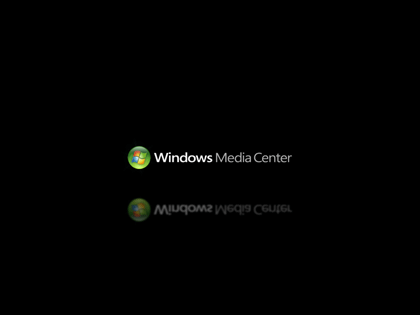 2007 is going to be the year in witch Microsoft will grace us with its new operating system Windows Vista. I've spent the past few days looking into the new Media Center that this new operating system will come bundled with two of the Vista editions. These two editions are Windows Vista Home Premium and Windows Vista Ultimate. The edition I used to test for this article was Windows Vista Ultimate RC2 build 5744.
First I would like to point out that in order to get the most up to date Media Center experience it will cost you $159 for the upgrade version of Home Premium, $239 for the full version of Home Premium, $259 for the upgrade version of Ultimate, and $399 for the full version of Ultimate. You can now buy Windows XP Media Center Edition 2005 for a little over $100 depending on where you buy it. So right off the price for the 'Media Center Experience' has gone up a minimum of $50. So what will this $50 get you in the way of improvements? Not much I'm afraid. For me I would have to go with the Ultimate edition, because I use remote desktop to do maintenance, add new music, and so on with my Media Center. Remote desktop is not included with the Home Premium.
HD-DVD and Blu-Ray are coming into the picture now, and I've heard some rumors that you will not be able to play these things on 32-bit versions of Vista. Which may not be vary possible anyways because I have seen where playing these types of movies on computers based on Intel's mighty Core 2 Duo systems maxed out both processor cores just to maintain a stable frame rate. If this is true then you would not be able to watch them with a 32-bit processor system at all. In addition to all that you will new a new monitor and video card that are equipped with HDCP just even to think about using these new high definition media types. Think about that when you go to purchase your next video card or monitor.
On the plus side I like what they have done with the user interface with the exception of the new placement of the close media center/power/logoff buttons. Other than that I like how they made use of the two dimensional GUI. It is in my opinion much better than the one in MCE 2005, and is far superior to the one they used for MCE 2002/2004. When browsing recorded TV it shows you a picture from the show that was recorded. That may help speed up browsing through your recorded shows.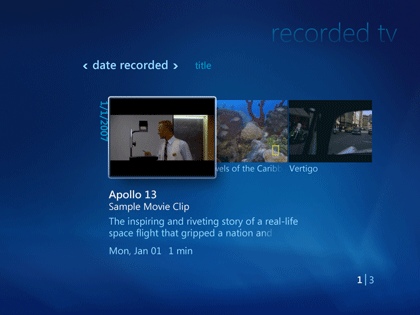 Another plus was that it played my old DVR-MS files without a hitch. It even did not require a MPEG2 decoder to be installed. It was already there, and I could even play DVDs.
The driver support of Vista is also good. It has drivers for my old Avermedia M179, and all the hardware for my test system which consist of an NForce2 Chipset, an Athlon XP, 1GB of PC2700, a Radeon 9800 Pro, and an 80GB hard drive. Not a stellar system by any means, but is sufficient for today's media playback and Vista. The age of the system also shows how far back they have gone for driver support.
Overall I think the new Media Center is good, but it will cost a lot of money to implement. On my first Media Center build I was under $1,000. Now this time I'll be lucky to not exceed $3,000. Thanks Microsoft you spoiled me with MCE 2005 and now I'll have to pay $300 more dollars than I had to too get the same level of operating system as I did with MCE 2005, and that doesn't count the price tag for new required DRM infected hardware just to watch HD-DVD or Blu-Ray.