197.45 SLI Performance: Crank Up the Heat
George Ross, May 26, 2010




Introduction

The Hillbilly Hardware on the dot com is does a lot of looking into multi-GPU performance and more often than not it is CrossFire that is under the microscope. This time we are going to look at SLI and see what kind of performance enhancements you can expect to see from adding a second NVIDIA based graphics card. More specifically we will be seeing what happens when you use a pair of GTX 275's.

Test Hardware

The old 3.4Ghz Core i7 setup was used to examine how these cards perform when used in tandem. You may notice that the cards used in testing do not have the same exact clock frequencies. When they are coupled in SLI mode the card with the higher frequencies is reduced to match the frequencies of the card with lesser frequencies.
Processor
Intel Core i7-920 @ 3.4GHz
Motherboard
EVGA E758-TR
Memory
G.SKILL Trident 6GB DDR3 2000 (PC3 16000) @ 813 MHz (DDR 1626) 11-11-11-28 Triple Channel Mode
Hard Drive
Seagate Barracuda ES.2 ST3250310NS 250GB 7200 RPM 32MB cache SATA 3.0Gb/s
Video Card
Palit GeForce GTX275 @ 633MHz core 1,404MHz shaders 1,134MHz (2268DDR) memory
Driver 197.45
Palit GeForce GTX275 @ 633MHz core 1,404MHz shaders 1,134MHz (2268DDR) memory
EVGA GeForce GTX275 @ 713MHz core 1,512MHz shaders 1,260MHz (2520DDR) memory
Driver 197.45
Optical Disk Drive
Pioneer DVR-115DBK
Power Supply
Seventeam ST-850PAF 850W
Operating System
Windows 7 Ultimate x64
Gaming Benchmarks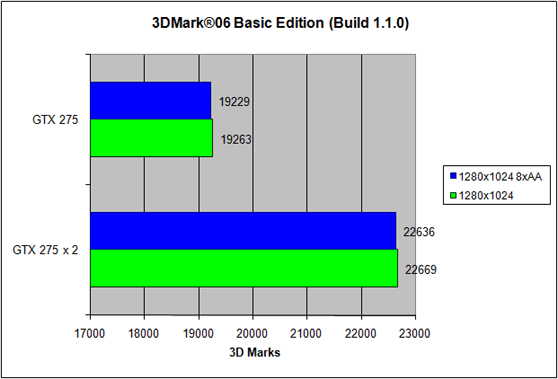 The added GTX 275 give you a 17% hike in 3D Mark 06 scores on average.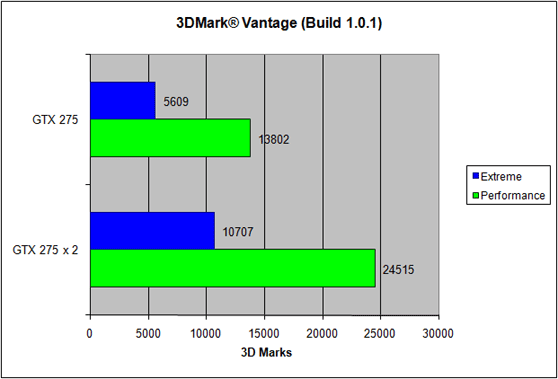 3D Mark Vantage really likes SLI as it yields an 81% average increase in scores.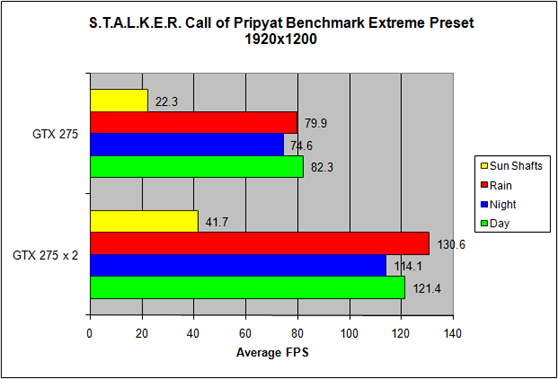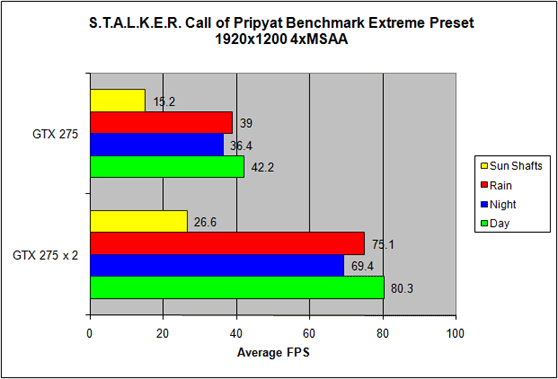 Using SLI to play S.T.A.L.K.E.R. Call of Pripyat gives you a 68% boost in overall average frames per second.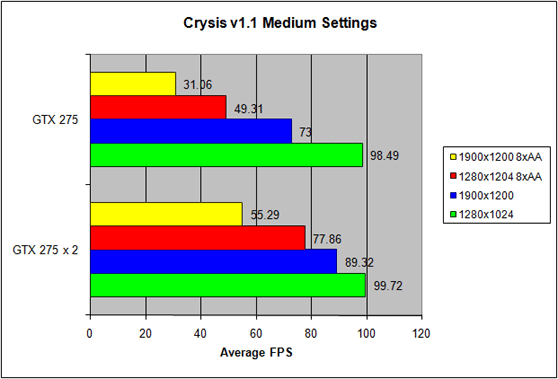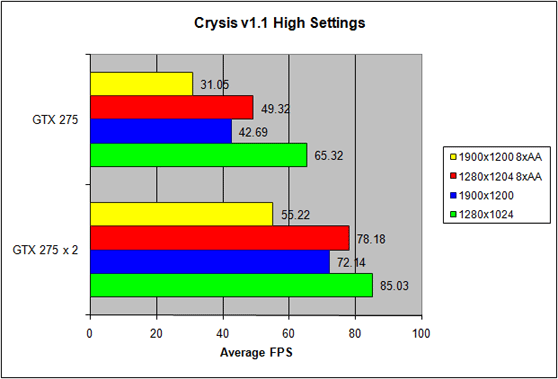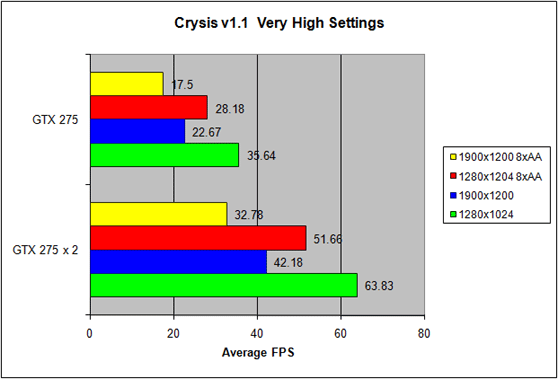 Crysis reacts well to SLI with a 47% increase in overall average frames per second.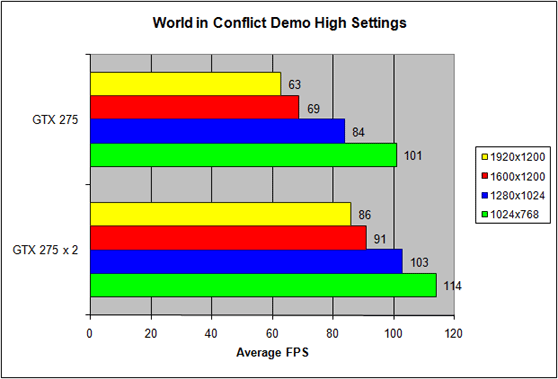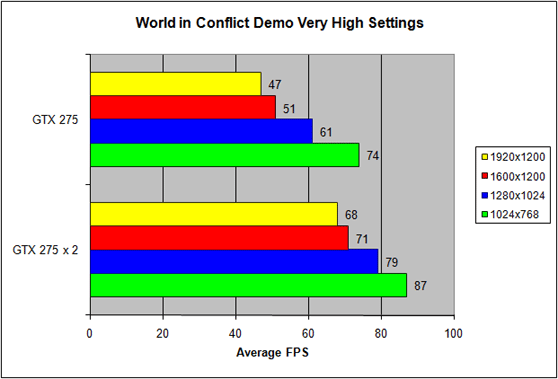 The World in Conflict Demo doesn't work as well with SLI as you only see a 27% rise in overall average frames per seconds.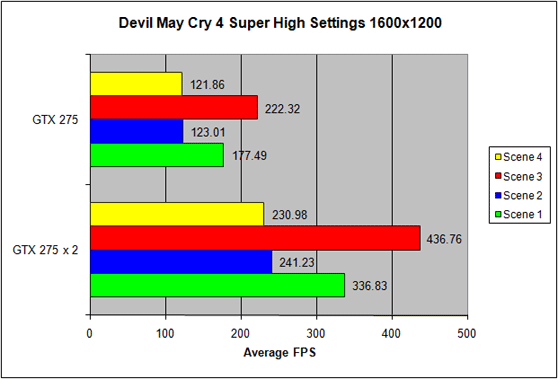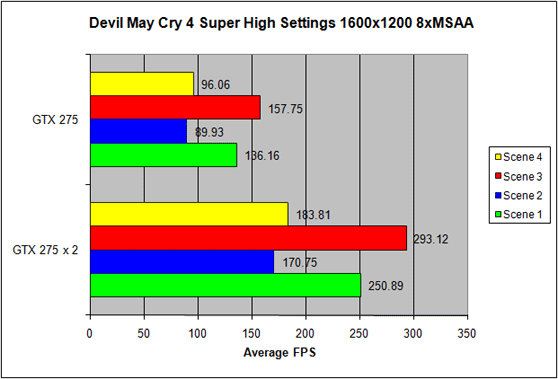 As per usual with any increase in graphics horsepower Devil May Cry 4 makes good use of it giving you 90% more frames per second than the single GTX 275 setup.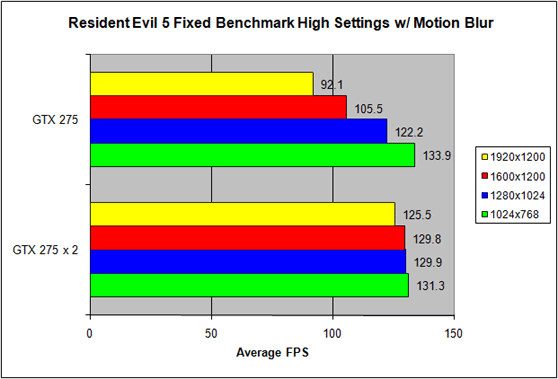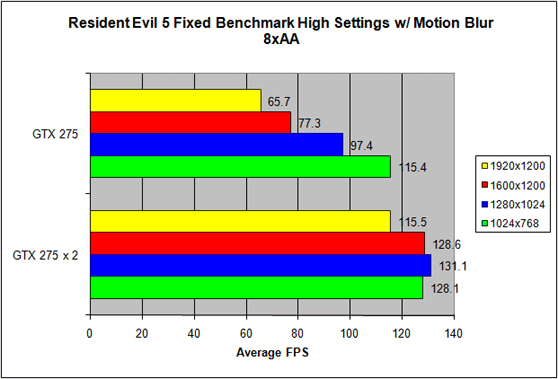 Resident Evil 5 doesn't make as good of use from the second GTX 275 by only raisng the overall average frames per second by 25%.

If one were to take all the gaming tests into consideration you would see an increase in overall average frames per second of 55%. This is quite good.

Power Consumption

The 55% increase in average performance comes at the expense of a 55% increase in power consumption, and a 20% increase when the system is idling and SLI is offering absolutely no performance enhancements.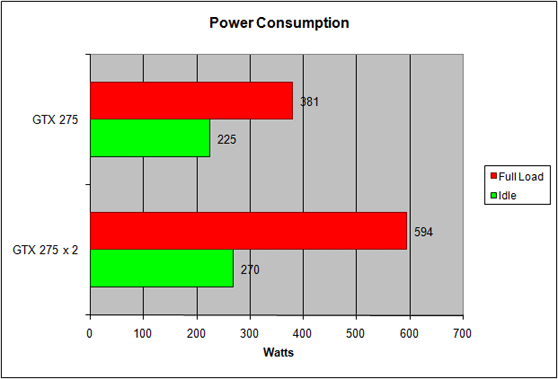 Conclusion

SLI is continually getting better with each driver that NVIDIA releases and is a good option for those looking to upgrade their graphics performance. The only major drawback is making sure that your motherboard is SLI capable as NVIDIA charges a license fee to motherboard manufacturers to put that little SLI sticker on their box and makes sure that their driver doesn't allow you to run SLI if you haven't paid the tax. The technology is sound but the business model that surrounds it is hard to swallow.