A Hillbilly's Gaming Rig: Not the Best, but Not the Worst
George Ross, September 13, 2007





Introduction

This summer it was time to upgrade my aging gaming machine that was based on AMD's socket A platform. This also means I had been making due with the obsolete AGP graphics slot. The AGP slot is now becoming a bottle neck for graphics performance in newer games. The time was now to upgrade due to the fact that playing Battlefield 2142 (My current game of choice) was crashing on me on a regular basis and had choppy frames while playing it. It was time to do something. Having been lucky and not invested in a socket 754 or 939 based platform. AM2 is now AMD's platform of choice, and it appears to have to have a longer life expectancy than 754 or 939 ever did. Coupled with this and the array of processor and chipset options AM2 was the choice for me. The main reason I did not go with an Intel based solution in this era of Intel dominance was the issue with upgradeability. Meaning when the latest and greatest Intel processor comes out one must go and buy the latest and greatest chipset in order for it to work. I like to get a little mileage out of my hardware before its time to toss it. The only thing I can see in the near future that will be the release of PCIE v2.0, but hopefully I can take at least my processor with me on that voyage. With that being said lets look at the hardware.

The New Hardware

This upgrade was the first major one I had done in three years. (Like I said mileage out of hardware) I had to replace my motherboard, processor, memory, video card, and power supply for a minimum upgrade. For that little extra kick I also added a better hard drive. See the table below for the specifics.
| | | |
| --- | --- | --- |
| | Old | New |
| Processor | AMD Athlon XP 3200+ "Barton" | AMD Athlon 64 X2 5600+ "Windsor" |
| Motherboard | EPoX EP-8RDA6+ Pro | ABIT KN9 |
| Memory | 1GB GeIL DDR 400 (PC3200) @ 2-3-3-6 Dual Channel Mode | 4GB GeIL DDR2 800 (PC6400) @ 4-4-4-12 Dual Channel Mode |
| Hard Drive | Western Digital WD 800BB-75FJA1 80GB 7,200RPM 2MB cache | Western Digital WD 150ADFD-00NLR1 150GB 10,000RPM 16MB cache |
| Video Card | SAPPHIRE X800GTO AGP8X | SAPPHIRE X1900GT PCI Express x16 |
The New OS

With the 4GB of RAM that I have running in the new system a 32-bit operating system was no longer a choice for me if I wanted to be able to address the full 4 GB. Also since this is a gaming machine I needed an operating system that could support the new Direct X. So with these two things in mind I purchased Windows Vista 64-bit Home Premium. We can hope and pray all we want, but I doubt Microsoft will ever release Direct X 10 on XP. There is a 64-bit Windows XP Professional and I would have been happy to install it, but the Direct X being limited to 9 swayed my decision toward Vista.

General Computing Benchmarks

Let's take a look at the PCMark 05 benchmark.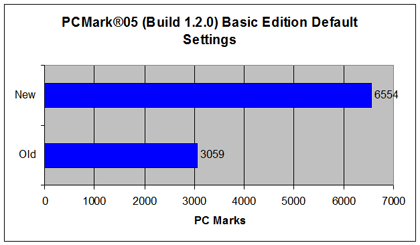 As expected the new system has a higher score, but over double the score of the old system was something I did not expect. Now let's take a look at file extraction and file compression comparisons.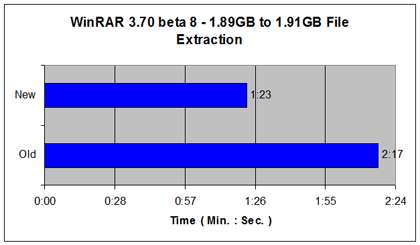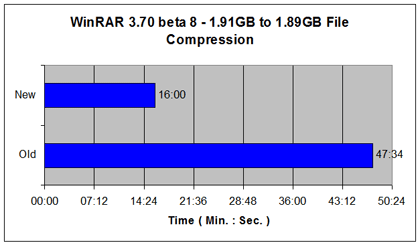 Again the new system just kills the old system. The increase in processing power and hard drive speed really helps out in both file extraction and compression.

Overall the new system feels as if it is running faster. Applications load faster and games load faster. I wish I had upgraded a lot sooner.

Hard Drive Benchmarks

The slowest of all system components is the hard drive. An upgrade here really helps overall system performance. I was way overdue for a hard drive upgrade. As you can see here.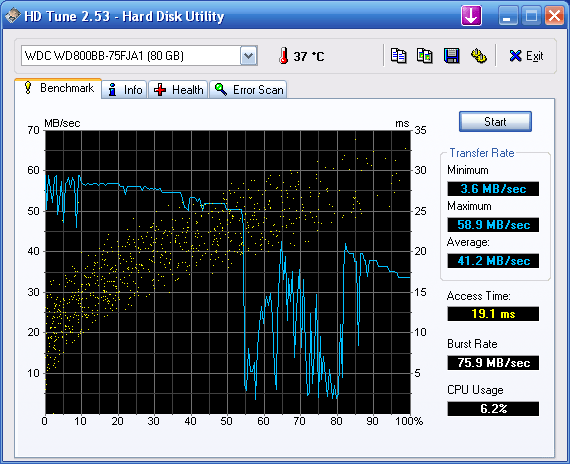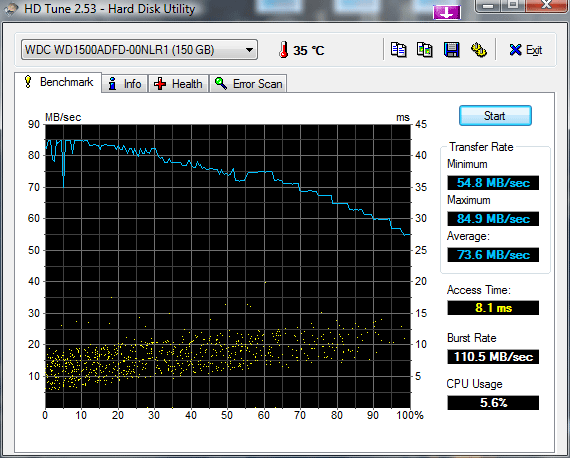 Gaming Benchmarks

First up is the obligatory 3DMark 06 Benchmarks.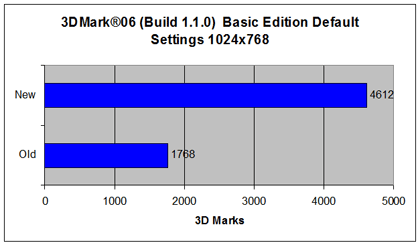 Again the new system is way better than the old one. This is mainly due to the new video card. These results are far from ground breaking. In the near future a new video card will have to be purchased when Direct X 10 becomes more prevalent. This will help with the 3DMark scores. But for now every game and demo I play the X1900GT does the job right.
Moving on let's look at the numbers in Half-Life 2 Lost Coast.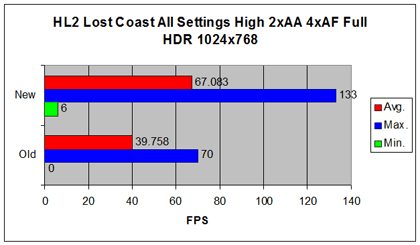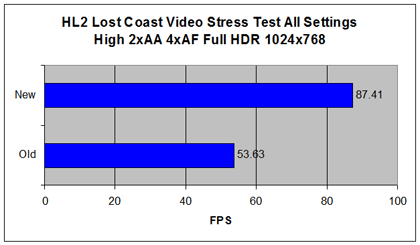 The new system is once again beating the pants the old system. There were however a problem with the new system. When you are talking to the guy on the dock the spear did not appear in his hands until he dropped it. I remember this happening when Lost Coast first came out, but did not expect it to be an issue now. The old system displayed the spear while it was in the man's hands. I don't know if this issue is with the 64-bit version of the game or if it is a problem with the X1900GT.
Now let's look at the numbers in Battlefield 2142.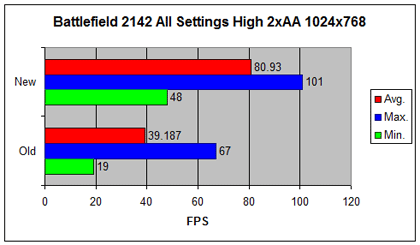 There was also a significant performance improvement here. Now I am able to play Battlefield 2142 online with no lag.

Power Usage

Here are the power usage numbers. The tests were done without using the PowerNow technology of the Athlon 64 X2.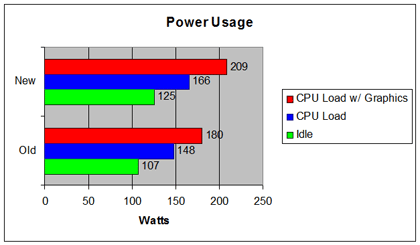 Conclusion

This new system is just what the doctor ordered. I should just be a video card upgrade away from playing this falls latest releases, but what of psychics. Until that mess gets cleared up I will steer clear of hardware accelerated psychics for the time being. I have heard of some games using the second core of a processor to get the psychics done. We will see what happens. As for now I am happy with the system I have and do not anticipate a major upgrade for awhile.