A Hillbilly's Media Center: Socket A Still Has a Life for the Budget Minded
George Ross, November 21, 2005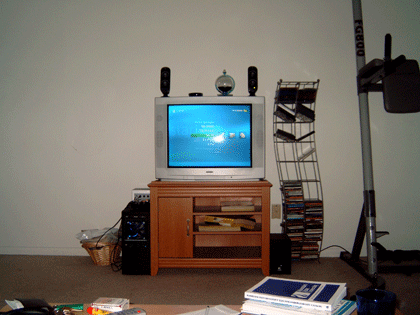 Introduction

Building a Media Center is like no other computer build that I have undertaken. Depending on the operating system and media center software the hardware requirements are a little more than your average computer. Having done some homework on my options I decided on Windows XP Media Center Edition 2005. The first thing that I learned was that MCE 2005 was picky about the hardware you install. At first I purchased an incompatible TV tuner, and the video card I was using was also incompatible with MCE 2005. That is when I realized that the 'Media Center Experience' was going to be harder to obtain than your other basic computing projects. So I listed my major goals for the project so now I had to plan before I started building. This was to insure I wasted no more money because goal number one was not to spend over a thousand dollars. The second goal was to have a machine that ran speedily and smoothly, and that supported all of features that MCE 2005 had to offer. The third goal was more imposed upon me than rather than a desire of my choice. My girlfriend when first learning of my plan did not want a big ugly computer sitting in 'her' living room no matter how useful it was. So I had to make the case I was using more astatically pleasing to the eye. And the forth goal I had was to make it quite without having it run crazy hot. With these goals in mind I could now set out and get this project going.

The experiences I had during this project prompted me to try and pass what I have learned to others, and the number one thing I learned form building my own Media Center was research your hardware purchases. Compatibility is not as widespread as it is with general computing. A person could waste a lot of money buying hardware and software that is not compatible. The next thing I would like to pass on is know exactly what you want. The machine you are building will most likely be the most used and most valued machine you own.

The Hardware

As I stated before I wanted to have a machine that had good performance, but this is not to say that it had to be bleeding edge hardware all the way. One of the nice things about today's computer market is that it is reached a plateau as far a performance is concerned. The only hardware that sees massive performance increases are video cards. So I could make do with not so new hardware and have a machine that met two of my goals. My configuration is as follows.
Biostar M7NCD Pro (NVIDIA nForce2 Ultra 400/ MCP Chipset)
Athlon XP Mobile 2600+ (At 2075MHz (12.5*166))
OCZ PC2700 2-2-2-5 1T with heat spreader (x2 512MB Sticks)
Gigabyte Radeon 9550 128MB
AVerMedia UltraTV 1500 MCE TV tuner (x2)
Hitachi 80GB 7200 RPM 8 MB cache Hard Drive (ATA100)
D-Link DWL-520+ Wireless NIC
ASUS DVD-ROM
Floppy Drive
8 in 1 Memory Card Reader with front USB Port
Antec True Power 330 Power Supply
Logitech X-230 2.1 Speakers
Apex 27' CRT TV (using S-Video Input)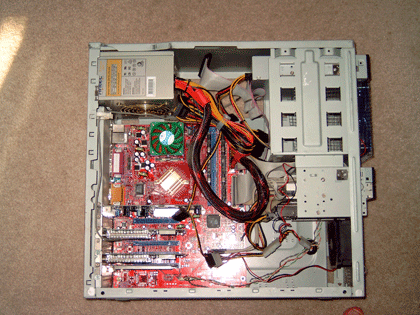 This is not the most powerful computer on the planet, but it gets the job done with fling colors in my opinion. Some of this hardware I had already purchased before I started on this Media Center. I did meet my goal of spending less than a thousand dollars at the time of the build, but overall I think I did not. So it could be looked at as I was successful with my limit or I went over. You make the call.

Another thing I would like to point out is the similarities between my Media Center and my Nintendo Gamecube. Since the Gamecube was designed to be used in the living room I thought I could try and emulate it with my machine, and I think I have. If you pay attention the Gamecube has a silent but effective cooling solution. The Gamecube accepts more than one kind of media (i.e. Optical and Flash Media). Lastly the Gamecube has connections for external peripherals. All of these things I have implemented in my machine.

Performance

The overall performance of this machine is pretty good as far as opening the Media Center program, menu browsing, watching TV, recording TV, watching & recording TV at the same time, listening to music, and playing DVD's. All of these tasks are snappy. There are only two hindrances as far as performance goes. The first is when a program starts to record or stops recording and I am watching something else there is a kick up in live TV output. Networking is the other hindrance. I could not get a wired connection over to the TV so I had to go wireless. Surfing the internet is fine, but uploading files to the Media Center takes along time. When I first got it up I took about 18 hours to upload my music collection witch is about 10GB. Since then I have found that with any major upload it is quicker to use a USB hard drive.

The picture quality is great as long as you are using Media Center. When using Windows the resolution of the TV just does not cut it. I do not use this computer for basic computing functions or gaming so it serves it's purpose.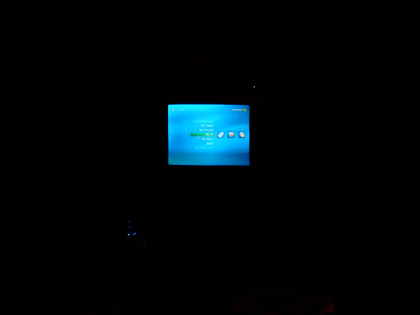 The sound quality of the speakers is something that has to heard to believed. The Logitech X-230 speakers are truly amazing and they fill my small apartment with wonderful sounds. They are exactly what the doctor ordered.

Quiet Please I'm Trying to Watch TV

One of the biggest concerns I had when I started this project was keeping the noise down while keeping the computer cool. So I took some sound measurements in the dead of night to get the lowest ambient noise that I could. The only noise I heard when taking the ambient noise measurement was the hum of my refrigerator, and the noise was at 41dBA. Then I turned on my Media Center and the noise went up to 42dBA. These measurements where taken from my coffee table because I wanted the measurements to reflect the overall noise in my living room. I do not here the Media Center while I'm watching TV or Listening to tunes. Low noise is nice, but what about the heat. Well when the ambient temperature in the living room is 21 degrees Celsius the CPU temperature is 42 degrees Celsius. And that is more than I can say for my gaming rig. So I feel that that is another goal that has been achieved.

Conclusion

I have learned a lot during the course of this project, and the most important is compatibility must be researched before you purchase anything. I hope that someone can learn something from this article, because owning a Media Center is very rewarding and cuts down on the clutter in your living room. As far as looks go both me and my girlfriend are pleased with the looks of this machine, but it is all a matter of personal taste. I would like to say this in closing. Do not sell your self short when it comes to Media Centers / HTPC's. Get what you want whether you purchase one or make it yourself you will use the machine a lot, and it would be a shame to have one that raised your blood pressure every time you used it.

Stay tuned for more as we all know these things never end and as I upgrade I will post reviews or update this article.