AZiO BTD603-132 USB 2.0 Bluetooth Dongle: With Bluetooth Supported Everything Shouldn't These Things Talk to Your PC
George Ross, November 14, 2007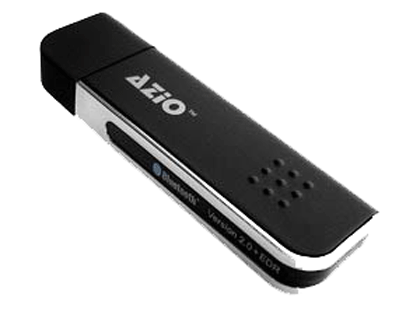 Introduction

Ever found yourself needing to transfer files from your cell phone to your PC or vise versa, but could not? Ever found yourself listening to digital music with headphones being tethered to your PC with a cord? What if these problems and more could disappear? Well they can if you have the AZiO BTD603-132 USB 2.0 Bluetooth dongle.

Package and Contents

I liked the packaging it was not to big and it was easy to open unlike most items that come completely surrounded in stiff plastic. The contents were simple; the dongle itself, quick install guide (multiple languages), and the installation CD. There is really nothing else that you need.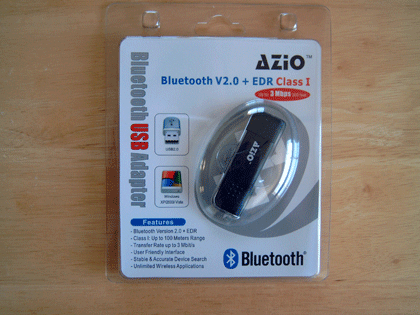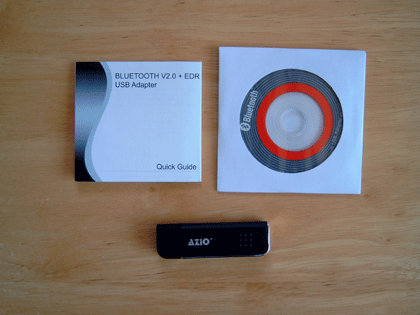 Specifications
General Radio
Class 1: 100 meters (300 ft.)
Frequency: 2.4 ~ 2.483Ghz
Data Rate: Up to 3Mbps
Bluetooth Standard
Bluetooth v2.0 + EDR
Spread Spectrum
FHSS (Frequency Hopping Spread Spectrum)
I/O Interface
USB 2.0
Input Power
5V (USB Power)
System Support
Windows: XP/2000/Vista
Dimensions
65 x 20 x 8 mm
Bundled Software
Toshiba Bluetooth Stack (for Windows OS)
Profiles Supported
DUN: Dial-up Networking- Eables you to establish a dial-up Bluetooth connection to the Internet or other networks with a wireless modem station, mobile telephone, or similar devices.
FAX: Enables you to establish a Bluetooth connection with a wireless modem station, mobile telephone, or similar device to send or receive a fax.
LAP: LAN Access Profile- Enables you to establish a Bluetooth connection with a LAN access point to access the services of a LAN using PPP.
SPP: Serial Port Profile- Enables comminication with a device through a virtual serial port configured for a Bluetooth connection. This can be used for printers and printer adapters with PDAs, using different method from HCRP or ActiveSync.
HID: Human Interface Device Profile- Allows connections to wireless mice, keyboards and other input devices.
HCRP: Hardcopy Cable Replacement Profile- Enables printing with a printer driver.
FTP: File Transfer Profile- Enables you to browse folders on a wireless device and transfer files to and from the local device.
OPP: Object Push Profile- Allows business card data to be exchanged with a wireless device.
A2DP: Advanced Audio Distribution Profile- Allows audio data to be exchanged between wireless headsets and other audio devices, as well as allowing high-quality music playback.
AVRCP: Audio/Video Remote Control Profile- A/V remote control functions such as play and stop. The Bluetooth Utility support remote control operation.
GAVDP: Generic Audio/Video Distribution Profile- Basic profile used to support A2DP, AVRCP and other protocols.
HSP: Head Set Profile- Profile used for headsets. Allows you to connect to a PC and communicate as well as connect to a mobile telephone.
PAN: Personal Area Network- Supports IP base network. Allows connection to an ad-hoc or wired network via an access point.
BIP: Basic Imaging Profile- Allows image files to be sent and received after having been converted to a size suitable for the destination. In addition to being able to transfer image files, the Bluetooth Utility allows camera shutters to be operated by remote control, as well as other functionalities.
Installation

The setup could not be simpler. Just install the software (Bluetooth Stack for Windows by Toshiba) that comes on the included CD. Then plug in the dongle. It could not be easier. After the dongle is plugged in the software will start a wizard that will search for any Bluetooth devices that are in range. Once the devices are detected you are off to the races transferring files, printing documents, listening to music, syncing devices, and whatever else you do with your Bluetooth enabled devices.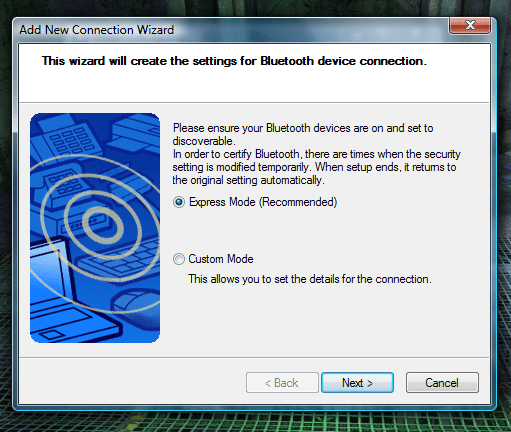 Conclusion

If you bought a notebook or desktop computer and it did not come with Bluetooth there are an array of peripheral and other electronic devices that you may be not using to there full potential or not at all. That is were this device comes into play. Two of the biggest reasons for using this device is you can make your own ringtones and put them on your cell phone, and you can get all those great pictures off your phone and backed up on a PC. All for the price it would cost you to buy that vendor specific USB cable. Then when you get a new cell phone that cable is useless. Or you could buy this and use it with all our Bluetooth enabled gadgets. All in all this product does what it claims to do.