Palit's GeForce GTX 275: A Good Take on the GT200
George Ross, January 30, 2010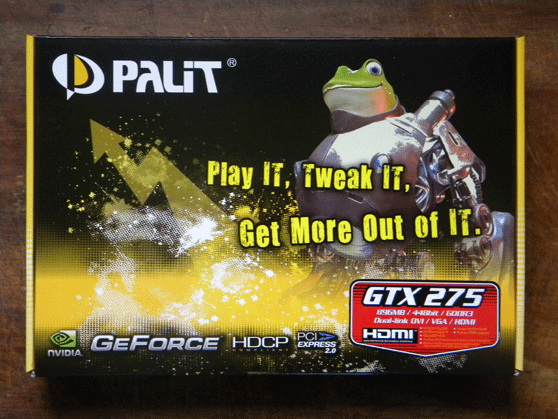 Introduction

A while back I took a look at NVIDIA's GTX 275 and overclocked it. The GTX 275 has good performance, but was a bear to overclock if one where to add aftermarket cooling at that time. Now since a little time has passed since the GTX 275 was released manufacturers are releasing them in custom configurations and not just with their sticker affixed a reference card. Right now we are going to take a look at Palit's take on the GTX 275 and see what kind of overclocking potential it has to offer.

Packaging and Contents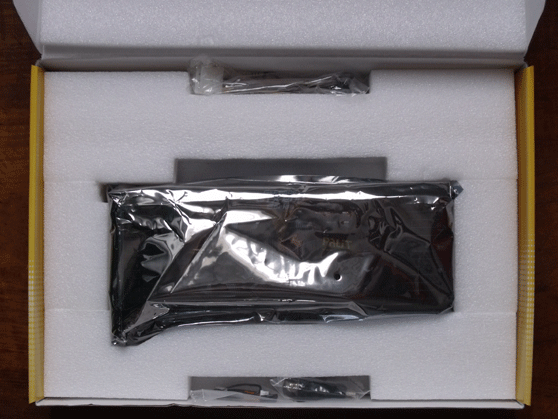 Palit does a good job with packaging its GTX 275 by giving you 360 degrees of padding to protect the card during the shipping process. The sparsely supplied accessories are tucked away well too. Having the DVI to HDMI adapter, molex to 6-pin PCI express, and sound cable placed in two holes in the foam padding. Leaving the driver CD and quick install guide placed under all the foam.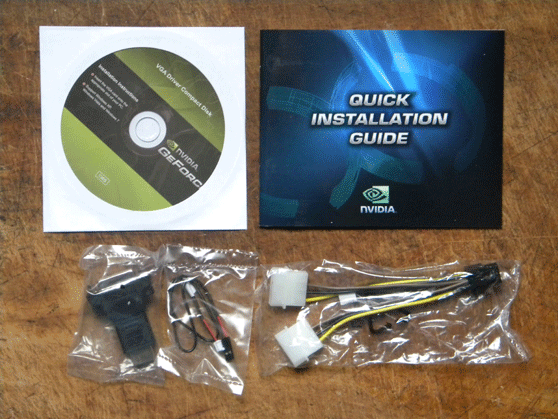 Something that I found odd about the package was its recommendation to tweak the card, but not offering any kind of software or factory overclock to back it up with. For someone how knows how to overclock a GTX 275 this is not a problem, but for a lesser experienced user the box seems to be a little misleading.
The Card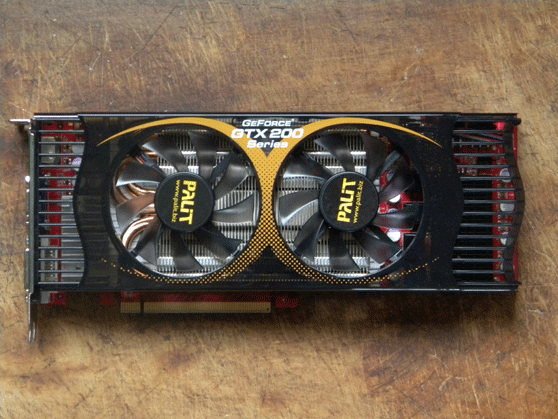 Palit has decided not to go with the reference GTX 275 PCB design and have opted to use a design of there own. Although the design isn't a major departure from the reference GTX 275 PCB design it does add a few benefits like an HDMI and D-Sub headers on the PCB freeing you from having to use DVI adapters and being able to cover more heat generating parts with the main heatsink. Using two serviceable 80mm fans to get the air moving around the heatsinks was also a good move. Something else I like is this card keeps its two slot profile unlike my reference GTX 275 with the HR-03 GT and 120mm fan which takes up three slots.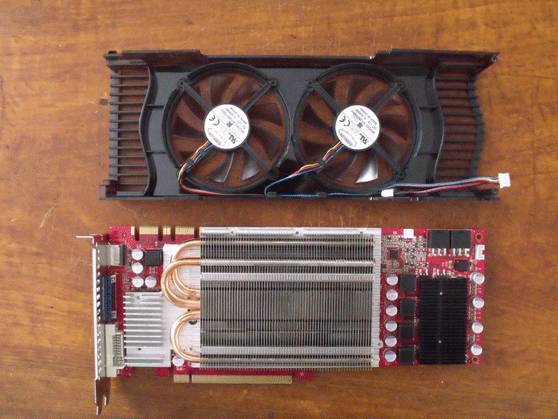 Overclocking

The particular GTX 275 I got overclocks fairly well it is running at 713 MHz core, 1512 MHz shaders, and 1260 memory no problem. The overclock was done by first extracting the card's BIOS with GPU-Z, then editing it with NiBiTor, and then flashing the edited BIOS to the card using nvflash. As is always with overclocking your mileage may very and the card you bought could clock better or worse.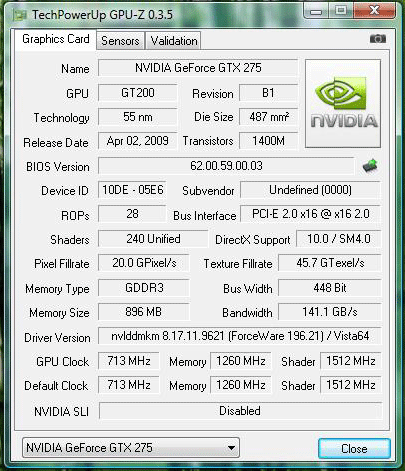 Test Hardware

I have been having some trouble with some of my test hardware, and threw to gather this little number for testing this particular GTX 275.
Processor
Intel Core i7-920 @ 3.0GHz
Motherboard
Jetway BI-600 "Kuroshio"
Memory
G.SKILL Trident 6GB DDR3 2000 (PC3 16000) @ 602 MHz (DDR 1204) 8-8-8-20 Triple Channel Mode
Hard Drive
Seagate Barracuda ES.2 ST3250310NS 250GB 7200 RPM 32MB cache SATA 3.0Gb/s
Video Card
Palit GeForce GTX275 @ 713MHz core 1,512MHz shaders 1,260MHz (2520DDR) memory
Driver 196.21
Optical Disk Drive
Pioneer DVR-115DBK
Power Supply
Seventeam ST-850PAF 850W
Operating System
Windows Vista Ultimate x64 SP1
Gaming Benchmarks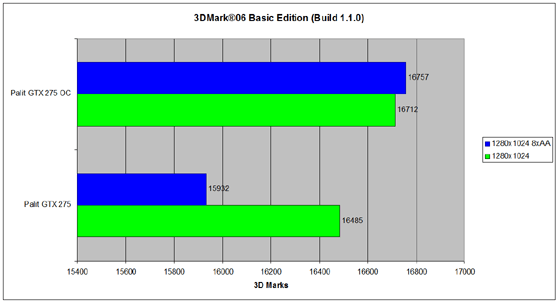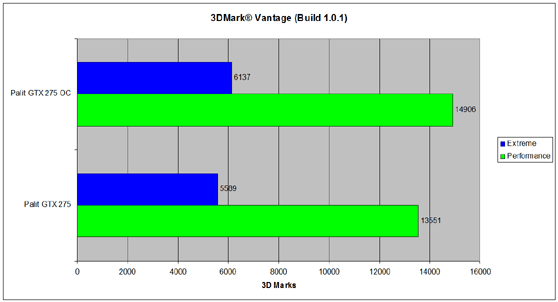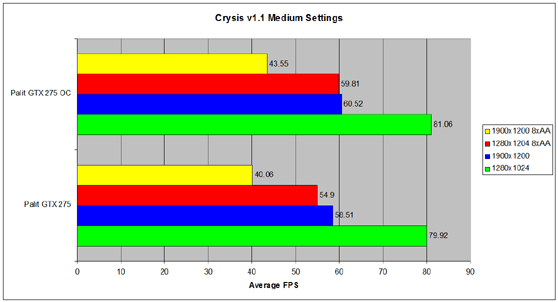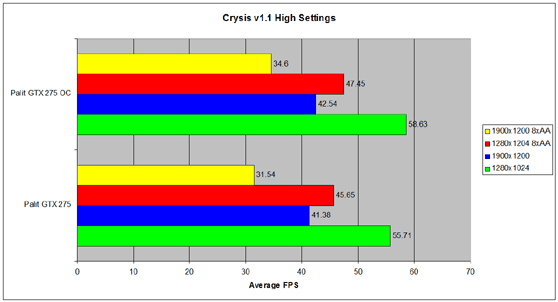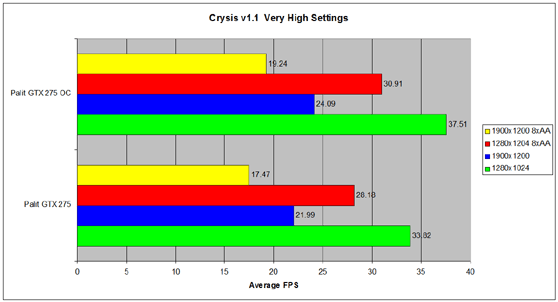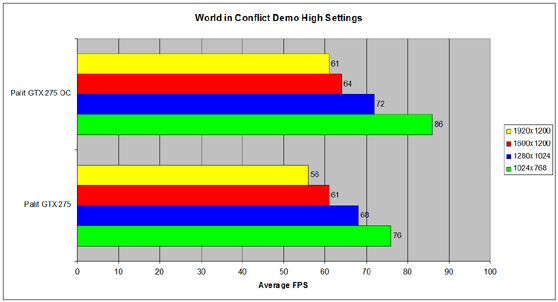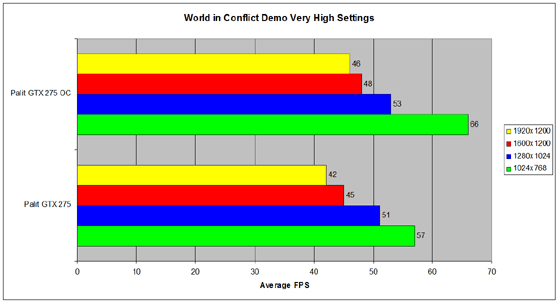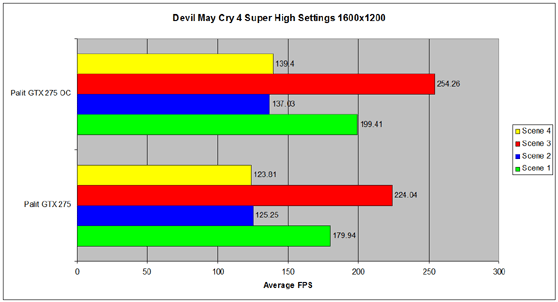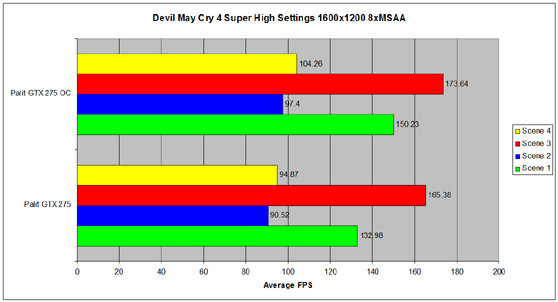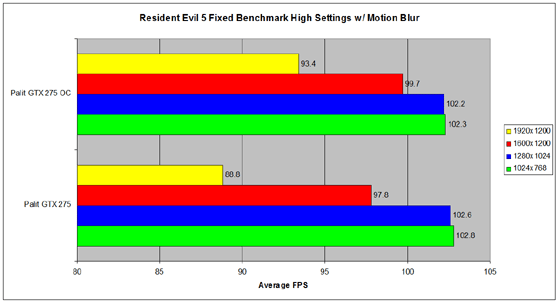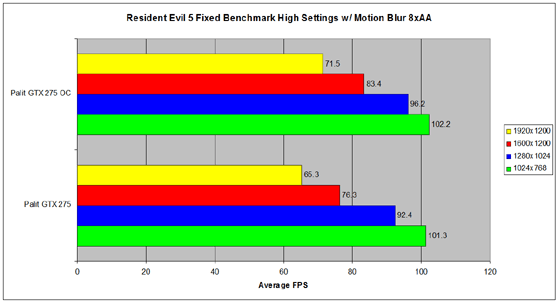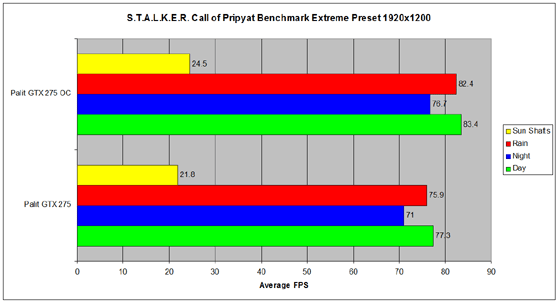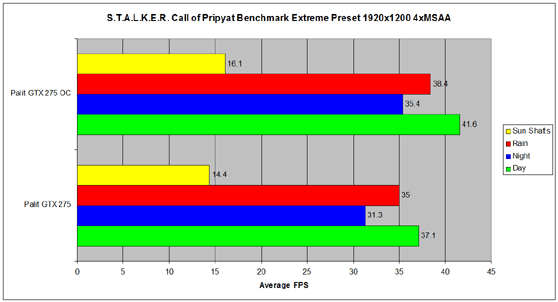 As you can see the overall average frames per second rose 7% for a 12%, 7% increase in GPU and shader frequencies respectfully. You my also notice that Unreal Tournament III is no longer being used in the test bed and that 3D Mark Vantage and the S.T.A.L.K.E.R. Call of Pripyat Benchmark were added to the round of tests.

Power Consumption

Raising the GPU clock speed 12% raises power consumption by 4%. Not to shabby.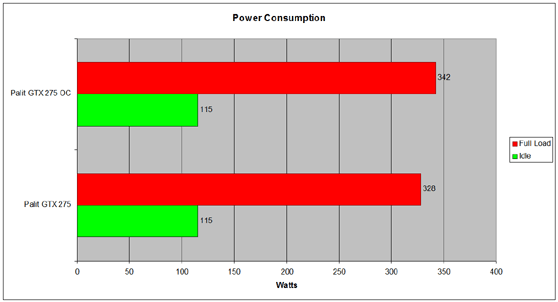 Cooling Performance

The temperatures were not effected to badly with the overclock. All tests were done in an open case environment.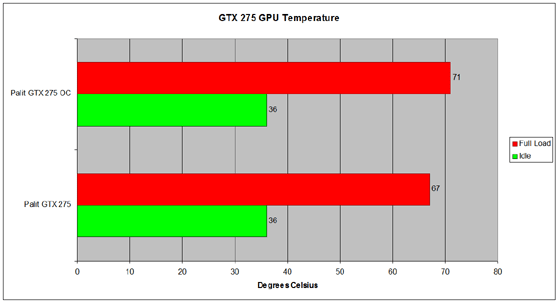 Conclusion

Priced at around $250 Palit has positioned this card against other companies reference designed GTX 275 offerings. So you have the ability to get a decent overclock without having to buy an aftermarket cooler for the price of a vanilla GTX 275. The only major drawback is the lack of factory overclocks or at least some sort of included overclocking software contained in the very same box that calls for you to tweak the card. None the less with a little elbow grease overclocking a GTX 275 isn't that hard nowadays. Bottom line is that you get a GTX 275 that is good to go for overclocking without having to void your warranty.