ARCTIC COOLING's Accelero S1 Rev. 2: Cool Your Ageing 8800GT or HD 3870 Without Noise.
George Ross, June 20, 2008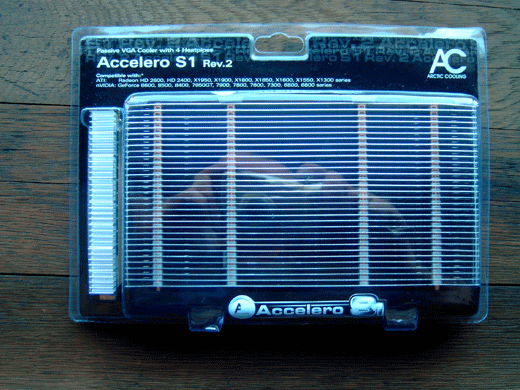 Introduction

With the reference fans that NVIDIA and AMD put out today it is almost necessary to an aftermarket heat sink. Some gaming setups generate so much heat that they can crash if not properly ventilated, and today's GPU's generate a great deal of the heat that can cause a gaming system to crash. This is where the Accelero S1 comes into play. Let's see how this thing cools down the ever so popular 8800GT.

Packaging & Contents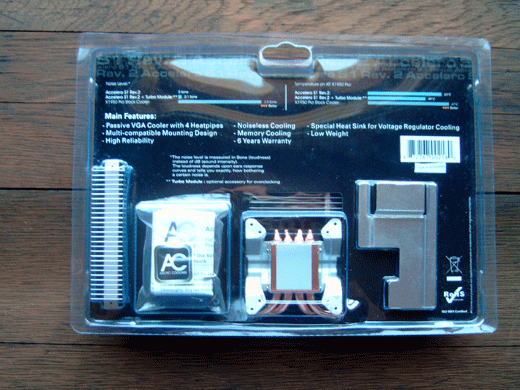 If you were to buy this VGA cooler from a retail chain you might not know that the newer HD 3800 & 3600 and the 8800 GT & GTS (G92's) were supported as with the rev. 2 they did not change the package to reflect so, but the manufacturer's website lists support for these cards. The rest of the packaging suited its purpose and I found the it easy to open.

The Accelero S1 comes with all the accessories and hardware you need to get the card installed. It even has an extra pair of mounting clips to help better hold the heat sink in place. The eight RAM sinks and the two voltage regulator heat sinks are a welcome addition. The vented PCI bracket is a real nice touch and completes the setup in my opinion.

Installing the Accelero S1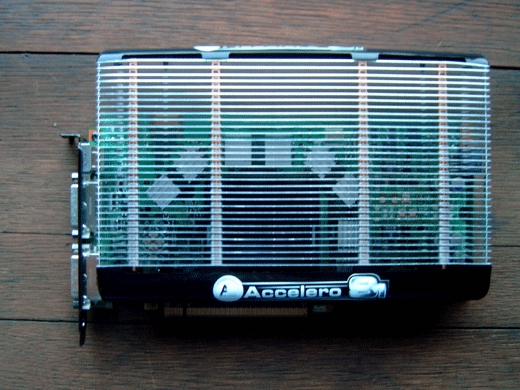 Before you look into buying one of the make sure that you can squeeze the Accelero S1 into your case. This thing is quite large it sticks up past than the card by 1 11/16 inches, but this is to be expected with a silent VGA cooler.

The instructions were adequate, but lacked updated detailed steps for the newer supported cards, and the plastic spacers between the card and the mounting mechanism made it way too hard in my opinion to install the extra mounting clips without bending the fins. So I did not install them on the 8800GT that I used for testing. Neither of the voltage regulator heat sinks fit the 8800GT. The RAM sinks did stick rather well, but you have to make sure that the RAM is clean. They also require a lot of pressure in order to get them to stick properly.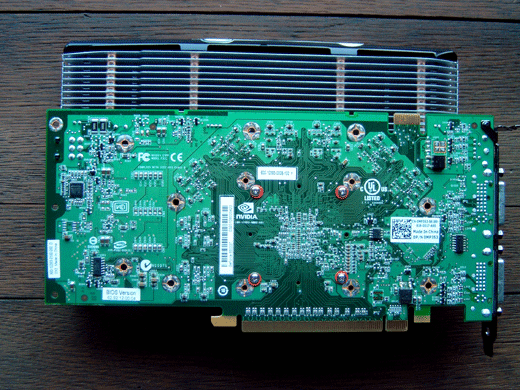 Cooling Performance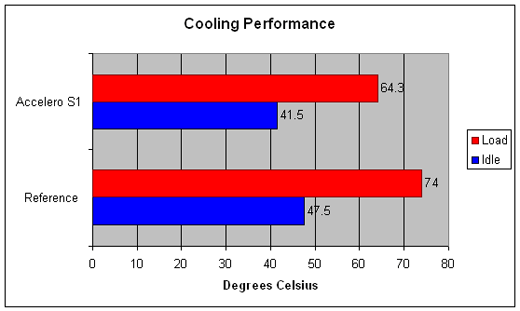 As you can see the Accelero S1 gives 6 degrees Celsius better cooling than the NVIDIA reference heat sink fan setup at idle, and 9.7 degrees Celsius at load. Very good for a silent VGA cooler.

Adding the $10 Turbo Module (2 80mm fans) will only increase your cooling potential. In lieu of buying the turbo module I would suggest using a real good thermal paste such as ZALMAN's Super Thermal Grease or Artic Silver 5 instead of the grease that comes on the heat sink. Or you could use tie wire or something to attach a 120mm case fan, but doing so will make this already large two slot VGA cooler a three slot monster.

Conclusion

Some think that $30 is a lot to pay for a VGA cooler, but one can spend much more on VGA cooling. With the performance that this cooler brings to the table I would say that the Accelero S1 is reasonably priced. Hopefully it will fit the newer video cards that come out this summer. That would add even more value to the Accelero S1, but as it stands now ARCTIC COOLING's Accelero S1 is a great choice for cooling those hot GPU's silently.