APEX's MI-008: Mini-ITX Case Goodness
George Ross June 15, 2011
Introduction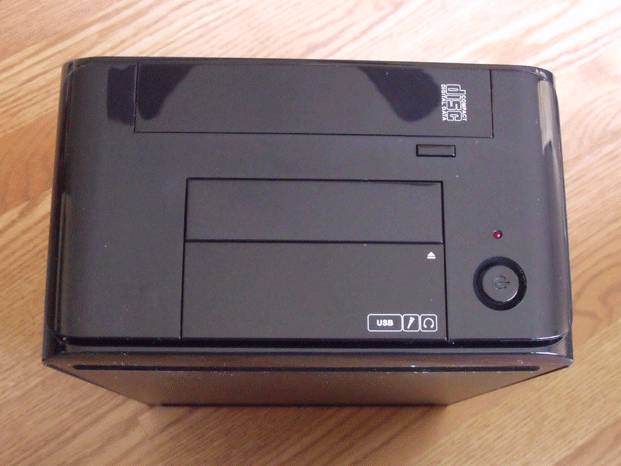 Have you been looking for a relatively inexpensive mini-ITX case that uses standard PC components such as 5.25" and 3.5" drives? Then Apex may just have what you are looking for.

Packaging and Contents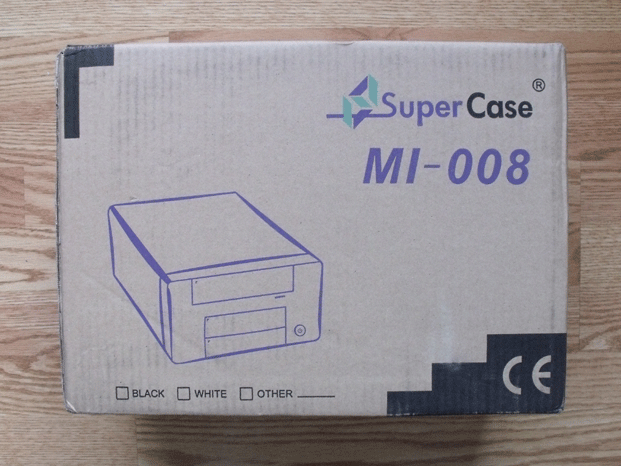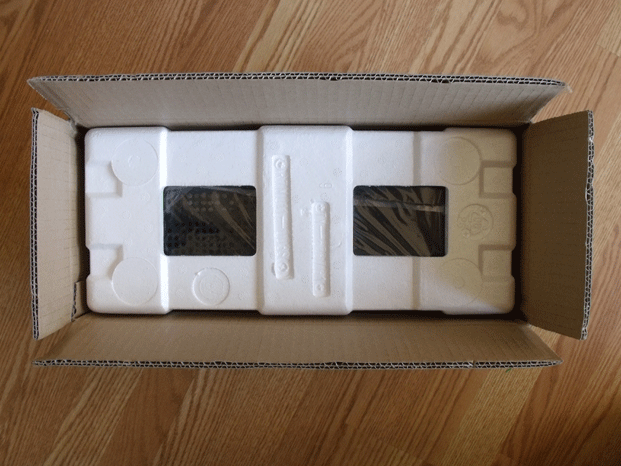 Apex has done a pretty good job with the packaging of the MI-008. The case comes wrapped in plastic and fitted into a couple pieces of Styrofoam to keep it from experiencing too much shock during the shipping process. The accessories are shipped inside the case.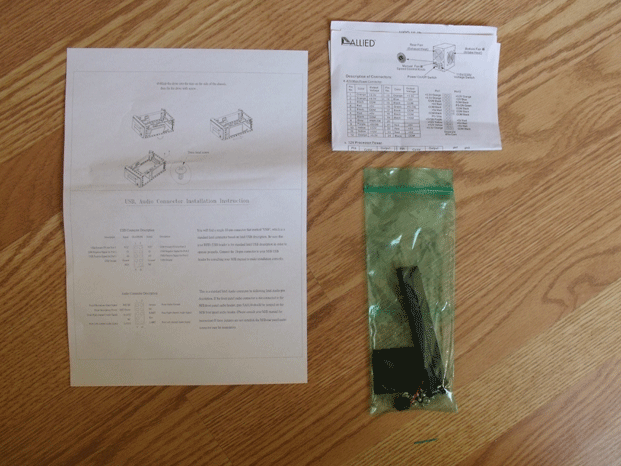 The MI-008 comes with everything you need to get it set up screws, 3.5' hard drive guides, case feet, a case speaker, and your basic power cord. The case feet are not affixed to the case out of the box. This is so that you can pick weather you would like to have your case vertically or horizontally orientated.
Specifications
Dimension
8.7"x 5.1"x 13.5"
220mm x 129mm x 340mm
(W) x (H) x (D)
Drive Bays
1 - 5.25" Exposed
1 - 3.5" Exposed
1 - 3.5" Hidden
Form Factor
Small form factor
Motherboard Compatibility
Mini-ITX
Expansion Bay
1 full size expansion
PSU
ATX12V SFX 250W with 20+4 pin MB connector
Front Access Port
USB2.0 Port x 2
Audio Port x 2
(AC97 & HD Plugs)
Looking at the Outside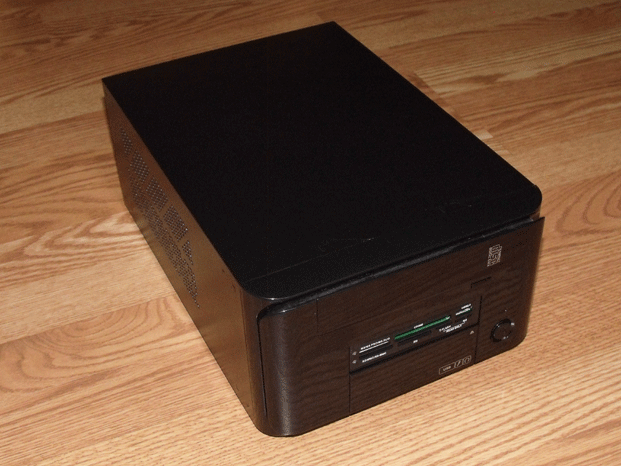 I have mixed feelings about the looks of this case. It is a minimalistic approach that doesn't look bad in my opinion. I'm just not a fan of the glossy finish of the front bezel. Glossy finishes are magnets for finger prints and smudges, and makes floppy drives or memory card readers standout when added as they clash with rest of the bezel as you can't find them in a glossy finish as well. The front USB 2.0 ports and audio input/output are hidden behind a little door and can be accessed just by pressing on the white eject symbol on the door. Some people like this and others do not. The sides and back of the case have some ventilation holes allowing the case to breath. A single full height expansion slot is all you get for expansion making this case difficult to use for gaming setups. As most all graphics cards you see today occupy two slots.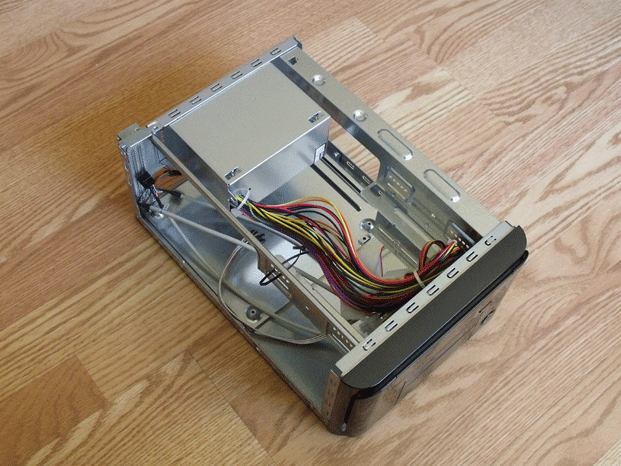 Component Installation

Inside the case there is enough room to get all of your components installed without much hassle, and there are no sharp edges to cut you up during component installation. The external drive bays are arranged nicely and the 3.5' guides allow for an internal 3.5' device to easily be installed on the side of the case. The only potential drawback to the MI-008 is the placement of the micro-ATX power supply. If you plan on installing a motherboard that utilizes an AM2, AM3, 775, 1156, 1155 socket s, or the like make sure that the CPU heatsink will fit. Atom and Zacate based motherboards however fit like gloves. The front panel connector cords are of adequate length, but not too long as to cause an excess of cable clutter. It is amazing what you can fit in such a small footprint with intelligent design. The MI-008 does have a good internal design.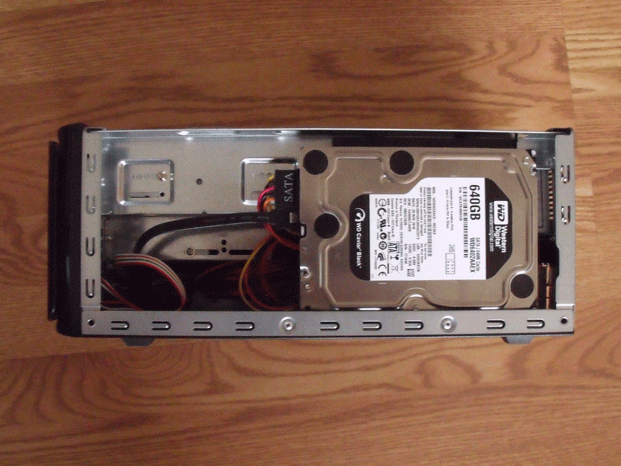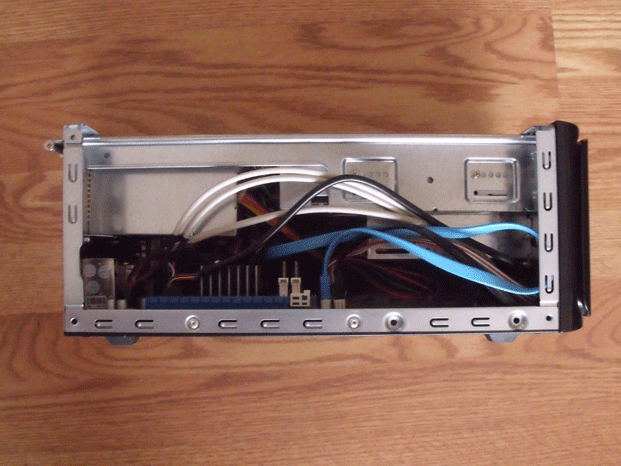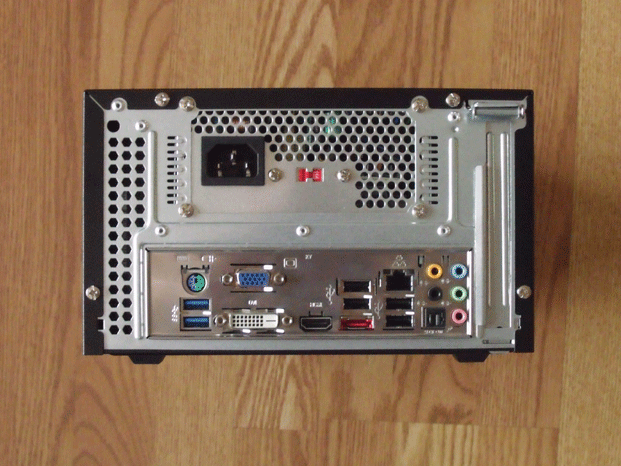 Test Hardware

Here is some information on the hardware that was used in the test setup.
| | |
| --- | --- |
| Processor | AMD E-350 @ 1.6GHz |
| Motherboard | ASRock E350M1/USB3 |
| Memory | G.SKILL 4GB DDR3 1333 (PC3 10666) @ 533 MHz (DDR 1066) 7-7-7-20 Single Channel Mode |
| Hard Drive | Western Digital Black Edition 640GB 7200 RPM 32MB cache SATA 3.0Gb/s |
| Video Card | AMD Radeon HD 6310 |
| Optical Disk Drive | Pioneer DVR-115DBK |
| Power Supply | Allied 250W (Included) |
| Operating System | Windows 7 Home Premium x64 |



Component Temperatures

All temperature tests were conducted in an environment that had a 25.55 degrees Celsius ambient temperature. As you can see the ventilation holes in the sides and back of this case let your components breathe. I've tested E-350 APU's in open case environments and had similar results.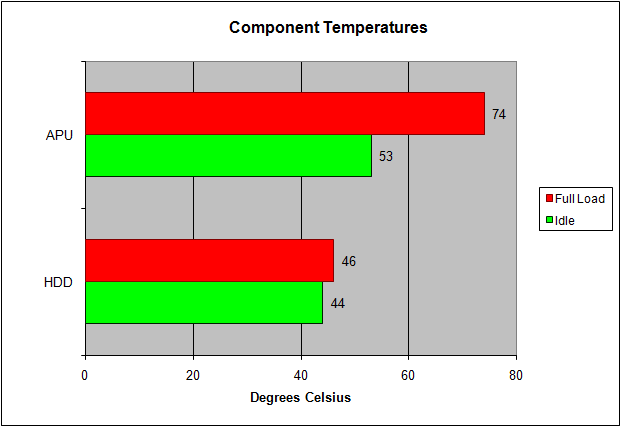 Conclusion

So for around $50 Apex's MI-008 gives you the ability to pair a low power mini-ITX motherboard with standard PC components in a reasonably small footprint. This is a good case for those looking to build a rig that utilizes the mini-ITX form factor. While its one full height expansion slot and power supply placement make it difficult for use in gaming scenarios I don't think MI-008 wasn't designed for such uses or it would have bundled with a beefier power supply. All in all if you are looking for a good solid case for your next mini-ITX based computing creation and don't want to have to use 2.5' hard drives and slimline optical drives the MI-008 from Apex has got you covered.