Cooler Master's Centurion 590: Sub $100 PC Case Goodness
George Ross, January 18, 2009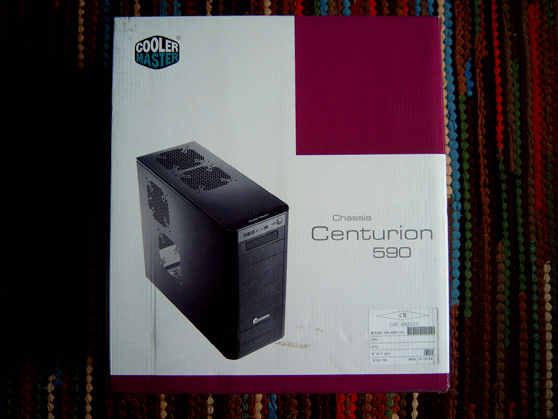 Introduction

Today we are taking a look at a PC case from Cooler Master that was most obviously inspired from there popular CM Stacker 810. Does the Centurion 590 have what it takes to be likened unto the CM Stacker 810?

Packaging and Contents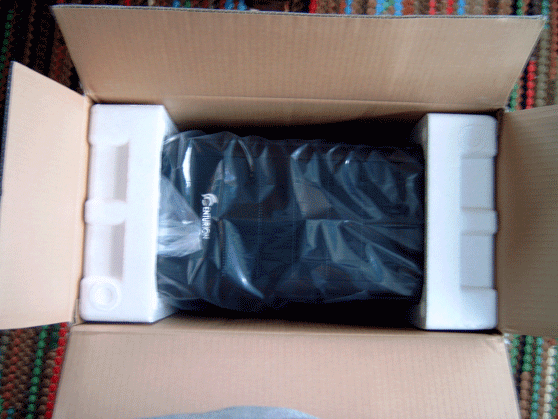 This case is well packaged with enough insulation to protect the case from the riggers of the shipping process. This case does come with everything you need to set it up some hardware, a manual, and a few ty-wraps and that is it.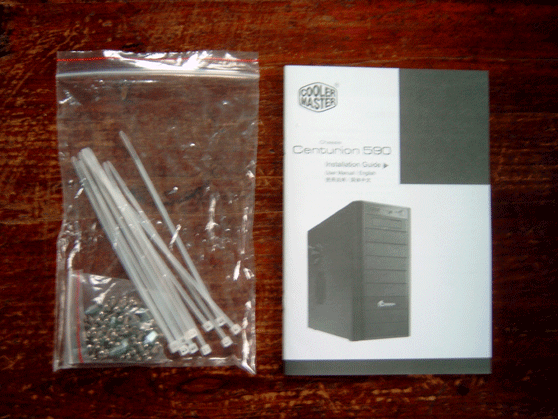 Looking at the Outside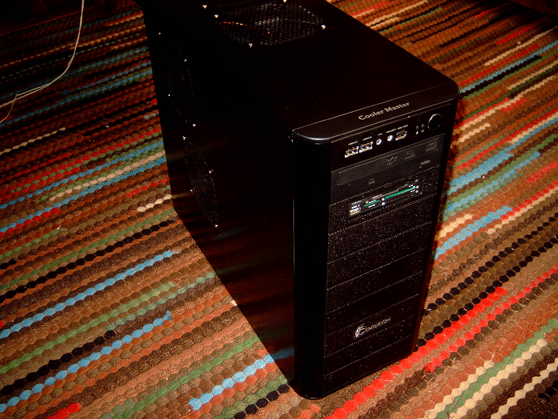 At first glance it is plain to see that this case has plenty of ventilation with the ability to have four additional 80-140mm fans added. I used four 120mm in this review. The front face is also well ventilated having meshed and filtered drive bay covers. The front also has two USB ports, one FireWire port, and audio in/out. One thing that is missing is a reset button. I am pleased with the looks of this case.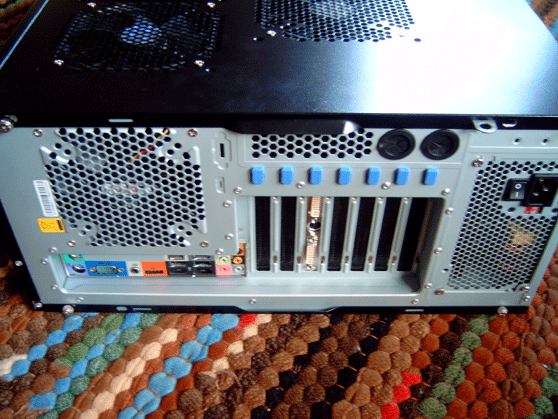 Looking at the rear of the case reveals that this case has a bottom mounted power supply. It also has an included 120mm fan and two holes to allow for water cooling. Something else worth noting is that this case is fairly light.
Looking at the Inside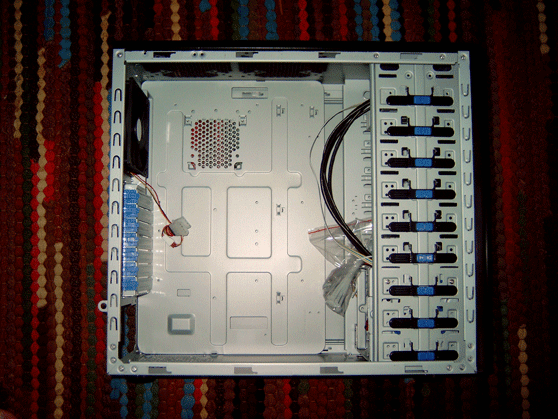 This is where the Centurion 590 barrows the most from the CM Stacker 810 is in the inside. There are nine slots for installation of hard drives, optical drives, floppy drives, and the like. The tool free design of the drive bays works well, but I would strongly suggest using at least one screw on the other side of the hard drive cage, floppy drive, and optical drives.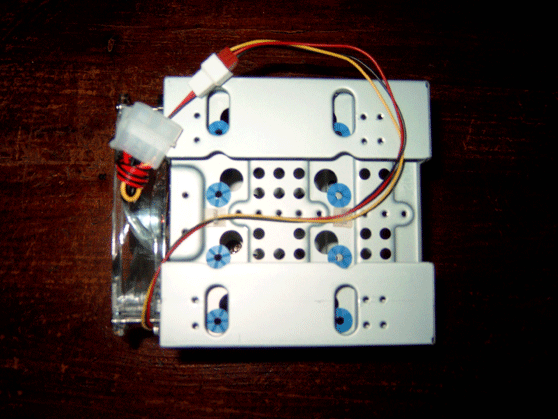 The hard drive cage is well designed allowing for four hard drives to be installed. It has rubber washers to help keep your hard drive from shock. The included blue LED 120mm fan helps to cool those hard drives and bring in yet more air. I replaced the blue LED fan with just a regular 120mm fan for this review.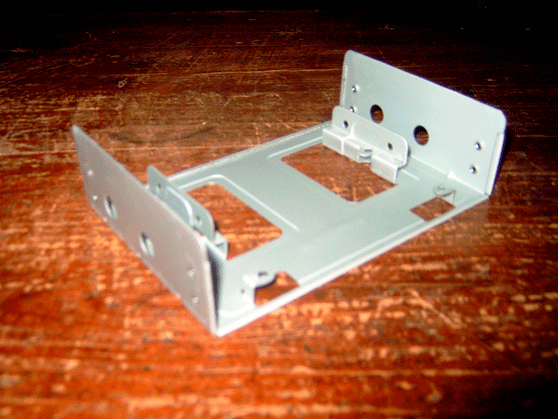 The 3.5' to 5.25' adapter works well it is not too hard to install floppy drives or flash readers.
Like I said earlier this case has a bottom mounting power supply. So you will want to make sure that your 4 or 8-pin CPU power connector is long enough. Cheaper power supplies often come with shorter CPU power connectors.
The build quality of this case is very good. The case feels solid and there are no sharp edges. Cooler Master has done a good job with this case.
Hardware Installation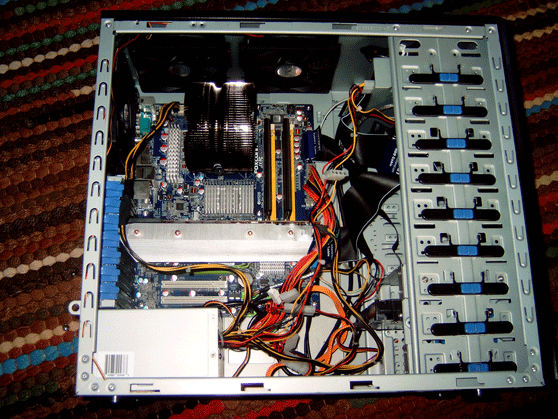 The Centurion 590 has plenty of room to install components hassle free with enough room to work with. The bottom mounting power supply could be a problem if your power supply comes with a shorter 4 or 8-pin CPU power connector. If that is the case then you can cannibalize an older power supply and get the needed length of wire and solder onto the new power supply's leads as I did.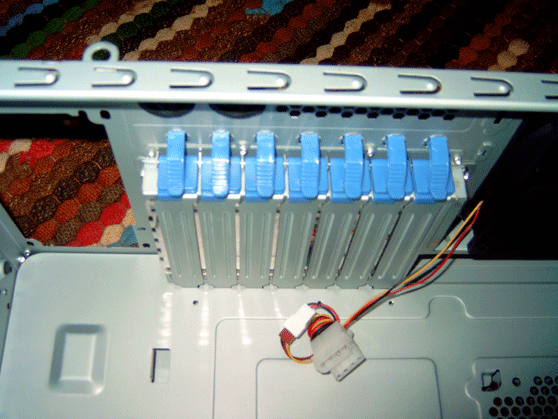 All of the tool less mechanisms worked well and trouble free. The PCI bracket holders are very well done. I really like how this case works and feel that it barrows from the CM Stacker 810 in all the right places.

Test Hardware

The test system that was used in getting the temperature readings was an overclocked Core 2 Duo with DDR2 memory and an overclocked HD 4850. Here are the particulars.
Processor
Intel Core 2 Duo E7300 @ 3.2GHz
Motherboard
Foxconn P45A-S
Memory
GeIL Evo One 4GB DDR2 1066 (PC2 8500) @ 481MHz (962 DDR) 5-5-5-15 Dual Channel Mode
Hard Drive
Seagate ST3500320AS 500GB 7200 RPM 32MB Cache SATA 3.0Gb/s
Video Cards
SAPPHIRE Radeon HD 4850 @ 710MHz core and 1100MHz (2200 DDR) memory
Catalyst 8.12
Optical Disk Drive
Pioneer DVR-215DBK
Power Supply
FSP Group 400W
Operating System
Windows Vista Ultimate x64



Component Temperatures

The temperatures were taken with the case running six 120mm fans and vented PCI brackets. The Core 2 Duo was cooled by the CNPS9500 from Zalman and the HD 4850 was cooled by the Accelero S1 Rev. 2 from Artic Cooling.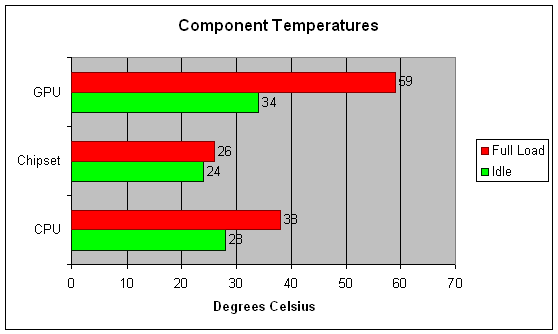 Conclusion

For around $90 Cooler Master's Centurion 590 makes for a fine enclosure for your overclocked gaming rig or just about any other computer you have. This is a very well thought out case that does a good job of keeping your components at reasonable temperatures.