ZEROtherm's CoolMaxx 2000 VGA Cooler: One Good Way to Cool an HD 4890
George Ross, September 3, 2009
Introduction

Zerotherm has been making aftermarket GPU coolers for awhile now and it shows in the CoolMaxx 2000. To start off with this cooler is obviously influenced by Zalman's VF1000, but it has its fan on the side of the heatsink that faces the PCB. This greatly affects the aesthetics of this cooler in a positive way. Since this cooler resembled the VF1000 so closely I thought it a good cooler to compare the CoolMaxx 2000 to.

Packaging & Contents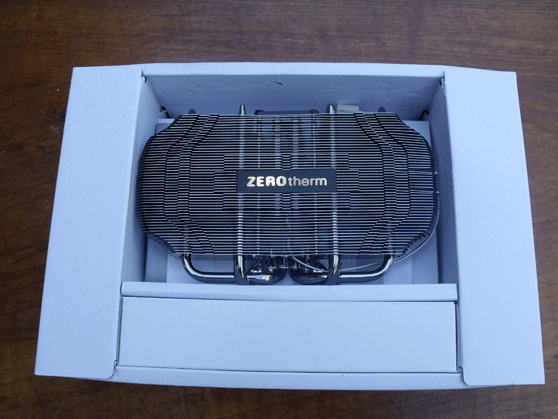 When I opened the CoolMaxx 2000 I noticed that it had a little bit too much wiggle room in the packaging. There was no damage to my cooler, but a little bubble wrap or something couldn't hurt. Aside from that the packaging is adequate.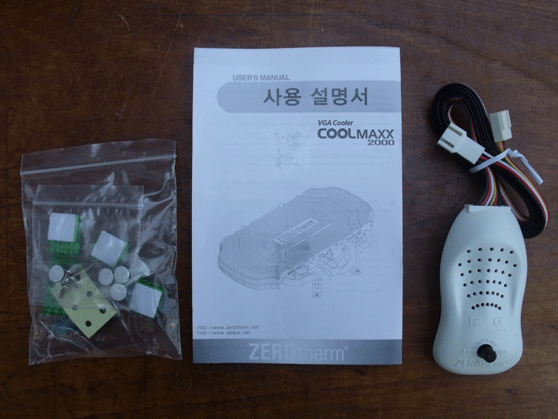 The CoolMaxx 2000 has everything you need to get it installed four screws, six insulating pads, a small tube of thermal grease, eight BGA memory heatsinks, an instruction booklet, and it features a fan speed controller that is a little too big for my taste. There is really nothing to get too excited about here. You just get the basics.
The Cooler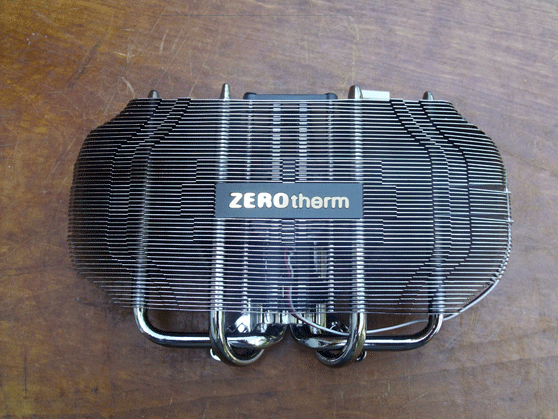 The CoolMaxx 2000 is constructed using a copper base and heatpipes with aluminum fins for air to move across and remove heat. The CoolMaxx 2000 is not only influenced by the VF1000 the F-117 Nighthawk is given credit to have influenced the CoolMaxx 2000 and it shows as this is one of the better looking VGA coolers I have ever seen.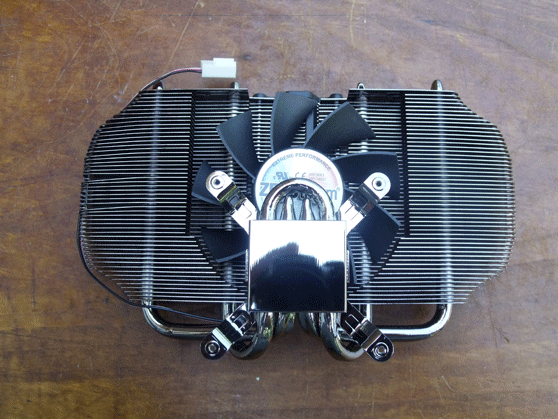 Now you can see the fan. You may also notice that the base of the heatsink is lapped better than most, but not as well as the VF1000.

Installation

First off the instructions were fairly good and easy to follow with lots of pretty pictures. This cooler installs OK with my only complaint being that you have to line the PCB holes up with the threaded holes of the cooler I find this is much easier when the cooler has the screws attached to it and you thread on a nut on the back of the PCB. However with the CoolMaxx 2000 doesn't have any thumb screws sticking out the back. The screws are flush with the PCB. So you know tit for tat.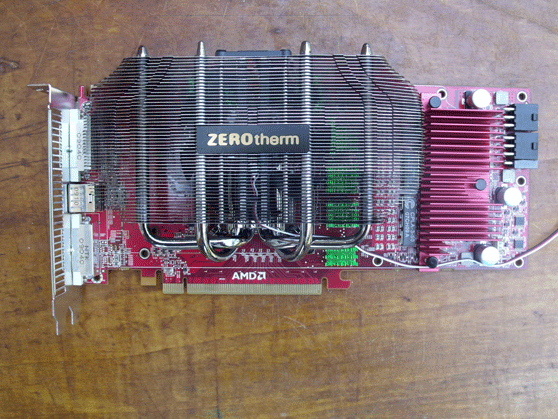 Test Hardware

Both coolers were tested using Zalman's ZM-STG1 Super Thermal Grease and ZM-RHS90 VRM heatsink. Here is some more information on the hardware that was used in testing.
Processor
Intel Core 2 Quad Q6700 @ 3.6GHz
Motherboard
GIGABYTE GA-EP45C-DS3R
Memory
OCZ 4GB DDR3 1600 (PC2 12800) @ 720 MHz (DDR 1440) 7-7-7-28 Dual Channel Mode
Hard Drive
Seagate Barracuda ES.2 ST3250310NS 250GB 7200 RPM 32MB cache SATA 3.0Gb/s
Video Card
MSI Radeon HD 4890 @ 880 MHz core 999 MHz (3996 Gb/s) memory
Catalyst 9.7
GPU Coolers
Zerotherm CoolMaxx 2000
Zalman VF1000 LED
Optical Disk Drive
Pioneer DVR-112DBK
Power Supply
FSP Blue Storm II 500W
Operating System
Windows Vista Ultimate x64 SP1



GPU Temperature

The cooler was tested in an open case environment with an ambient temperature of 27 degrees Celsius, and as you can see the CoolMaxx 2000 lags behind the VF1000 in cooling performance a good five degrees Celsius cooler under load and three degrees Celsius when idling.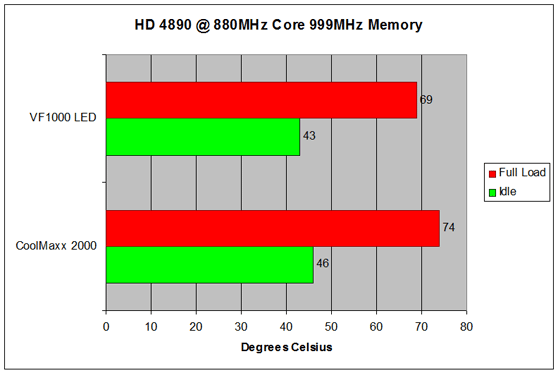 Conclusion

For around $63 the CoolMaxx 2000 is a little bit pricey as far as I'm concerned as the VF1000 can be had for around $50. So why buy the CoolMaxx 2000 for some the answer may be as simple as pure aesthetics as this is a good looking GPU cooler, and its performance is not terrible just not as good as the cheaper VF1000.