ASUS's E35M1-M Pro: A Near Perfect Low Power HTPC Motherboard
George Ross, June 2, 2011
Introduction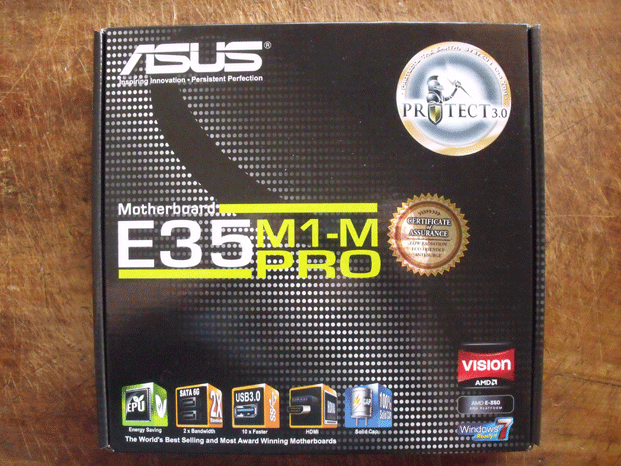 With the introduction of the Zacate platform AMD has created a great all in one solution for HTPC builders that has the potential to be the Holy Grail of HTPC motherboards. Every since I have been building HTPC's I have wanted a solution that could handle 1080p content without all the noise that fans bring when cooling the hot chips that used to be required to handle HD content. Now that AMD has released its first lineup of Fusion related APU's motherboard manufacturers now have the ammo they need to build fantastic motherboards that would satisfy those who are looking to build a low power noiseless HTPC. Sadly most manufacturers are only focusing on making their Zacate based platforms around the mini-ITX form factor leaving no expandability options for TV tuners and premium sound cards. This is where the E35M1-M Pro comes in it is based on the micro-ATX form factor allowing it to have more expandability options and it is also a fan optional solution. Does this motherboard have what it takes to be the ideal motherboard for your next HTPC build? Read on to find out.

Packaging & Contents

The E35M1-M Pro is packaged fairly well. The motherboard comes in an anti-static bag wrapped up in cardboard to keep it from moving around too much during shipping, and sits below the accessories that which are separated from the motherboard by a cardboard divider.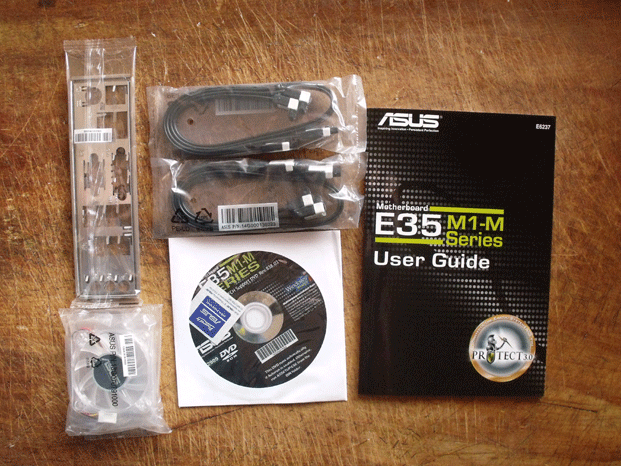 Asus offers nice accessories like four angled SATA cables with clips, an optional fan, a rear I/O shield, user guide, and a driver DVD.
Overall I like the packaging and the included accessories that come with the E351M-M Pro.
Specifications
CPU
AMD CPU on Board ;Fusion APU E-350 Dual-Core Processors
AMD Cool 'n' Quiet' Technology
Up to 2 "Bobcat" cores,DX11 GPU,FT1 BGA
Chipset
AMD' FCH A50 (Hudson M1)

System Bus
Up to 2500 MT/s ; UMI Link
Memory
2 x DIMM, Max. 8 GB, DDR3 1066 Non-ECC,Un-buffered Memory
Single Channel memory architecture
* Please refer to www.asus.com or user manual for Memory QVL.

Expansion Slots
1 x PCIe 2.0 x16 @X4
1 x PCIe 2.0 x1
2 x PCI 3.0

VGA
Integrated AMD' Radeon HD 6310
Max. UMA Memory Size: 1G
Supports DVI with HDCP compliant with Max. resolution: 1920X1080 @60 HZ
Supports HDMI' Technology with max. resolution up to 1920X1080 @ 60Hz
Supports RGB with max. resolution 2560X1600 @ 60Hz
Supports Microsoft' DirectX 11
Hardware Decode Acceleration for H.264,VC-1, and MPEG-2
DVI Single-link
Dual VGA output support: RGB & DVI, RGB & HDMI
Storage
Southbridge
5 xSATA 6.0 Gb/s ports
1 xExternal SATA (6Gb/s Ready)

LAN
Realtek' 8111E Gigabit LAN
Audio
ALC887-VD2 High Definition 8-Channel Audio (3jacks)
- Optical S/PDIF out port at back I/O
- Supports Multi-Streaming, Vista Premium;Anti-pop Function (Power On/Off; Resume S3/S4); Front Panel Retasking
* Choose the chassis with HD audio module in front panel to support 8-Channel audio output
USB
ASM Controller:
- 2 x USB 3.0/2.0 ports (@back)
Chipset built-in:
- 12 x USB 2.0/1.1 ports (8@board, 4@back)

ASUS Unique Features
ASUS EPU
ASUS AI Suite II
ASUS Turbo KeyII
ASUS Turbo Key
ASUS TurboV
ASUS Anti-Surge
ASUS low EMI
ASUS CrashFree BIOS 3
ASUS EZ Flash 2
ASUS My logo 2
ASUS EFI BIOS(EZ Mode)
ASUS Fan Xpert

Overclocking Features
Intelligent overclocking tools
- Turbo Key
- Turbo Key II
- TurboV
SFS (Stepless Frequency Selection)
- FSB tuning from 80MHz up to 300MHz at 1MHz increment
Overclocking Protection
- ASUS C.P.R.(CPU Parameter Recall)

Back Panel I/O Ports
1 x PS/2 Keyboard/Mouse Combo port
1 x DVI
1 x D-Sub
1 x HDMI 1.4a
1 x External SATA (6Gb/s Ready)
1 x IEEE 1394a
1 x LAN(RJ45) port(s) (Gigabit LAN)
2 x USB 3.0/2.0
4 x USB 2.0/1.1
1 x S/PDIF Out (Optical)
8-Channel Audio I/O(3 jacks)
Internal I/O Connectors
4 x USB 2.0/1.1 connector(s) supports additional 8 USB2.0 ports
5 x SATA 6.0Gb/s
1 x IEEE 1394a connector
1 x CPU Fan connector(s)
1 x Chassis Fan connector(s)
1 x LPT connector
1 x S/PDIF Out connector
1 x 24-pin EATX Power connector
1 x 4-pin ATX 12V Power connector
1 x Front panel audio connector
1 x COM connector
1 x System Panel connector
1 x Turbo key II Switch

BIOS
32 Mb Flash ROM , EFI BIOS, PnP, DMI 2.0, WfM 2.0, ACPI 2.0a, SM BIOS 2.5

Accessories
User's manual
1 x I/O Shield
2 x SATA 6.0Gb/s
1 x CPU FAN
1 x Support DVD
Support Disc
Drivers
ASUS PC Probe II
Anti-virus software (OEM version)
ASUS Update

Form Factor
uATX Form Factor
9.6 inch x 7.2 inch ( 24.4 cm x 18.3 cm )

Layout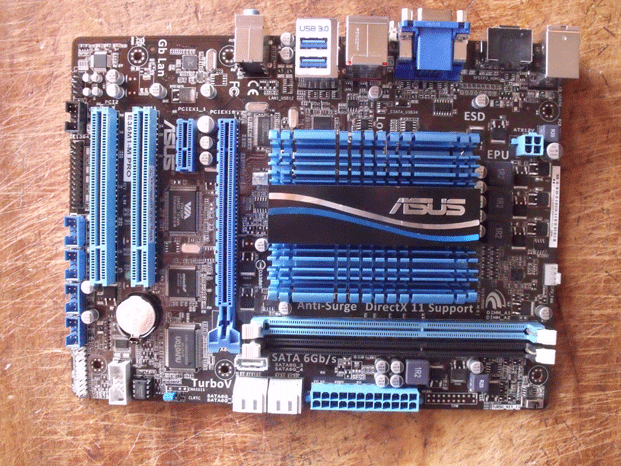 The first thing to catch your eye when looking at this micro-ATX motherboard may be the large passive heatsink that cools not only the APU, but also the Hudson M1 chipset as well. The heatsink is attached to the board with six screws so it won't move around do to normal handling can sometimes cause a heatsink to lose good contact with the chip or chips it's cooling. The memory slots are arranged in the normal ATX position like most other Zacate based motherboards. Expandability is where this motherboard really differs from all the other mini-ITX Fusion based boards that I have seen it features a PCI Express x16 slot (4x electrical), a PCI Express x1 slot, and two PCI slots. For me though I would have rather seen a pair of PCI express x1 slots with or without a plain old vanilla PCI slot. However these slots do allow you to use those TV tuners and premium sound cards that people like to use in their HTPC builds. There are five SATA 3 connectors giving you plenty of storage options. The four USB 2.0 headers are located well in my opinion and there is even a FireWire (IEEE 1394a) header. There are even a couple of 3-pin power headers for some fans if you should decide to go that route. One of the cooler features this board sports is what ASUS calls their Turbo Key II switch. This switch automatically overclocks the E-350 APU when activated giving you a tiny performance boost. This motherboard seems to be of good quality using all solid capacitors and a sturdy PCB.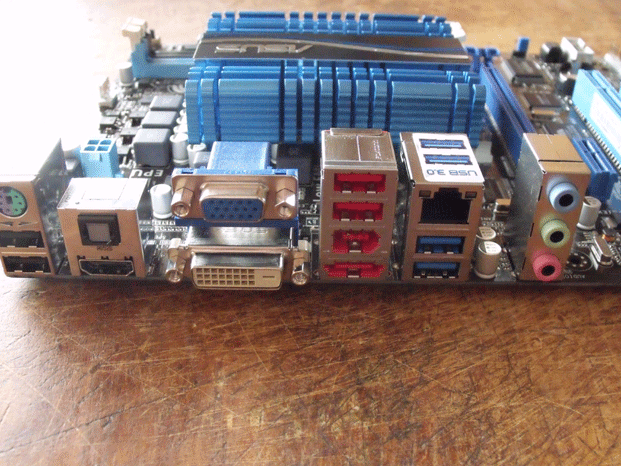 The rear panel has all the connectors you need for a modern HTPC setup HDMI, D-Sub, DVI, analog and digital audio outputs, and USB 3.0. Couple those with the USB 2.0, FireWire, external SATA 3, gigabit LAN, and PS/2 ports and the only thing you could say was missing is a DisplayPort connector. On the other hand good luck in finding a display that uses DisplayPort.

Overall I would have to say I am impressed with the layout of this motherboard ASUS has taken advantage of all the Zacate platform has to offer and puts it in a nice layout.

BIOS

Asus has provided an EFI BIOS that has two modes an EZ Mode and an Advanced Mode. The BIOS does allow you to overclock the E-350 APU. Just don't get too excited about any potential performance gains as the E-350 is not known to overclock well.

Overclocking

For the overclock with this board I used the Turbo Key II switch and it raised the APU's clock to 1,648MHz. This was achieved buy upping the base click from 100MHz. to 103MHz. The E-350 APU is not known to be a good overclocker. So don't expect much from an overclocking standpoint.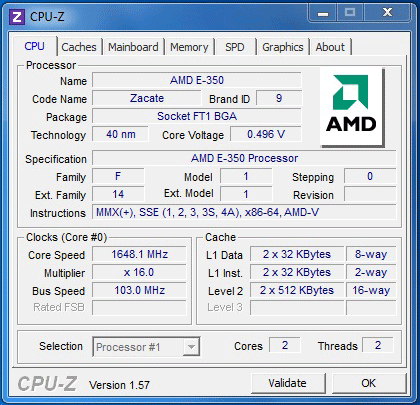 Test Hardware

For a point of reference we compared the E351-M Pro to an Atom D510 based configuration. Here are the rest of the particulars on the test systems.
Processors
AMD E-350 @ 1.6GHz
AMD E-350 @ 1.648GHz
Intel Atom D510 @ 1.66GHz
Motherboards
ASUS E35M1-M Pro
Jetway NC94FL-510-LF
Memory
Mushkin 4GB DDR3 1600 @ 533 MHz (DDR 1066) 7-7-7-20 Single Channel Mode
Mushkin 4GB DDR3 1600 @ 548 MHz (DDR 1096) 7-7-7-20 Single Channel Mode
G.SKILL 4GB DDR2 1100 @ 400 MHz (DDR 800) 5-5-5-15 Single Channel Mode
Hard Drive
Western Digital Caviar Green WD5000AADS 500GB 32MB Cache SATA 3.0Gb/s
Video
AMD Radeon HD 6310
Intel GMA 3150
Optical Disk Drive
LITE-ON HES208
Power Supply
FSP Blue Storm II 500W
Operating System
Windows 7 Ultimate x64
General Computing Benchmarks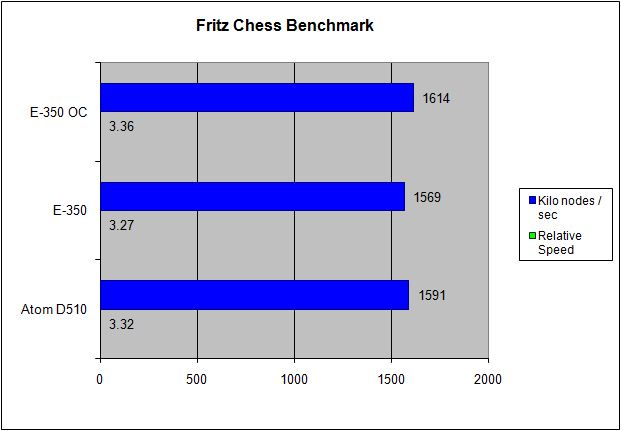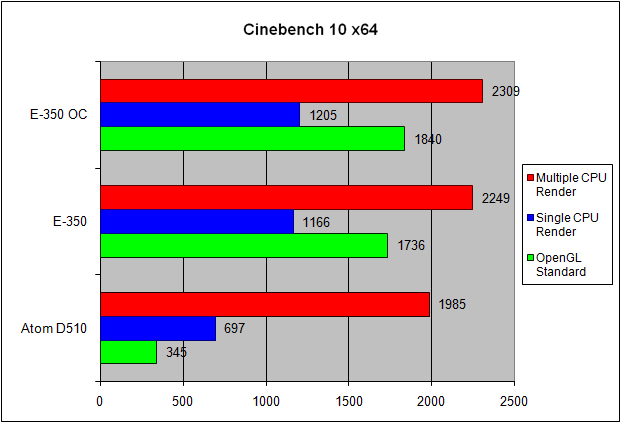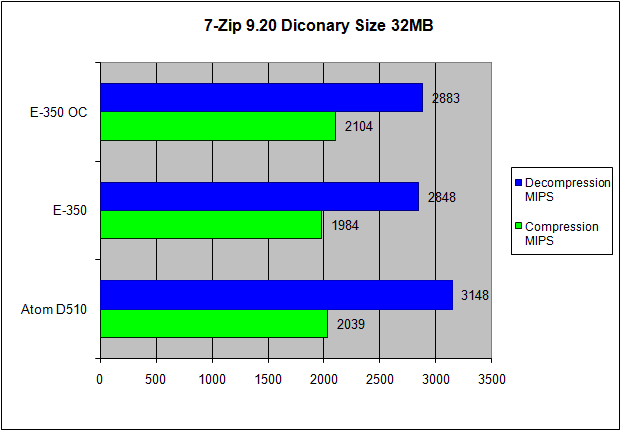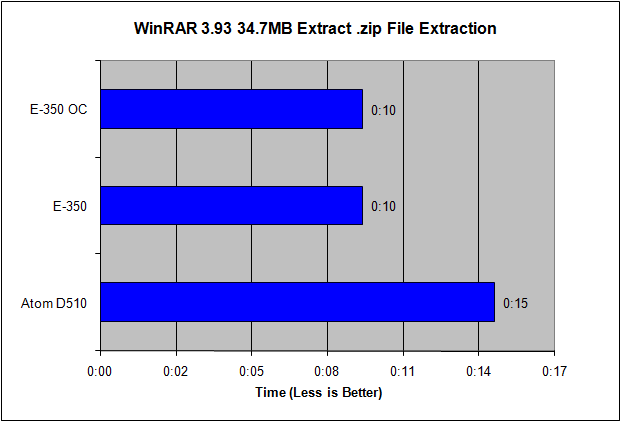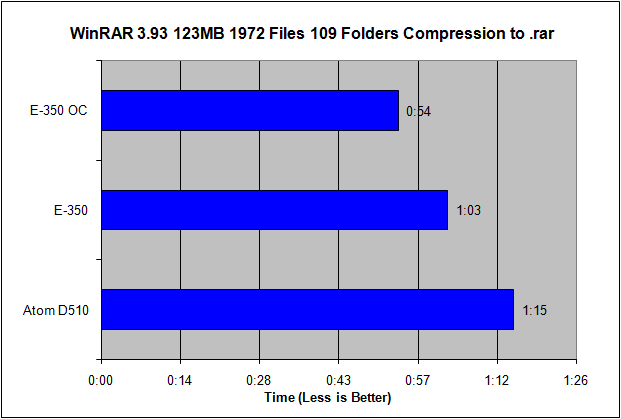 Nothing Earth shattering here. The overclock does provide a small performance increase.
Gaming Benchmarks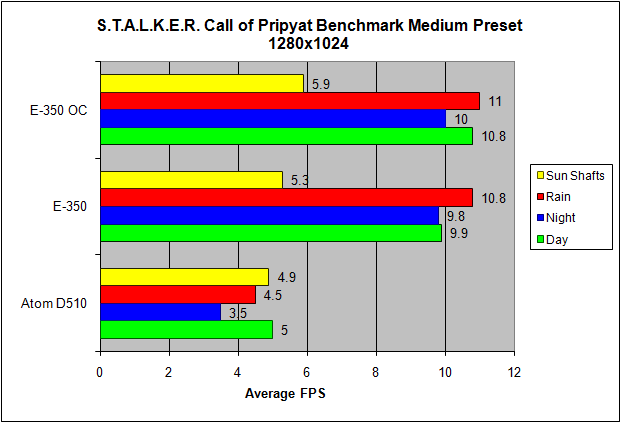 While you wouldn't want to game with the HD 6310 integrated graphics processor it does have more performance than most other integrated graphics solutions.
Power Consumption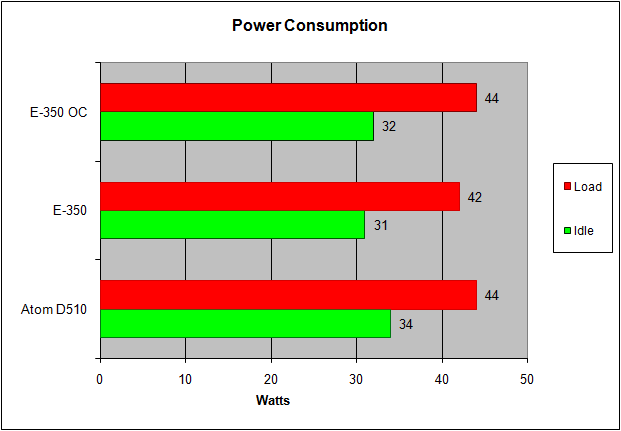 These are some pretty tight numbers.
APU Temperature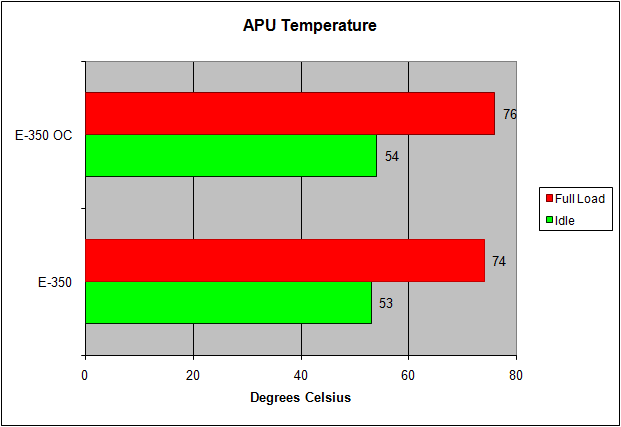 The passive heatsink that the E35M1-M Pro uses does a good job at keeping the APU and Hudson M1 chipset from getting to hot, and even keeps those chips as cool as some other actively cooled Zacate solutions that I have seen. These temperatures would also go down if the included fan were added to the system.

Conclusion

So for around $150 the E35M1-M Pro would seem to be a near perfect choice for HTPC builders who are looking for a silent, low power, HD capable, and expandable computing solution that has USB 3.0, SATA 3, and HDMI connectivity options. This board stands out in a crowd of Zacate based motherboards by using the mico-ATX form factor instead of the less expansive mini-ITX form factor allowing for more peripheral options like TV tuners and premium sound cards. This motherboard isn't just for HTPC setups it could be used for low power severs, budget PC builds, and upgrading outdated PC's.