ECS's 945GCD-M: Gaming With Intel's Atom?
George Ross, December 17, 2009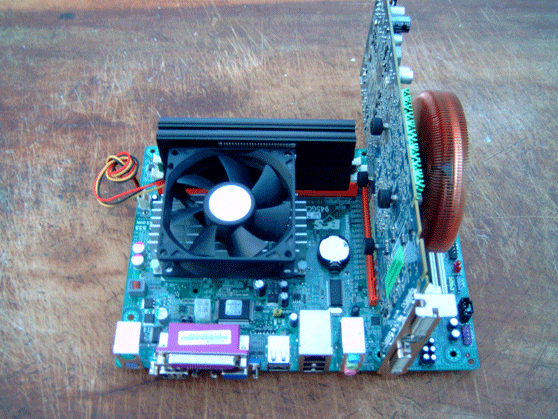 Introduction

When it comes to innovative motherboards ECS is not a company that first comes to mind. Not since the days of the K7AMA that offered DDR266 and PC133 memory options for AMD's K7 line of processors has ECS released a motherboard that has filled a gapping hole in the PC hardware market space. Lets just hope that the failure rate of the 945GCD-M is nothing like the failure prone K7AMA.

Intel's Atom processor has changed the way a lot of people look at computing by offering just enough oomph to allow for general computing tasks in a remarkably small power envelope. Even HTPC enthusiasts have embraced the Atom coupled with NVIDIA's ION platform allowing the Atom to power high definition HTPC's. ECS has seen a hole in the HTPC motherboard market and has filled it by allowing you to couple an Atom processor with any PCI express x16 enabled video card in the form of the 945GCD-M. Using this motherboard we will finally be able to answer the question can one seriously game with the Atom processor?

Packaging and Contents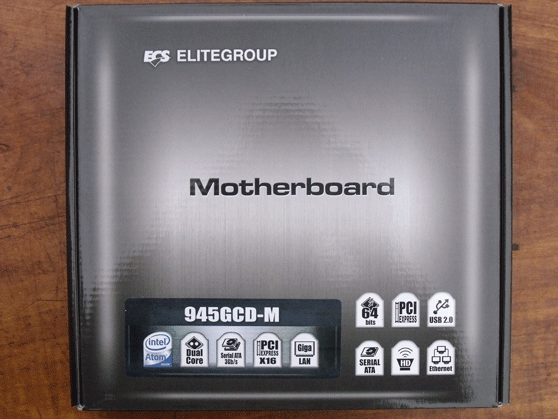 ECS does package the 945GCD-M in a box that does keep it from being destroyed in the shipping process, and doesn't go overboard with the accessories giving you only the barest of essentials.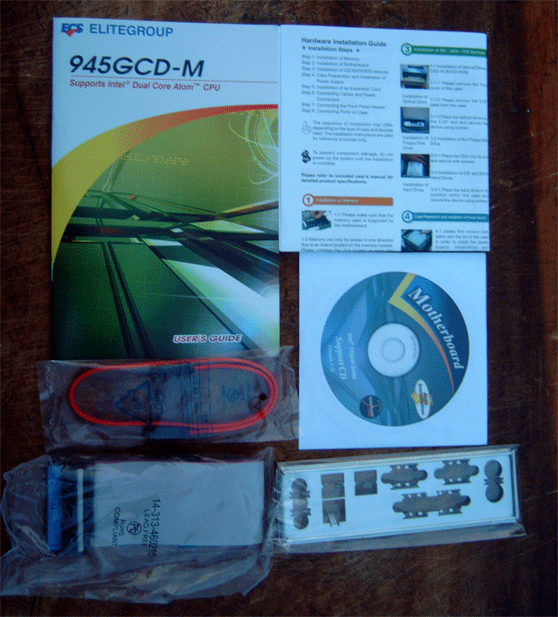 Motherboard Layout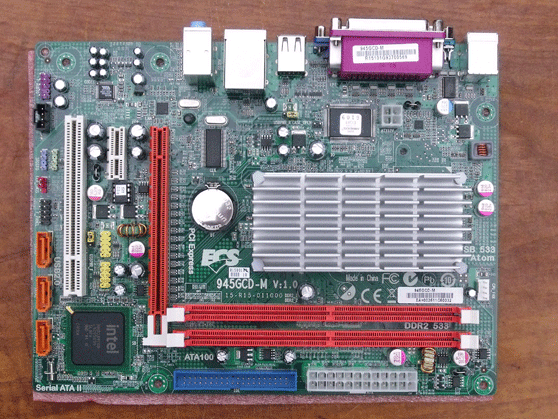 This micro ATX board has a decent layout allowing you to connect one PCI express x16 card, one PCI express x1 card, and one good old PCI card giving at least one of pretty much one of everything. Do to the unfortunate placement of the Intel ICH7 Southbridge the USB, SATA, and front panel headers have been moved to less than ideal locations most notably the USB headers being far to close to the PCI express x1 slot for my taste. The CPU and Northbridge share the same passive heatsink and if you look closely you can see part of the Atom's packaging sticking out past the heatsink. This is not a problem as the CPU die is covered by the heatsink. As for the rear I/O connectors they are what you are used to seeing.

Overclocking

One of the nicer features of this motherboard is it allows you to overclock the Atom processor by increasing the FSB. While no voltage tweaks were possible within the BIOS that was supplied with the motherboard. I was able to achieve a stable overclock of 1,882MHz. For the sake of safety an 80mm fan was added on top of the supplied heatsink to ensure that the CPU and Northbridge were not damaged during overclocking.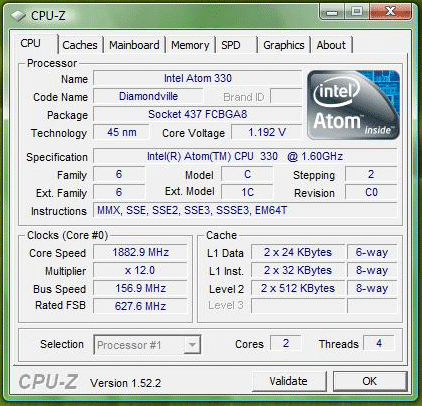 Test Hardware

Here are the particulars on the test system. It is not everyday you get to see an Atom processor paired with an HD 4850.
Processor
Intel Atom 330 @ 1.596GHz
Intel Atom 330 @ 1.882GHz
Motherboard
ECS 945GCD-M
Memory
GeIL Evo One 4GB DDR2 1066 (PC2 8500) @ 400MHz (DDR 800) 5-5-5-8 Single Channel Mode
Hard Drive
Western Digital Caviar Black WD5001AALS 500GB 7200 RPM 32MB Cache SATA 3.0Gb/s
Video Card
Radeon HD 4850 @ 625MHz core 993MHz memory
Catalyst 9.11
Optical Disk Drive
Pioneer DVR-111DBK
Operating System
Windows Vista Ultimate x64
General Computing Benchmarks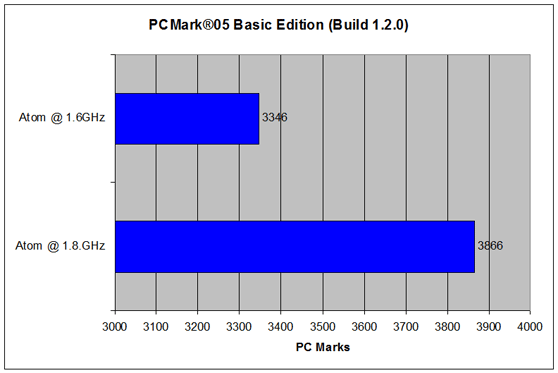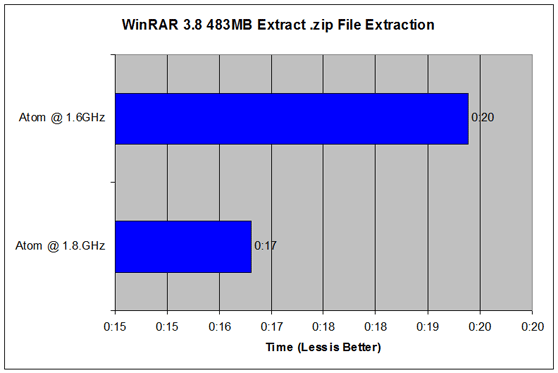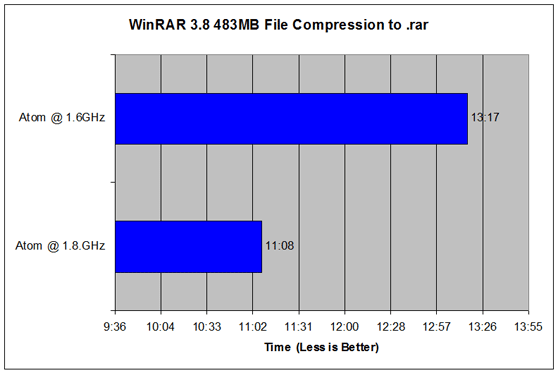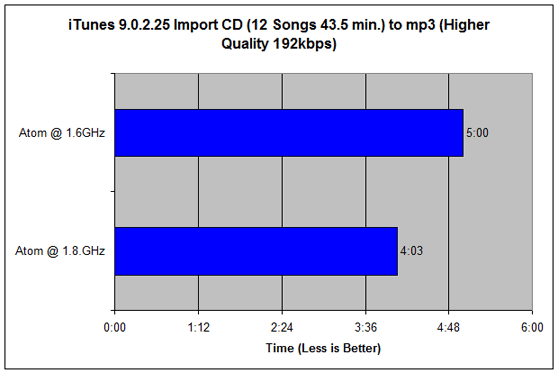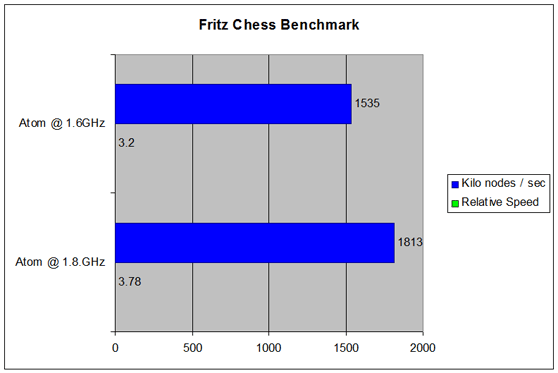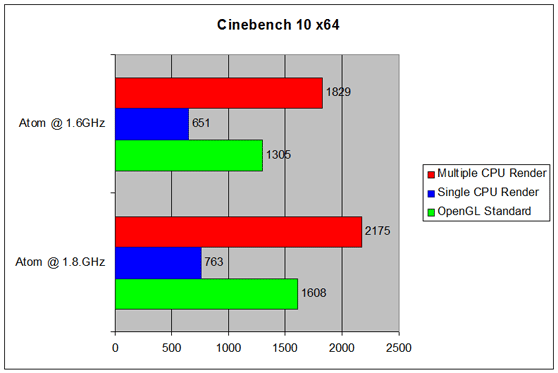 There is nothing to get too excited about here but the Atom gets the job done, and improves with every clock tick you give it.
Gaming Benchmarks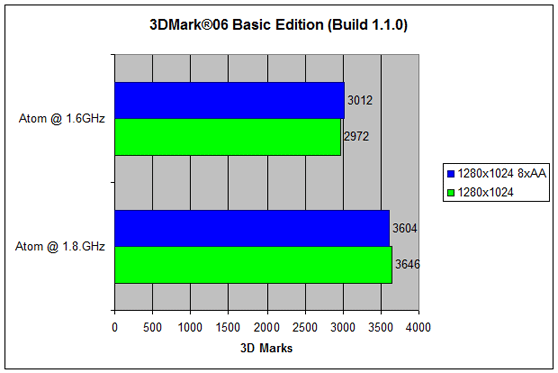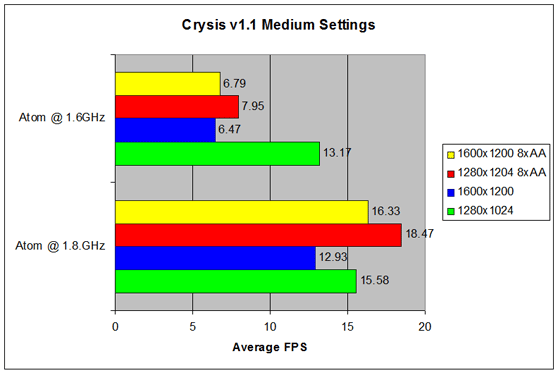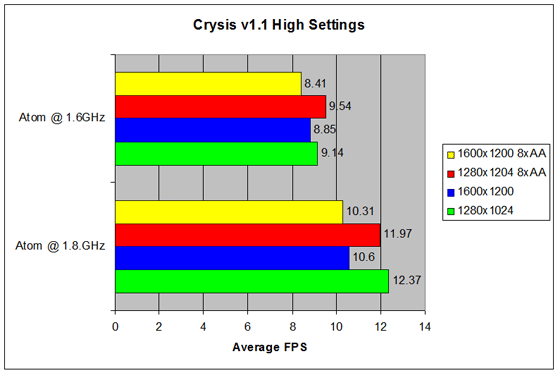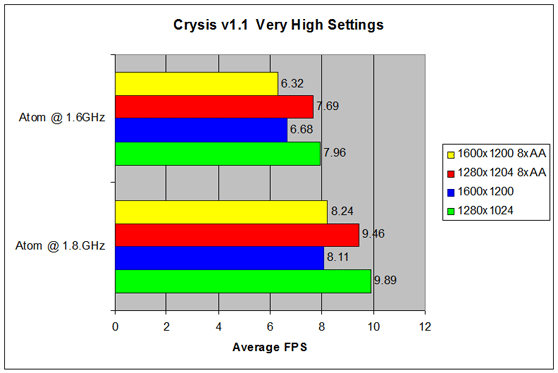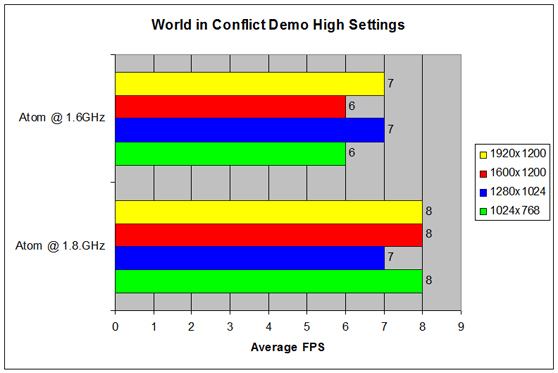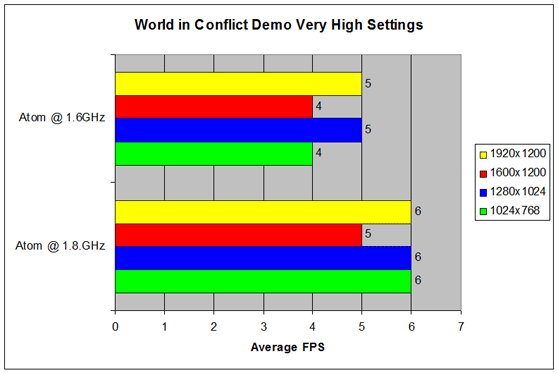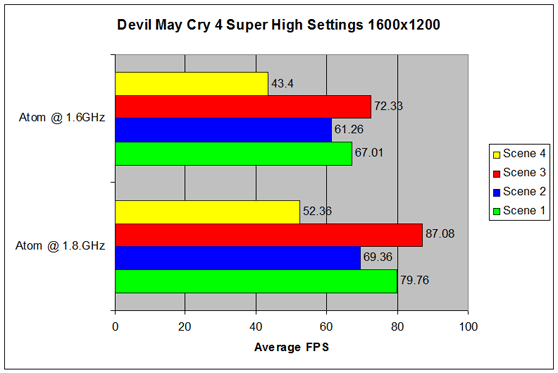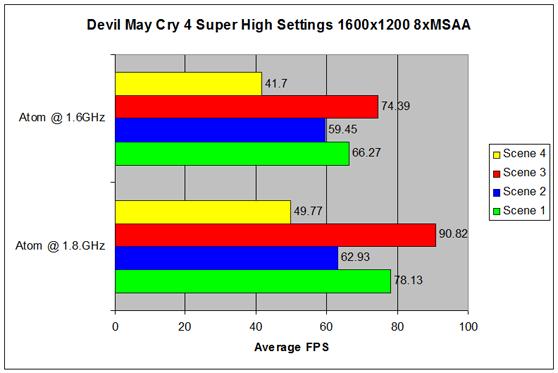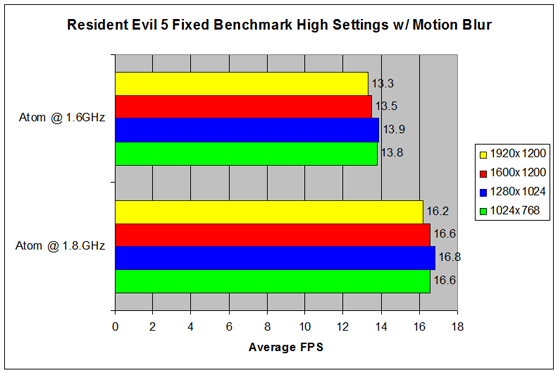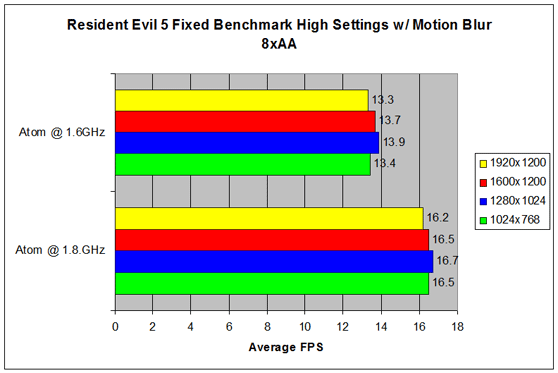 You may have noticed that the usual Unreal Tournament III benchmarks were omitted. This is because this was the only game that reacted negatively to the Atom citing that it did not meet the minimum system requirements and would not allow you to change the game from its lowest settings. As for the rest of the games there numbers were pitiful with the only exception being in the Devil May Cry 4 tests, but all the games could be run in all there glory just very slowly. Adding more megahertz to the processor did pay off well giving the test system a 22% overall improvement in overall average frames per second with a 17% improvement in CPU clock speed. While serious gaming is technically possible with the Atom I can not recommend using it in gaming scenarios as its performance is way under par.

Component Temperatures

All tests were conducted in an open case environment at default speeds and these chips get pretty hot. If you were to put this motherboard into a case (Which most rational people do) good airflow is a must. Adding a fan is recommended and is something that is done with the Northbridge of every other Atom implantation that I have seen. So keep that in mind.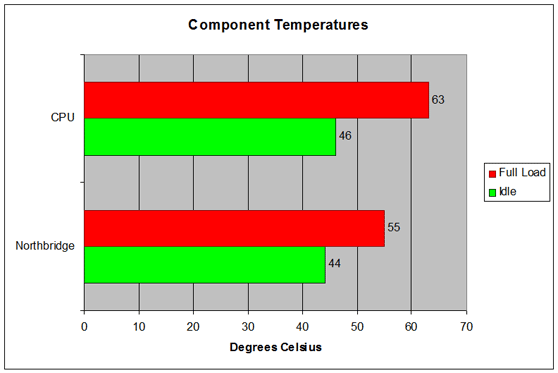 Power Consumption

Gaming at under 200W is only good for Devil May Cry 4 in my test bed.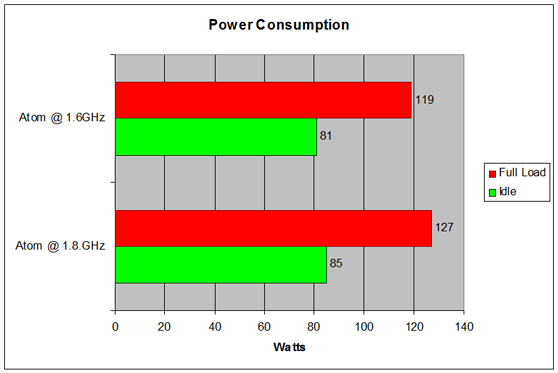 Conclusion

ECS has certainly came up with a good prospect for that HTPC you've been planning to build allowing you to mix Intel's famed Atom processor with any video card of your choosing for $90. This could be a perfect mixture for the low power high definition computing experience that a lot of people are looking for, but do to insufficient cooling the 945GCD-M looses a little bit of traction. Pair that with a one year limited warranty and you have a good recipe for a bad investment. However with a little elbow grease and money adding a good fan to the mix will certainly give you that low power high definition playback machine that you dream of.

UPDATED February 11, 2010: ECS has contacted and corrected me on the one year limited warranty. They say that all ECS motherboards come with a three year limited warranty. So it would appear that what I called a good recipe far a bad investment was founded on false information. Sorry for the mistake.