ECS's Black Series A890GXM-AU: A Good way to Experience AMD's 890GX
George Ross, May 7, 2010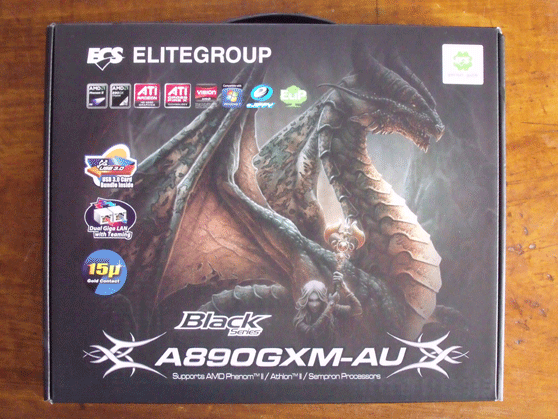 Introduction

ECS is not the first manufacturer that comes to mind when it comes to premium motherboards designed gaming in mind, but they are trying to lose their budget board only status. This is made obvious with the release of their take on the 890GX the A890GXM-AU. Does the A890GXM-AU have what it takes to be labeled as an enthusiast grade product?

Packaging and Contents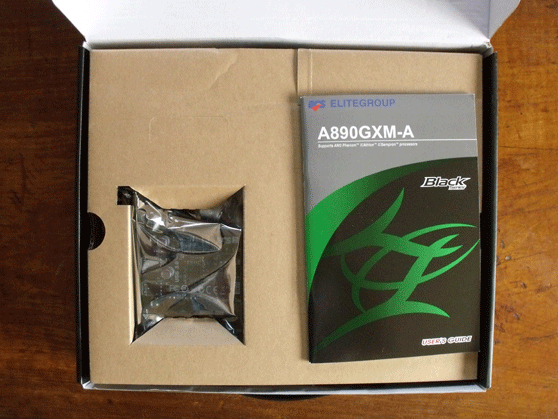 ECS has done a fairly good job with the packaging of the A890GXM-AU and you can tell they are trying to impress you even with the packaging like most top tier manufacturers try to do. To me packaging is only meant to protect the motherboard from the rigors of shipping, but a nice picture of a dragon and a Elvin chick, a bunch of marketing badges, and stickers highlighting the products features does help it move from retailers shelves quicker. Not to mention the carrying handle. The box does do a good job of protecting the motherboard from damage during shipping and the motherboard itself comes almost completely surrounded by 3/16 inch thick Styrofoam.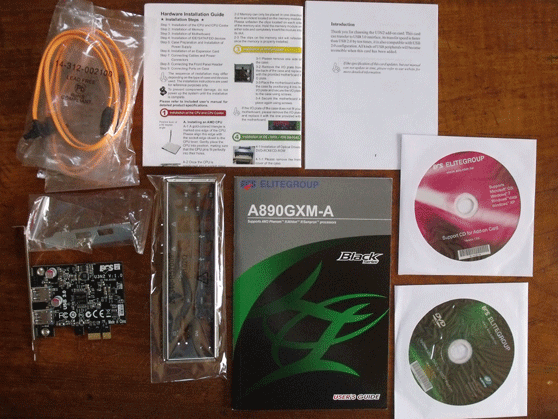 The included accessories are a pretty standard affair four SATA cables, I/O backplate, quick install guide, manual, and driver CD's. That is until you take into account the included USB 3.0 add on card with a low profile PCI bracket option.
Specifications
CPU
Socket AM3 socket for AMD Phenom' II processors
Support 125W Phenom' II X6 processors
High-performance HyperTransport 3.0 CPU Interface
Support transfer rate up to 5200 mega-transfers per second
Note: This board supports CPU up to 140W TDP only; you can refer to AMD website to check your CPU.
Chipset
AMD' 890GX & AMD' SB850
North Bridge: AMD' 890GX
South Bridge: AMD' SB850
Graphics
On Chip (AMD 890GX-based with ATI' Radeon HD4290 graphics )
Integrated DirectX10.1 graphics processor
Share Memory: Maximum up to 512MB
AMD SidePort Memory : DDR3-1333 (64Mx16=128MB)
Memory
Dual-channel DDR3 memory architecture
4 x 240-pin DDR3 DIMM socket support up to 32 GB
Support DDR3 up to 1800(OC)/1600(OC)/1333/1066 DDR3 SDRAM
*(Due to the DRAM maximum size is 4GB at present, the memory maximum size we have tested is 16GB)
*(Due to AMD CPU spec limitation, memory OC figure (1600+) is not guaranteed, please refer to Memory QVL for more information)
Expansion Slot
3 x PCI Express Gen 2.0 x16 slots
2 x PCI Express x1 slots
1 x PCI slot
*The third PCIEX16 only support bandwidth x4
Storage
Support by AMD' SB850
5 x Serial ATAIII 6.0Gb/s devices
RAID0, RAID1, RAID5, RAID 10 configuration
1 x eSATA
Audio
Realtek ALC892 8-Ch High Definition audio CODEC
Compliant with HD audio specification
LAN
Dual Realtek 8111DL 10/100/1000 Fast Ethernet Controller
Rear Panel I/O
1 x D-sub(VGA)
1 x HDMI Port
1 x DVI Port
1 x Display port
2 x RJ45 LAN connectors
1 x Audio port (Line-in, Line-out, Mic-in)
1 x optical S/PDIF Out connector
1 x Clear_CMOS button
1 x eSATA
6 x USB ports
Internal I/O Connectors & Headers
1 x 24-pin ATX Power Supply connector
1 x 8-pin ATX 12V Power Connector
1 x 4pin CPU_FAN connectors
1 x 3-pin PWR_FAN connector
1 x 3-pin SYS_FAN connector
1 x Power on button
1 x Reset button
1 x Speaker header
1 x Front panel switch/LED header
1 x Front panel audio header
1 x SPDIF out header
1 x 4-pin power connector for VGA card
1 x Clear CMOS header
5 x Serial ATAIII 6Gb/s connectors
4 x USB 2.0 headers support additional 8 USB ports
1X Stand by LED (Red Light)
1X Power on LED (Green light)
1 x Chassis intrusion header
System BIOS
AMI BIOS with 8Mb SPI Flash ROM
Supports Plug and Play, STR (S3) / STD (S4) , Hardware monitor, Multi Boot
Audio, LAN, can be disabled in BIOS
F11 hot key for boot up devices option
Support over-clocking
Support eJIFFY
Support Page Up clear CMOS Hotkey
Support ECS M.I.B III Utility
CPU voltage adjustable
Memory voltage adjustable
NB Chipset Voltage Adjustable
HT Voltage Adjustable
External Clock Adjustable
Multiple Frequency Adjustable
BIOS
AMI 8MB Flash ROM
Functional
ATM, Automation, Medical Equipment, Security, Networking, POS, General Application, Gaming Machine, Transportation
Form Factor
ATX Size 305mm*244mm
Bundle
U3N2(USB 3.0 Add-on Card for A890GXM-AU)

As you can see the A890GXM-AU has all of the things you are looking for in a current generation AMD based gaming platform SATA 3, USB 3.0, dual gigabit LAN, hexa-core CPU support, and CrossFire support. Not only that but the A890GXM-AU is also well suited as an HTPC motherboard having an integrated HD 4290 graphics solution that supports 1080p playback right out of the box which can be displayed through a D-Sub, DVI, HDMI, or Display port output with no adapters. And if that weren't enough for you ECS throws in 3 times the gold in there CPU pins, memory sockets, and PCI express x16 slots. However don't get to excited about this as it is likely to only allow you to swap parts more times than your standard configuration. As I myself have never worn out a slot from swapping part to many times I would have to think that this is great news only for a very select crowd.

Motherboard Layout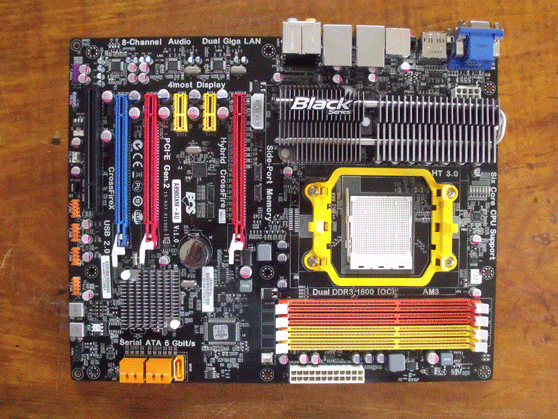 ECS has done a pretty good job with the layout of this motherboard. One of the first things you may notice about this motherboard is the placement of the Northbridge. Instead of being in between the PCI express x16 slot and the CPU socket it is moved closer to the voltage regulators between the CPU socket and the rear I/O area. I like how the Northbridge is placed as I think this will allow for more air to move across the Northbridge's heatsink as most setups have air moving in that general direction anyways. The next thing you may notice are the three PCI express x16 slots allowing for 3-way CrossFire however the blue one is only good for x4 operation and the red ones can operate at x8 when both are populated, but it is the spacing that is important here and this configuration allows for larger GPU coolers to be used in when going with a two card CrossFire setup. You get four USB headers which is a good thing, but the lack of fan headers is obvious as you only get two besides the only PWM controlled CPU fan header. The onboard power and reset switches are a nice touch and show that ECS is paying attention to what the consumer wants in an enthusiast grade motherboard.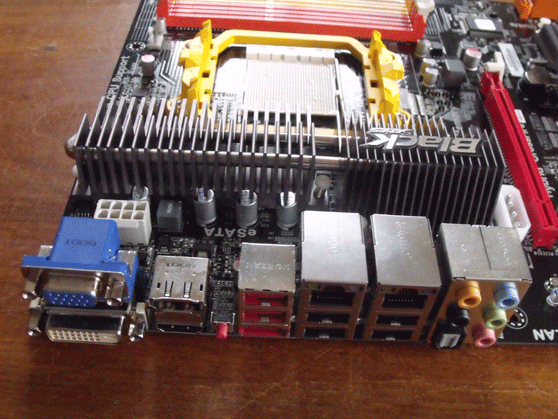 The rear I/O panel is done pretty well considering the mass of options that are available with the 890GX. My only complaint is the lack of a PS/2 port for a keyboard, but with the D-Sub, DVI, HDMI, and Display port outputs not leaving much room for one I can see why it was omitted. The rest is fairly standard USB, eSATA, dual gigabit LAN, and sound. The BIOS reset button is a real nice touch allowing you to reset the BIOS without cracking the case.

Overclocking

The A890GXM-AU is a decent overclocker without tweaking any voltages or multipliers I was able to get the HT frequency up to 230MHz. The only major drawback was not being able to save BIOS profiles, but the BIOS does allow for you to tweak just about every setting you want. More advanced overclokers will find the BIOS to be somewhat lacking, but a 400Mhz increase in CPU clock speed without a voltage or multiplier tweak is a good thing.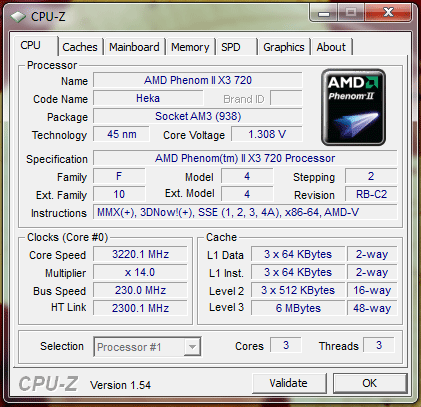 Test Hardware

Here are the particulars on the rest of the components I used to test this motherboard.
Processor
AMD Phenom II X3 720 @ 2.8GHz
AMD Phenom II X3 720 @ 3.2GHz
Motherboard
ECS A890GXM-AU
Memory
G.SKILL 4GB DDR3 1333 (PC3 10666) @ 667MHz (DDR 1333) 9-9-9-24 Dual Channel Mode
G.SKILL 4GB DDR3 1333 (PC3 10666) @ 766MHz (DDR 1532) 9-9-9-24 Dual Channel Mode
Hard Drive
Western Digital Caviar Green WD5000AADS 500GB 32MB Cache SATA 3.0Gb/s
Video Card
Radeon HD 4890 @ 900 MHz core 1,000 MHz (4,000 Gb/s) memory
Catalyst 10.3
Optical Disk Drive
Pioneer DVR-215DBK
Operating System
Windows 7 Ultimate x64
General Computing Benchmarks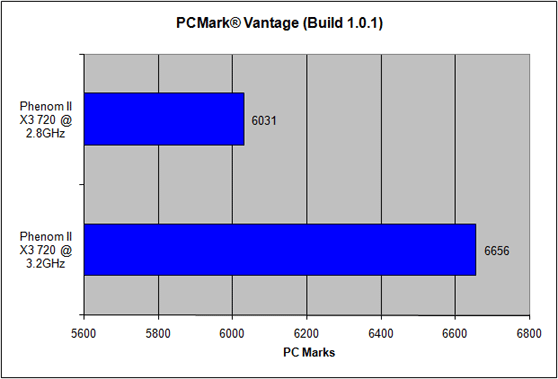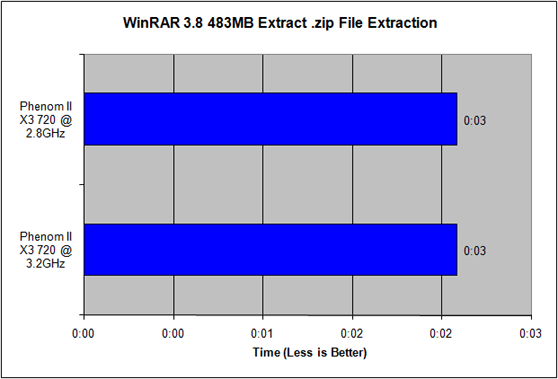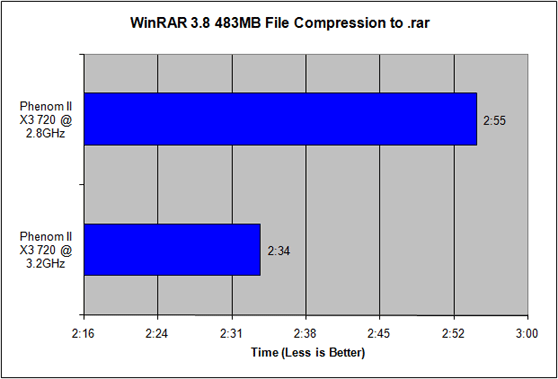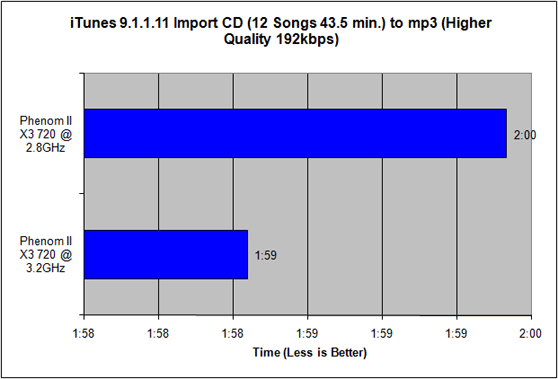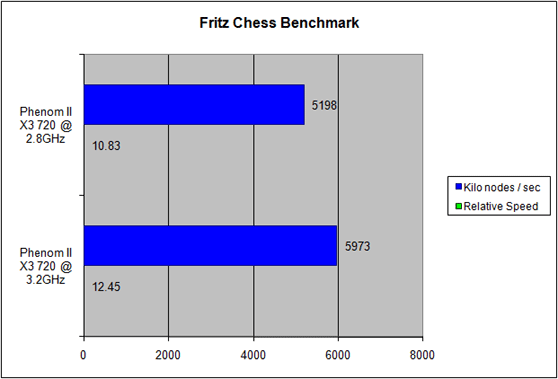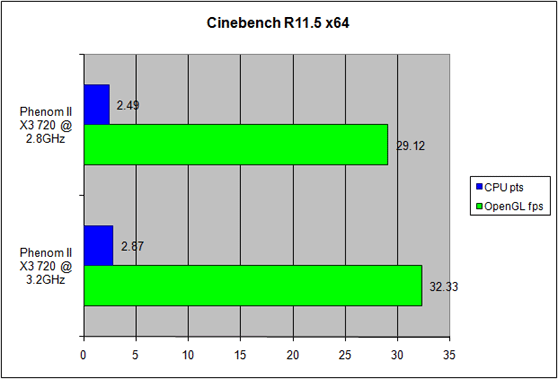 As you can see the added 400MHz in CPU speed does make for some small improvements in these scores.
Gaming Benchmarks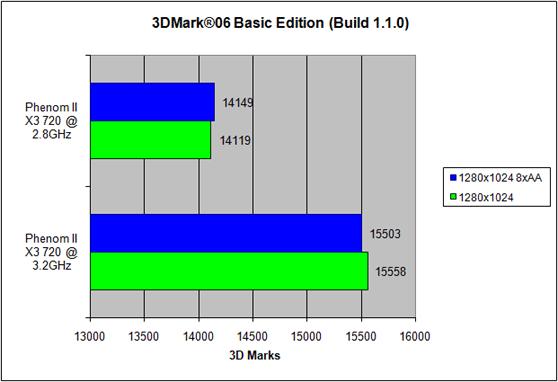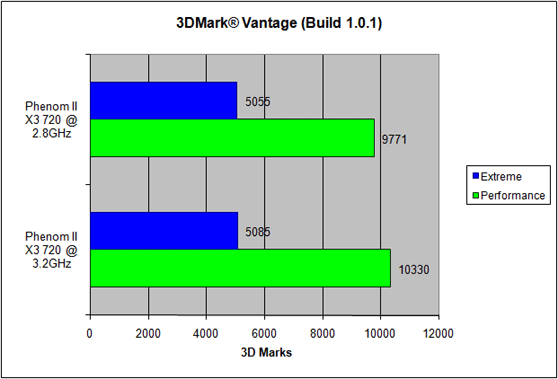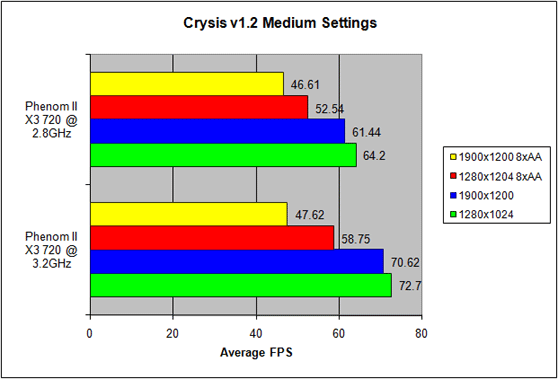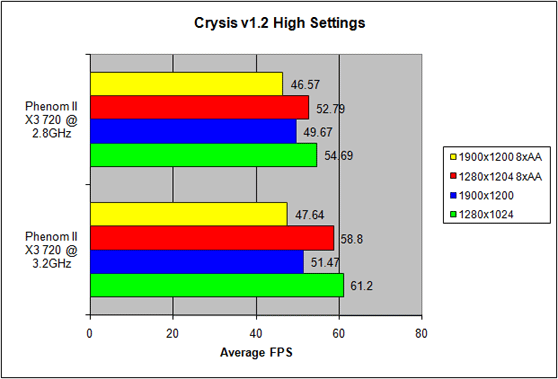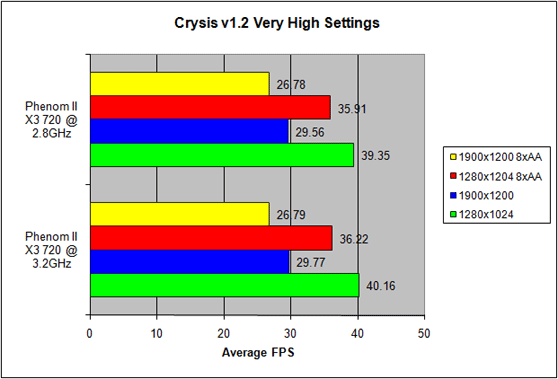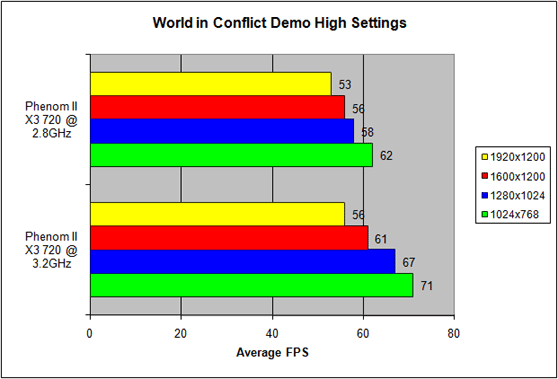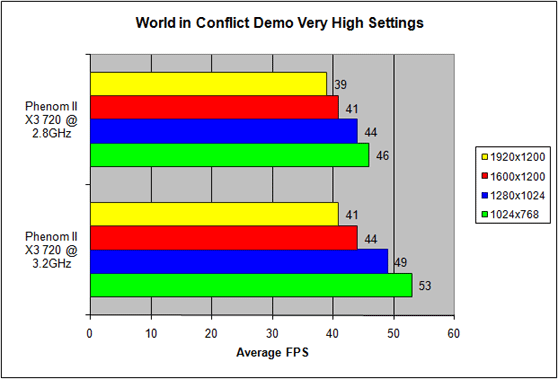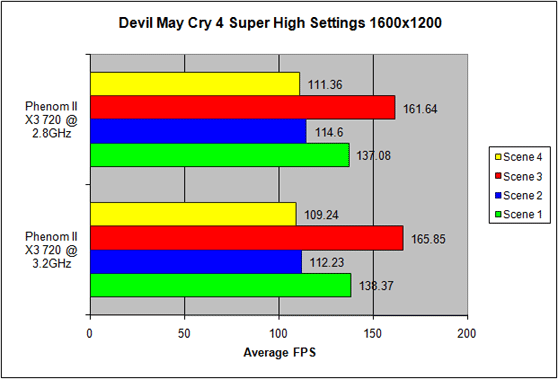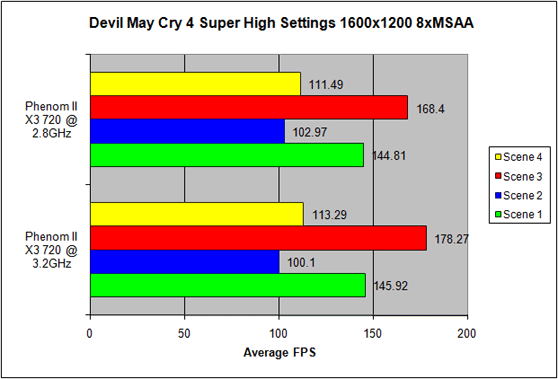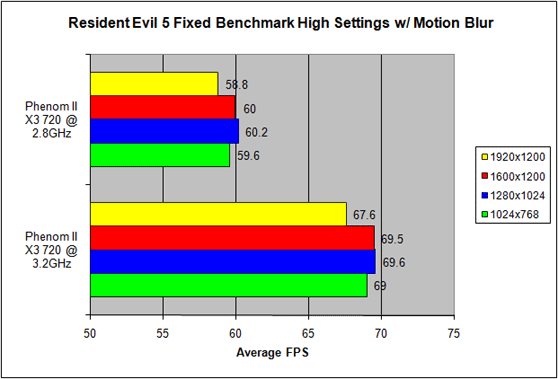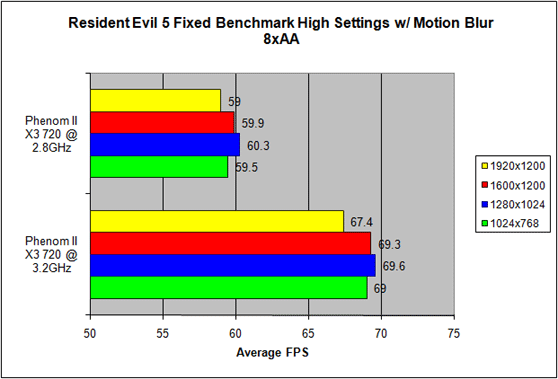 The increase in clock speed only makes a minor difference in the gaming benchmarks.

Power Consumption

Of course the increase in clock raises the power bill slightly.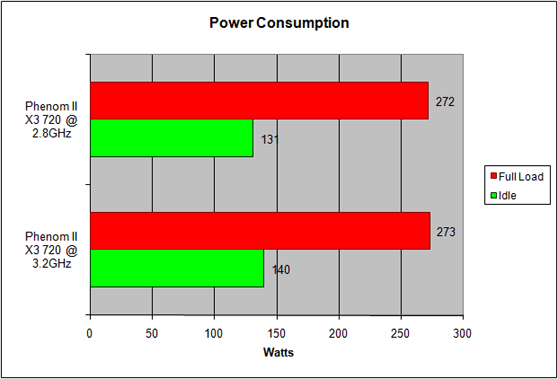 Conclusion

So for around $140 you get a motherboard that is a good candidate for use in either an HTPC based environment or in the realm of gaming with support for all the latest bells and whistles like USB 3.0, SATA 3, and support for AMD's hexa-core processors up to 140W. This motherboard represents ECS's desire to shed its budget only classification and I think they have done quite well. While the A890GXM-AU is not a perfect solution it is a far cry better than what I have seen from them in the past. If you are looking into building an AMD based HTPC or gaming rig the A890GXM-AU is a good way to go.