Entry Level GPU Roundup: Who Will Emerge as the Budget GPU King?
George Ross, December 14, 2008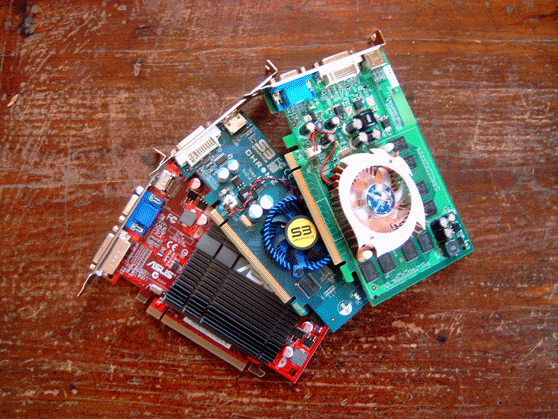 Introduction

Today we are going to take a look at three different entry level GPU's from the three different players in the field of entry level graphics. Of course you know that AMD has the HD 4350 and NVIDIA has the 9400 GT, but did you know there was another player in this market? That's right some people might forget about or don't even know about S3 graphics. While they are not a major player in the graphics market the subsidiary of VIA has released there latest Chrome 530 GT to battle against the two titans of the graphics market for low end supremacy. Which of the three will come out on top?

Contender #1 the ASUS EAH4350 Silent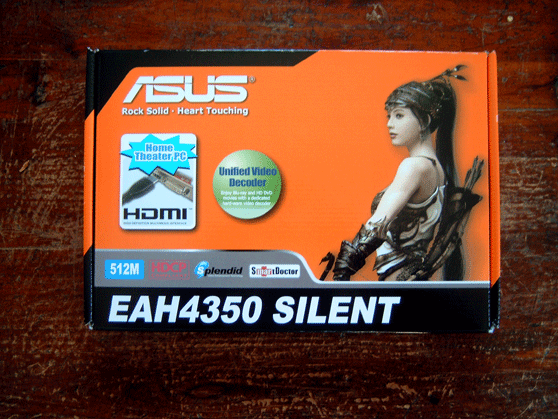 Asus has done a fine job with there rendition of the HD 4350. It is well suited for HTPC's with its silent cooling solution and connectivity options. Although there are a couple of weak points to the card being as it does not support TV out options like HDTV composite, S-Video, or RCA and does not come with any accessories only a driver CD, a manual CD, and a speedy setup guide. What's more is that you cannot download the latest Catalyst from the internet and get it to install you have to install the driver from the CD first and then upgrade. Not to cool in my opinion being as AMD updates there drivers monthly and by the time you open the box the included driver is old nine times out of ten. But for the price of about $45 you get a video card that is well suited for a modern day HTPC.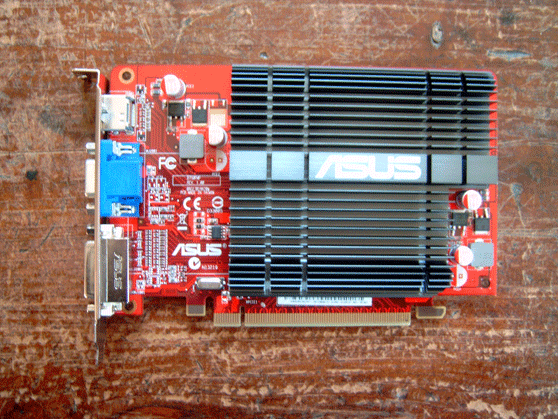 Contender #2 the BIOSTAR VN9402TS51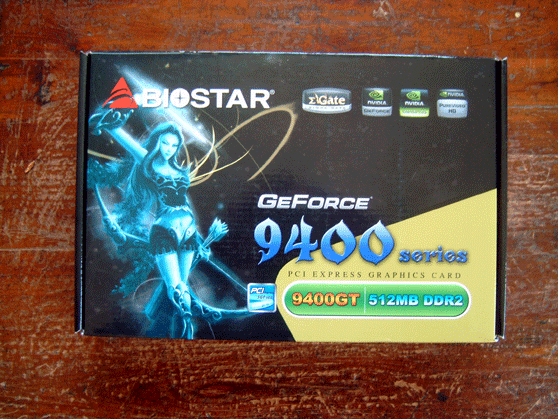 The current crop of 9400 GT's is a little less than stellar as for the needs of an HTPC. There are no truly single slot passively cooled 9400 GT's that I have seen and to get a passively cooled card it will cost you at least $5 over that of the ones that are actively cooled. HDMI is also a point of frustration being as you have to pay at least a $10 premium over the base models just for the privilege. But your older TV connectivity options are there and the VN9402TS51 was the only 128-bit memory card in the roundup. This card also did not permit downloading the latest driver from the internet and installing it. Even worse the latest WHQL version 180.48 would not install at all. Only the driver that would work with this card was the one that was included in the box. Also this card came with an S-Video to RCA adapter. So for $50 you get a video card that may or may not be ideal but will get the job done.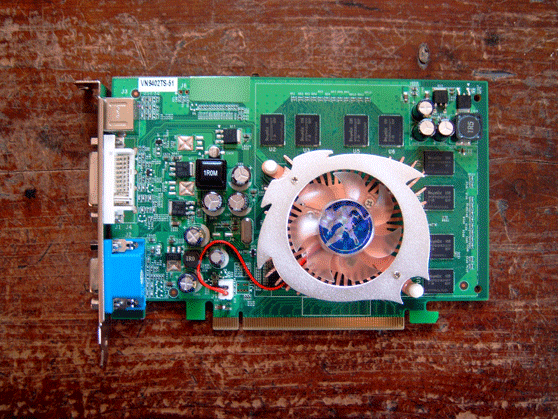 Contender #3 the S3 Graphics Chrome 530 GT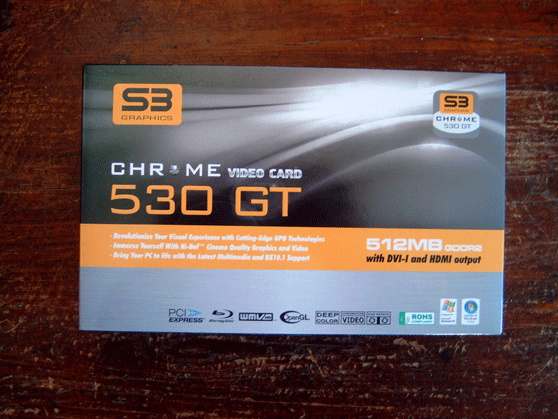 The Chrome 530 GT is the latest from S3 Graphics, and for right now only comes in one SKU that can only be purchased from S3's online GStore. The Chrome 530 GT relies on active cooling that is not real loud but it does make a little noise. One of the big features of this card is its support for Microsoft's Protected Audio Path enabling this card to pass Dolby TrueHD and DTS-HD audio on Blue-ray discs over HDMI. Something that neither the HD 4350 or 9400 GT can do although the HD 4350 does have a 7.1-channel dolby digital surround-sound processor. The 9400 GT has no audio processor onboard leaving audio to be processed by the computers sound card only. This card does come with a few extras the driver disk, a copy of WinDVD 8 BD, a DVI to D-Sub adapter, a quick install guide, a warranty card, and a piece of paper with instructions for receiving the half height bracket from S3 Graphics. Another plus was that you could download the latest driver from the internet and install it without hassle. That is something that could not be done with the other cards in this roundup. So for around $55 you get a video card that gives you what you need plus a little more.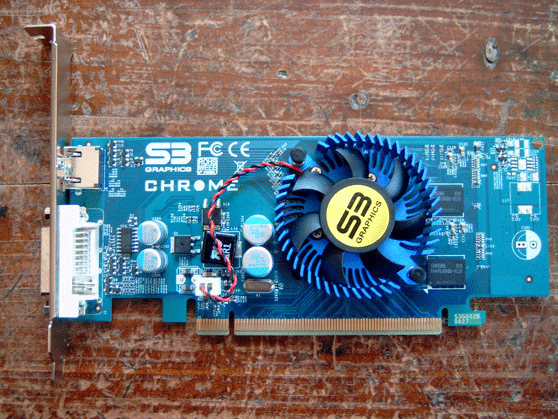 Test Hardware

The test setup for this roundup may be a little bit of over kill, as the majority of people my not be using 3.33GHz quad cores for there budget or HTPC builds, but it gets the job done.
Processor
Intel Core 2 Quad Q6700 @ 3.33GHz
Motherboards
GIGABYTE GA-EP45C-DS3R
Memory
G.SKILL 4GB DDR3 1333 (PC2 10666) @ 667 MHz (DDR 1333) 9-9-9-24 Dual Channel Mode
Hard Drive
Seagate Barracuda ES.2 ST3250310NS 250GB 7200 RPM 32MB cache SATA 3.0Gb/s
Video Card
ASUS EAH4350 Silent Radeon HD 4350
Catalyst 8.11
BIOSTAR VN9402TS51 GeForce 9400 GT
175.31 Driver
S3 Graphics Chrome 530 GT
v0252 Driver
Optical Disk Drive
Pioneer DVR-112DBK
Power Supply
Rosewill Xtreme RX750-S-B 750W
Operating System
Windows Vista Ultimate x64 SP1
Gaming Benchmarks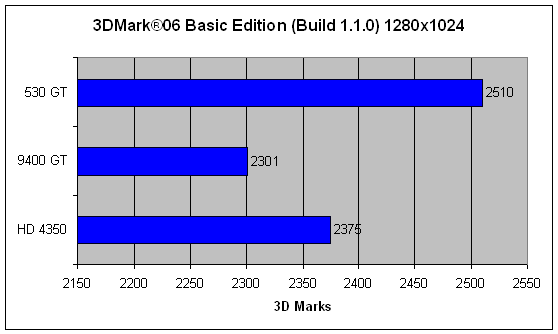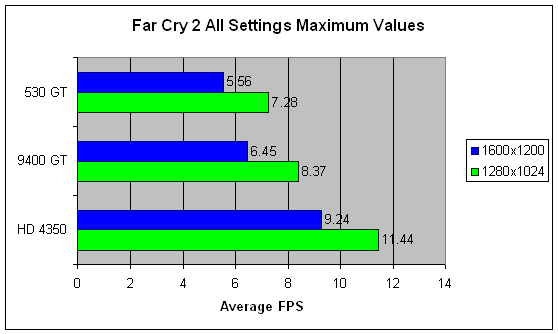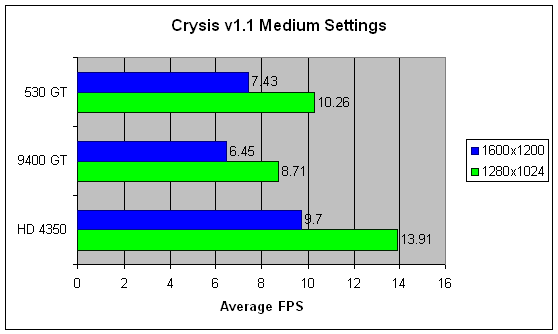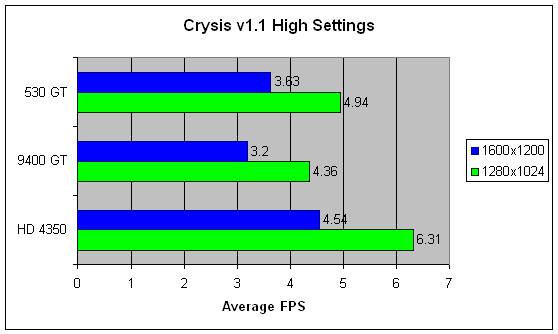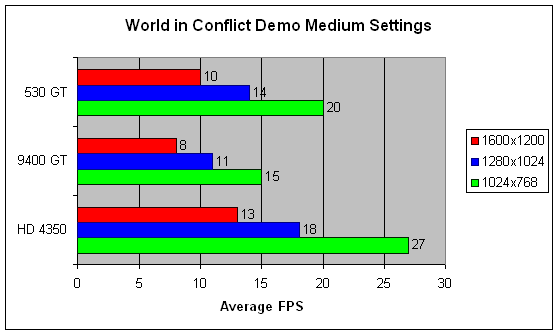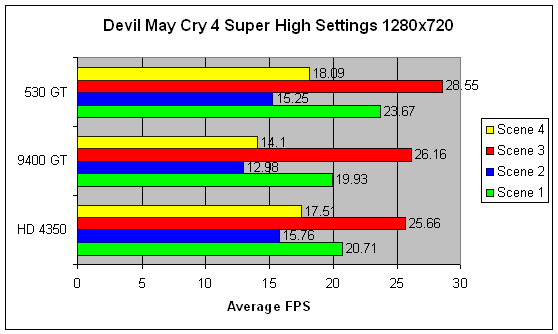 In a bit of a surprise the Chrome 530 GT fairs really well against the competition even making good with the claim of beating the HD 4350 in 3D Mark 06. The 9400 GT faired the worst out of all the contenders while the HD 4350 won in overall average frame rates. One thing that is clear is that none of these cards are well suited for gaming.
Video Playback Benchmarks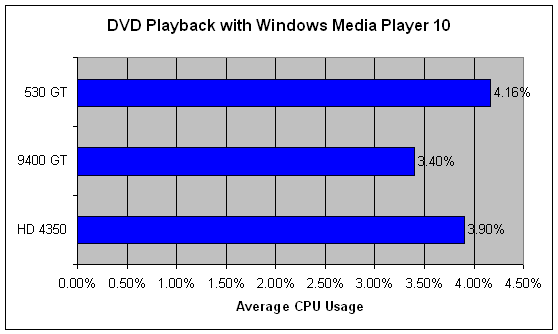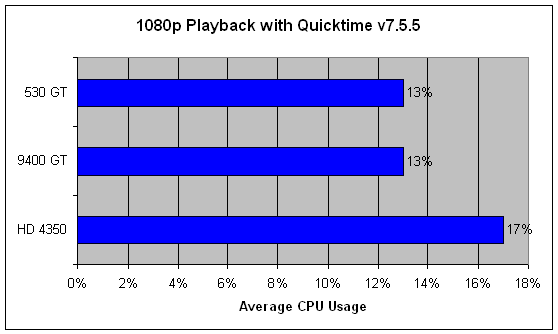 This is where the 9400 GT shines keeping the CPU from doing all the work during video playback. The HD 4350 and Chrome 530 GT are no slouches at this either just not as good as the 9400 GT.

Power Consumption

The 9400 GT could learn a thing or two from the competition, but these numbers a pretty tight.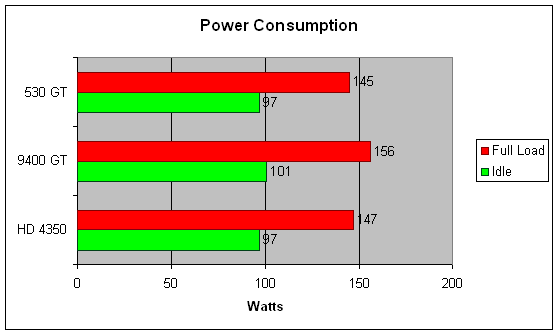 Conclusion

So what have we learned well to start off if you want the best entry level video card for gaming the choice for you is the HD 4350. If you want the absolute best entry level video card for video playback you would be wise to pick up a 9400 GT. If you want to take full advantage of Blue-ray complete with Microsoft's Protected Audio Path then your choice would have to be the Chrome 530 GT. Now taking into consideration price, connectivity options, and noise (Three major considerations when building an HTPC) the clear winner is the HD 4350.