GIGABYTE's S-Series GA-EP45C-DS3R: DDR3 and DDR2 Support for the Budget Minded PC Gamer
George Ross, November 24, 2008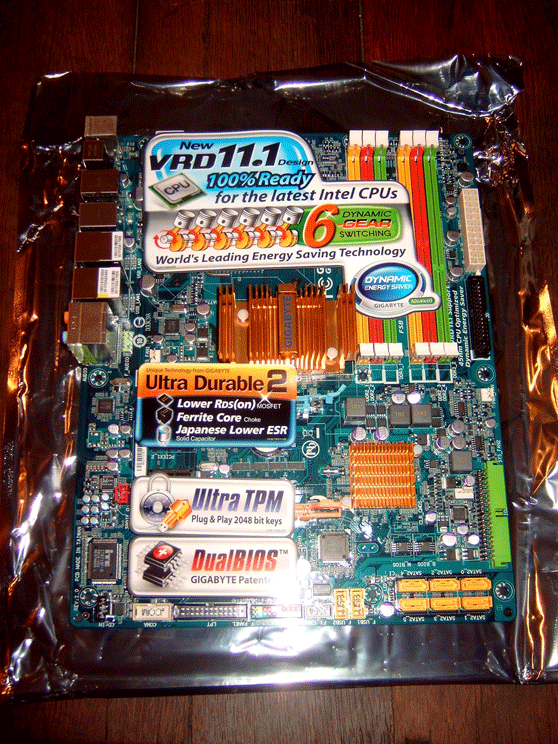 Introduction

The P45 chipset has been a huge success for Intel. Now that they have released the Nehalem series of chips along with the new X58 chipset the older generation 45 nm chips are the only real competition against the new Nehalem series. This means that Intel's in competition with itself and it has to get rid of all the old stock in order to move the newer mainstream parts that are due to be released at the beginning of 2009. So how can Intel achieve this? Simple drastically lower the prices of the older chips.

This holiday season should prove to be an ideal time for those who have been patiently waiting to upgrade that aging gaming rig. The only snag is the high price of DDR3 memory. That is were the Gigabyte GA-EP45C-DS3R comes in. This motherboard supports both DDR2 1066 and DDR3 1600 memory. Allowing the user to buy the cheaper DDR2 memory now and wait for the prices of DDR3 memory to go down until they feel the price is right. A feature that is sure to attract a few PC gamers out there.

Packaging & Contents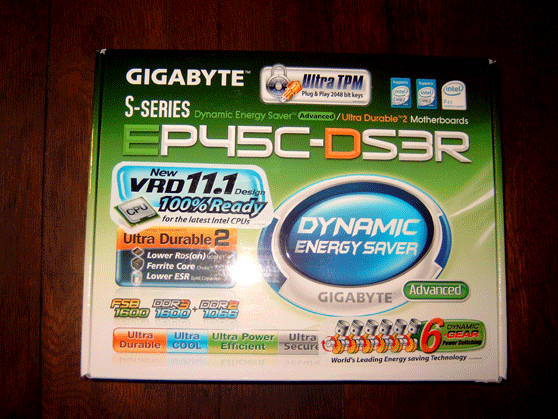 This motherboard is packaged just like most motherboards that are on the market nothing to get excited about. The accessories are also kind of sparse giving you the essentials with a few extras. Here is what you get an IDE cable, a FDD cable, 4 SATA cables, a eSATA bracket, a eSATA cable with power cable, a rear I/O plate, a hardware install guide, a motherboard manual, the Ultra TPM manual, a driver CD, and a few stickers. The driver CD also contains Adobe Acrobat Reader, Norton Internet Security, Easy Tune 6, Gigabyte Online Management Utility, and the Ultra TPM all of witch work with Windows Vista and Windows XP.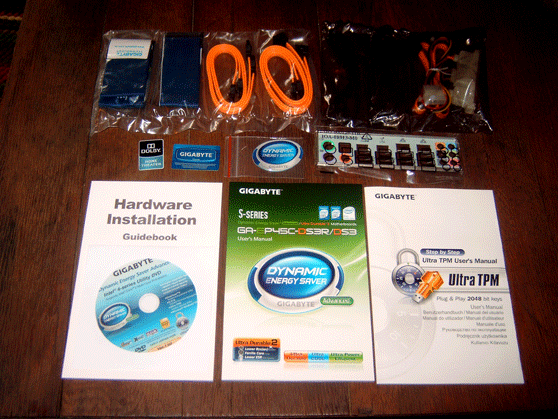 Layout

The Gigabyte GA-EP45C-DS3R has a very good layout. The only problem with it is the DDR3 memory slats are limited to 2 while there are 4 DDR2 memory slots. The rest of the board is laid out well with 2 PCI-E x16 slots, 3 PCI-E x1 slots, and 2 PCI slots. The space between the PCI-E x16 slots is nice giving you room to run CrossFire with 3 slot cards if that is what you are into.

The board is also well labeled with the USB, IEEE 1394, and COM connectors being labeled inside the plug. The front panel connectors are also well labeled.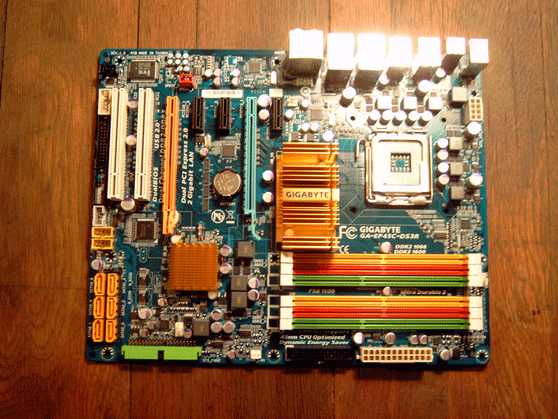 The rear panel is dominated by USB ports having 8 in total. There are also 2 IEEE 1394 ports, 2 gigabit LAN connectors, 2 PS/2 ports, and 6 audio ports with S/PDIF coaxial and optical outputs included too.

Test Hardware

This motherboard was compared to another P45 motherboard that only uses DDR2 memory the Foxconn P45A-S. The rest of the components were the same for both of the test machines.
Processor
Intel Core 2 Quad Q6700 @ 3.2GHz
Motherboards
FOXCONN P45A-S
GIGABYTE GA-EP45C-DS3R
Memory
GeIL Evo One 4GB DDR2 1066 (PC2 8500) @ 480 MHz (DDR 960) 5-5-5-15 Dual Channel Mode
Hard Drive
Seagate Barracuda ES.2 ST3250310NS 250GB 7200 RPM 32MB cache SATA 3.0Gb/s
Video Card
POWERCOLOR Radeon HD 4870 @ 750 MHz core 900 MHz (3600DDR) memory
Catalyst 8.10

Optical Disk Drive
Pioneer DVR-215DBK
Power Supply
Rosewill Xtreme RX750-S-B 750W
Operating System
Windows Vista Ultimate x64 SP1
General Computing Benchmarks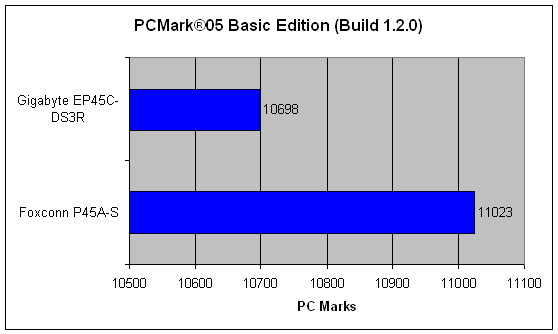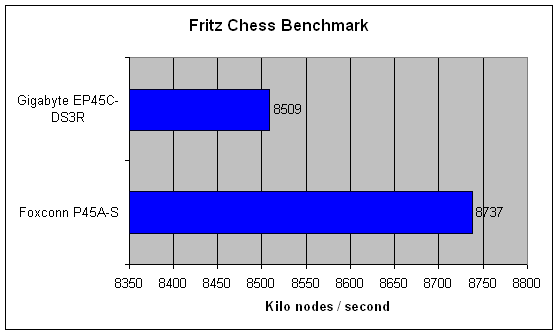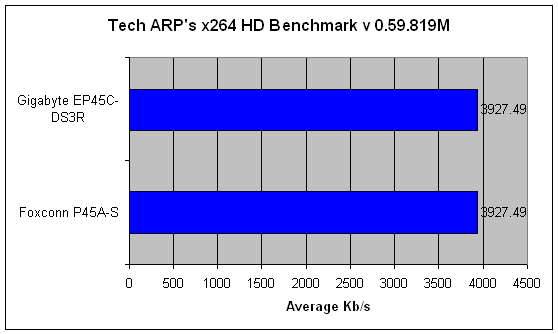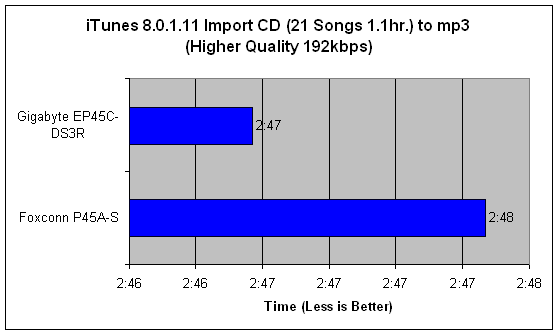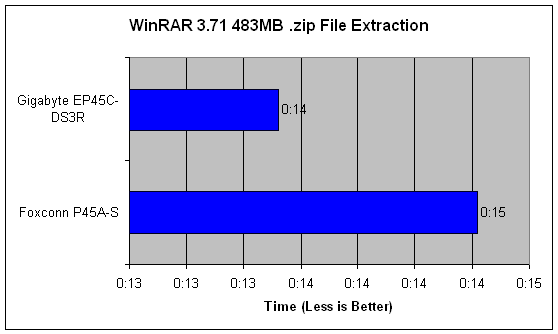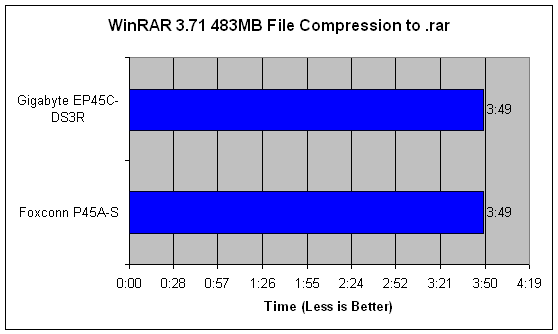 The GA-EP45C-DS3R is on par with the P45A-S as far a general computing is concerned, however it does tend to give a little less performance overall.
Gaming Benchmarks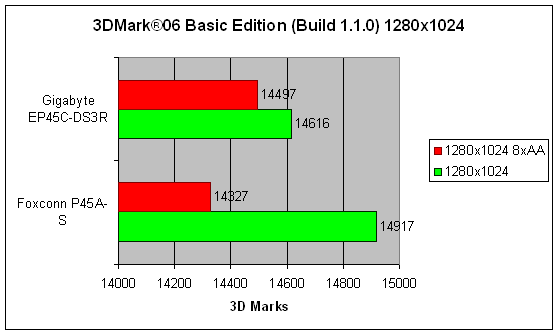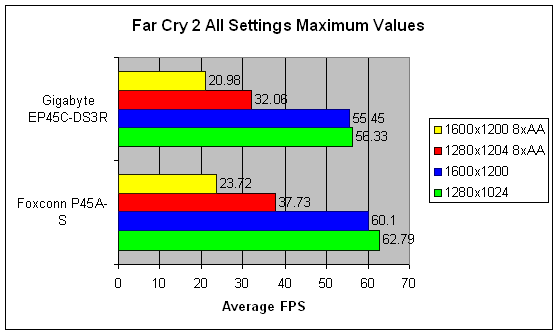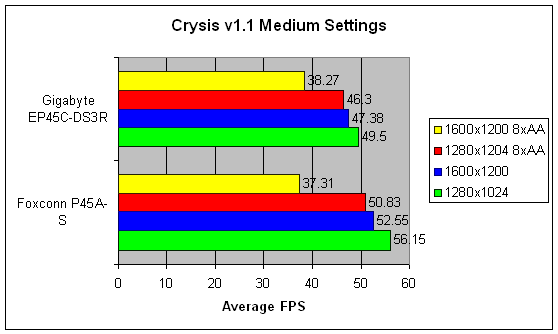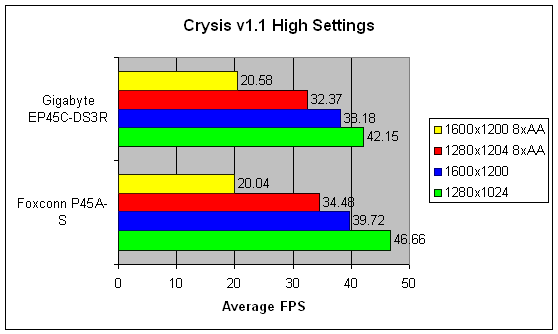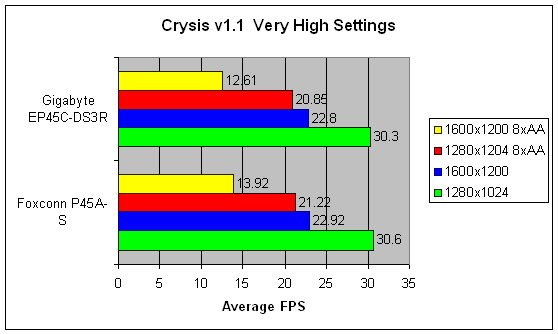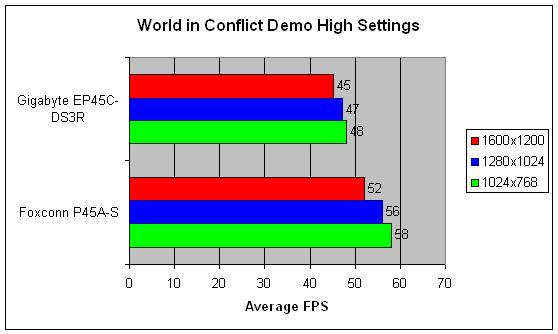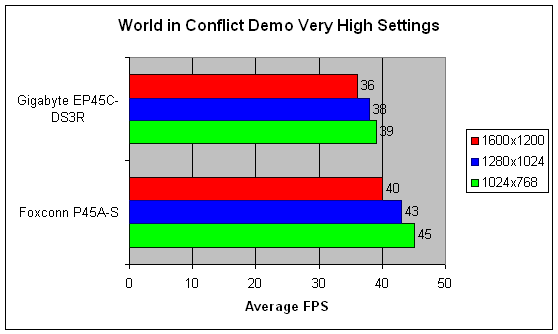 The GA-EP45C-DS3R is bested by the P45A-S by 7% in overall gaming. The most notable defeat occurred in World in Conflict with a 16% pummeling.
Power Consumption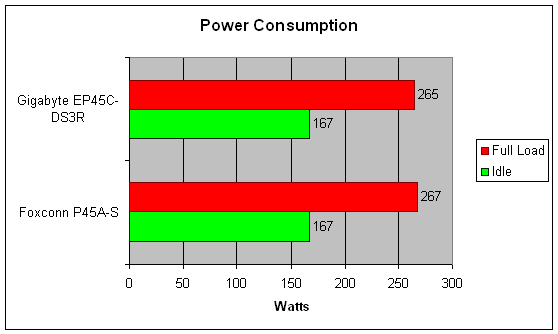 The power consumption is almost exactly the same with both motherboards. The GA-EP45C-DS3R does consume less power under load witch makes sense given its lesser performance. The most interesting thing about these numbers is the power consumption numbers at the idle state. It appears that the Dynamic Energy Saver really doesn't save any energy.

Conclusion

For a $140 you get a motherboard based on the P45 chipset that supports CrossFire, DDR2 1066 memory, DDR3 1600 memory, and the latest LGA 775 processors. The only major drawback is the board does have less performance than at least on other P45 based motherboard when using DDR2 memory. So if you are looking for the best performing P45 motherboard out there look somewhere else, but if you are looking for a solid motherboard that has a lot of room for expandability and a DDR3 memory upgrade option for the future the Gigabyte GA-EP45C-DS3R is just what you are looking for.

Stay tuned we will be looking to see if upgrading to DDR3 memory actually gives any further performance advantages.