GIGABYTE's S-Series GA-EP45C-DS3R Part II: How Much Performance is Gained When Using DDR3?
George Ross, December 1, 2008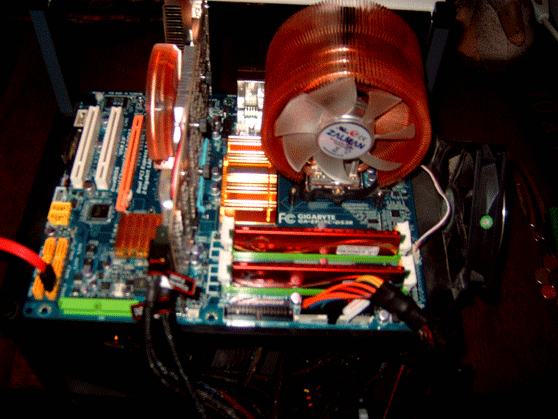 Introduction

In our first look at the GA-EP45C-DS3R we compared DDR2 memory performance to that of a P45 motherboard that could only use DDR2 memory. Learning that with added memory options you tend to lose a little bit of performance. Now that is out of the way we will be moving on to see what kind of performance gains one can expect from upgrading to DDR3 memory when using the GA-EP45C-DS3R.

The DDR3 Memory

The memory that was chosen to replace the DDR2 memory in the test rig was G.Skill's F3-10666CL9D-4GBNQ (Say that 3 times fast). The kit is two sticks 2GB each with DDR3 1333 speeds and timings of 9-9-9-24 running from 1.5V to 1.6V. Not fastest DDR3 memory out there and not even the fastest memory this motherboard will support, but it will allow you to see what you can expect to see in terms of performance enhancement.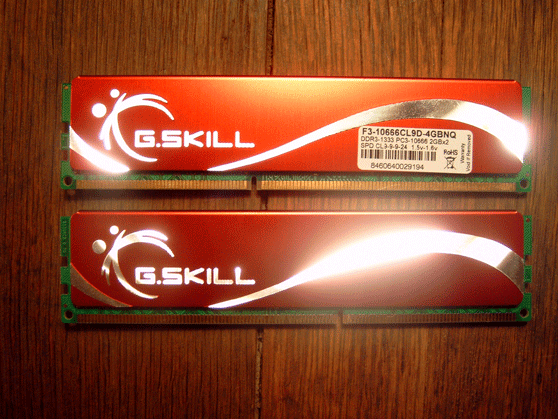 Test Hardware

The only thing changing between the two setups is the memory everything else is the same with the exception of a slight 133Mhz bump in processor frequency when running the DDR3 memory at its full rated 1333MHz speeds.
Processor
Intel Core 2 Quad Q6700 @ 3.2GHz
Intel Core 2 Quad Q6700 @ 3.33GHz
Motherboards
GIGABYTE GA-EP45C-DS3R
Memory
GeIL Evo One 4GB DDR2 1066 (PC2 8500) @ 480 MHz (DDR 960) 5-5-5-15 Dual Channel Mode
G.SKILL 4GB DDR3 1333 (PC2 10666) @ 640 MHz (DDR 1280) 9-9-9-24 Dual Channel Mode
G.SKILL 4GB DDR3 1333 (PC2 10666) @ 667 MHz (DDR 1333) 9-9-9-24 Dual Channel Mode
Hard Drive
Seagate Barracuda ES.2 ST3250310NS 250GB 7200 RPM 32MB cache SATA 3.0Gb/s
Video Card
POWERCOLOR Radeon HD 4870 @ 750 MHz core 900 MHz (3600DDR) memory
Catalyst 8.11

Optical Disk Drive
Pioneer DVR-215DBK
Power Supply
Rosewill Xtreme RX750-S-B 750W
Operating System
Windows Vista Ultimate x64 SP1
General Computing Benchmarks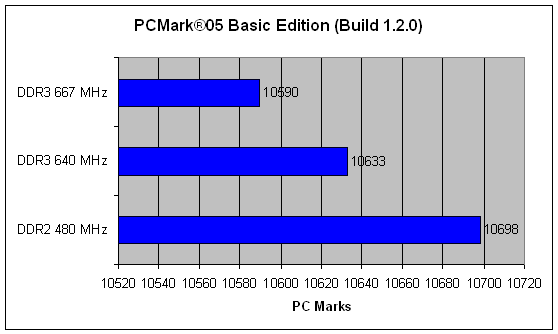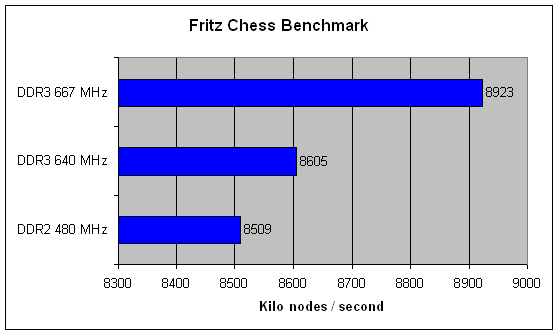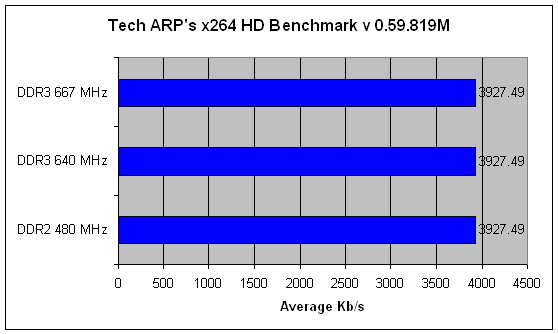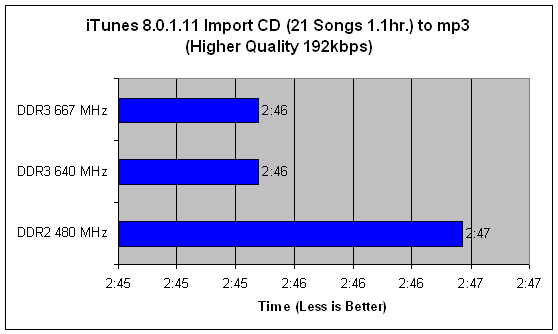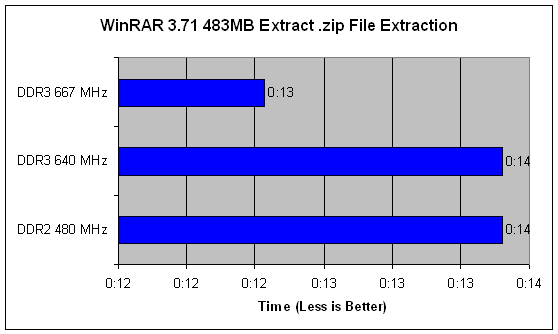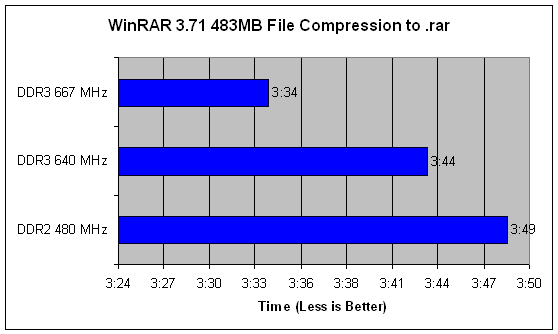 There are subtle performance gains when using the DDR3 memory for everyday computing. The one exception was in PC Mark 05 witch actually gets worse with the increase in memory frequency. Since PC Mark 05 is just a bechmarketing tool this does not matter all that much.
Gaming Benchmarks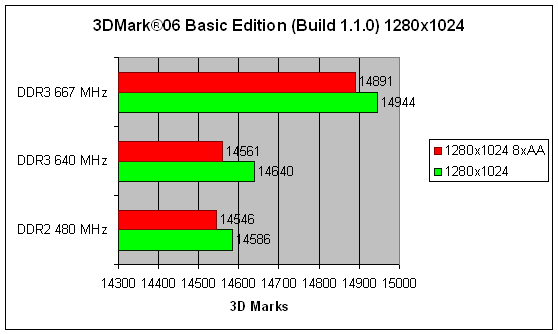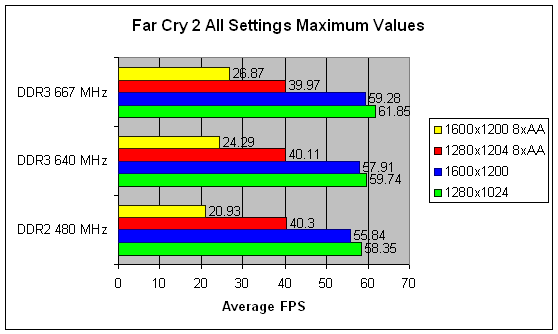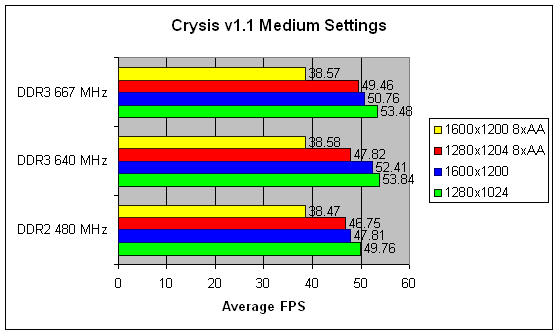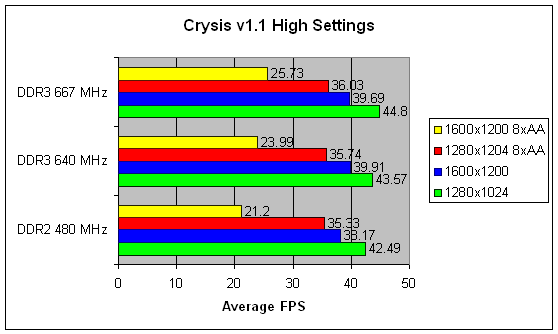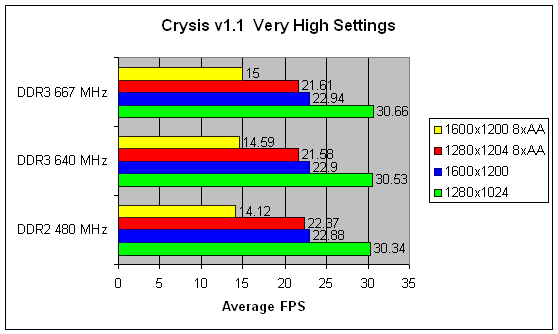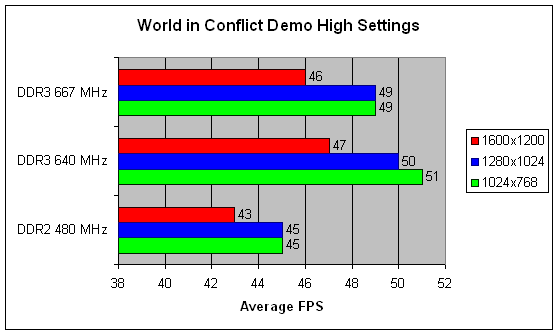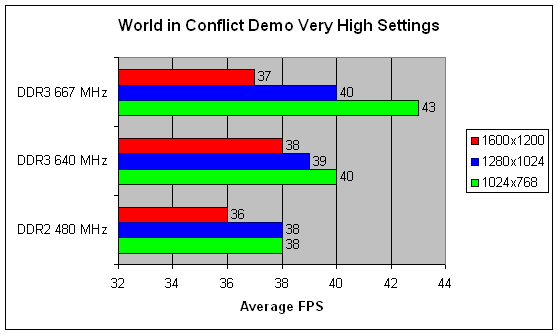 Gaming is where the difference in memory frequency pays higher dividends. With a 3% overall increase in frames with the processor clocked the same as it was with the DDR2 setup and a 5% increase with the memory running at full speed with the higher processor clock. The added memory frequency does make a tangible difference as far as gaming is concerned.

Power Consumption

Nothing to see here the results are almost identical. I did think that with a lesser voltage of the DDR3 memory would knock a couple of watts from the bottom line, but it did not.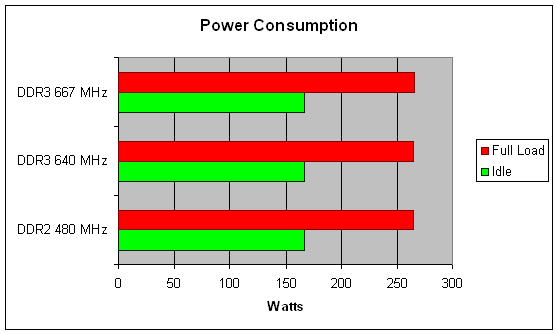 Conclusion

Adding faster memory to a setup with the GA-EP45C-DS3R does make for performance improvements. Just don't expect to see a world of difference, but even when running DDR3 1333 memory there is still room for more improvement as the GA-EP45C-DS3R supports DDR3 1600. So when the DDR3 memory prices fall owners of the GA-EP45C-DS3R will find themselves in a favorable position. This motherboard is indeed a good buy for all you budget minded gamers out there.