EVGA e-GeForce 8800 GT KO: Factory Overclocked and Ready to Rock.
George Ross, November 27, 2007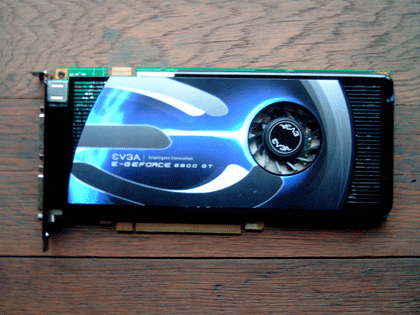 Introduction

With this falls gaming releases DX10 has come into the mainstream. This has those people who did not buy in early looking for a video card upgrade. Luckily for them NVIDIA and AMD have both released mainstream video cards that play the latest games with respectable frame rates and do not hurt the wallet all that bad. Today we will be looking at what NVIDIA has to offer for the mainstream gamer the 8800GT. EVGA has taken the 8800GT and ran with it offering 3 models that are factory overclocked. In this article we will be looking at the e-GeForce 8800 GT KO. It comes 75MHz overclocked on the core and 75MHz (150MHz DDR) overclocked on the memory.

Package Contents

I was quite pleased with the package contents. It came with all the necessary adapters DVI to D-Sub x 2, Molex to 6-pin, TV-out to Component, and S-Video. Of course it comes with the drivers, but this card came with Enemy Territory Quake Wars. Most bundled games you see are a little dated. EVGA decided to whole hog and get a current game in the box. Nice job.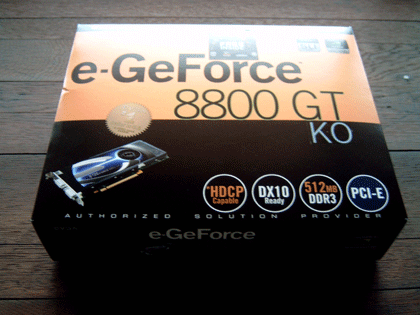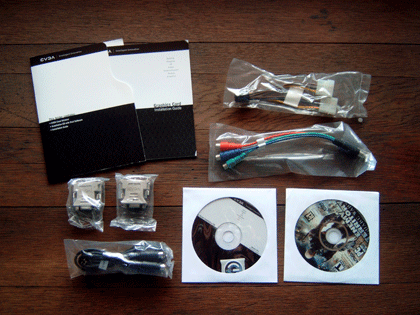 Test Setup

Here is the rest of the setup I used to test this card. I underclocked the video card using nTune to achieve the default 8800GT clocks.
Processor
AMD Athlon 64 X2 5600+
Motherboard
ABIT KN9
Memory
2GB GeIL DDR2 800 (PC6400) @ 5-5-5-15 Dual Channel Mode
Hard Drive
Western Digital WD Raptor 74GB 10,000RPM 8MB cache
Video Cards
EVGA e-GeForce 8800 GT KO
EVGA e-GeForce 8800 GT KO @ 600MHz (Core) 900MHz (Memory)
OS
Windows Vista Ultimate x64



Benchmarks

Here are the obligatory 3D Mark scores.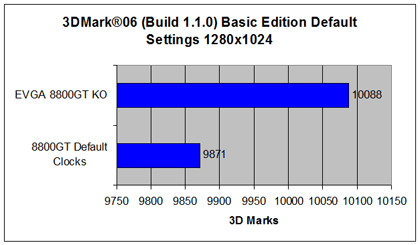 Over a 200 point difference pretty nice.Now let's look at the Unreal Tournament III beta demo scores.
A little improvement, but even at the default clocks the results are excellent. Now let's turn our attention to Enemy Territory Quake Wars.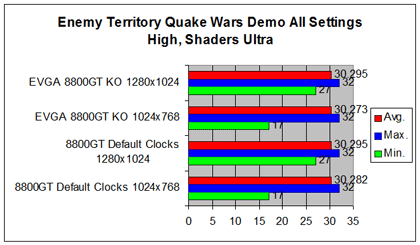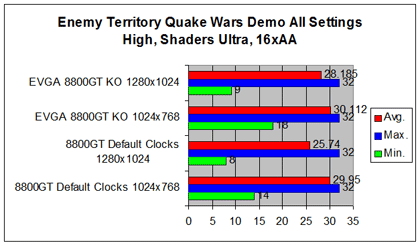 This is a tight knit group of scores here. Not much improvement with the higher clocks, but even at default clocks this card owns Enemy Territory Quake Wars. This is probably why it came bundled with the card. Next up is the World in Conflict Demo. These benchmarks were run with the in game benchmark tool.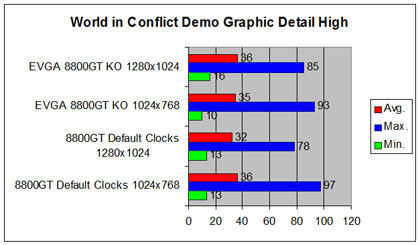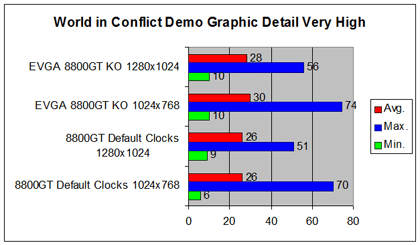 Again the extra clock speed helps out. Now the killer Crysis this game has put a hurtin' on even the best video cards commercially available. Crysis has a benchmark tool that comes with the game and that is what I used to get these scores.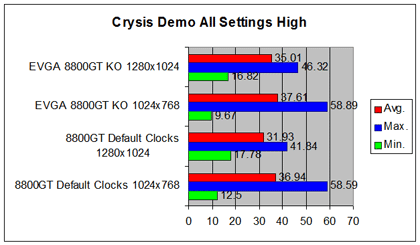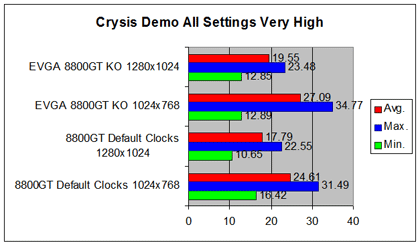 This game needs every clock tick you can give it, but the EVGA e-GeForce 8800 GT KO delivers respectable performance.

Conclusion

So is the e-GeForce 8800 GT KO worth the extra $40 over a regular 8800GT. For the card itself I don't think so, but with the inclusion of Enemy Territory Quake Wars you bet. It is so refreshing to see a decent priced good performing DX 10 part out there. Plus it comes with a good game. Another thing to note is the single slot cooling solution that does not make to much noise. I guess NVIDIA is trying to listen to its customers. All in all if you can find an 8800GT in stock somewhere this one is definitely worth a look. Hopefully you can find one before next year.