GIGABYTE's GA-E350N-USB3: A Good Low Power HD Solution
George Ross, March 27, 2011
Introduction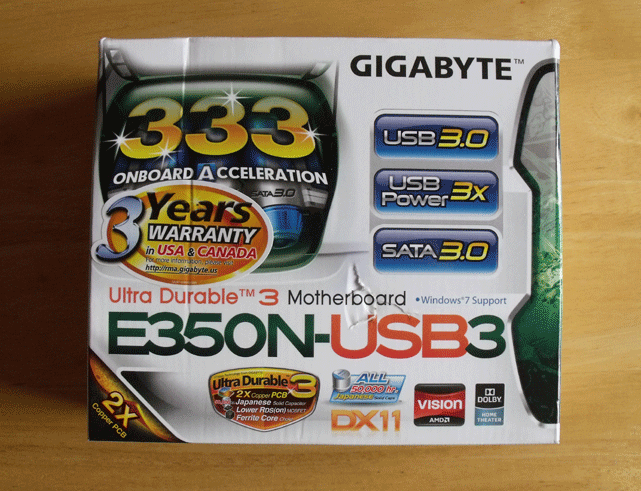 Intel's Atom chip has dominated in the low power computing market segment since its introduction having only VIA's Nano and C7 series of chips to compete with. Now AMD has entered the fray with its first wave of fusion chips. For those of you who don't know these new fusion chips from AMD integrate a CPU and a GPU on the same die and renamed the resulting chip an APU (Accelerated Processing Unit). This is unlike Intel's Pine Trail Atoms which integrate the CPU and GPU on the same chip with two separate dies. Do these new fusion based chips have what it takes to dethrone Intel's mighty Atom and raise the bar for low power computing performance? To find out we'll be looking at Gigabyte's Brazos based solution and compare it to an Atom D-510 based setup.

Packaging & Contents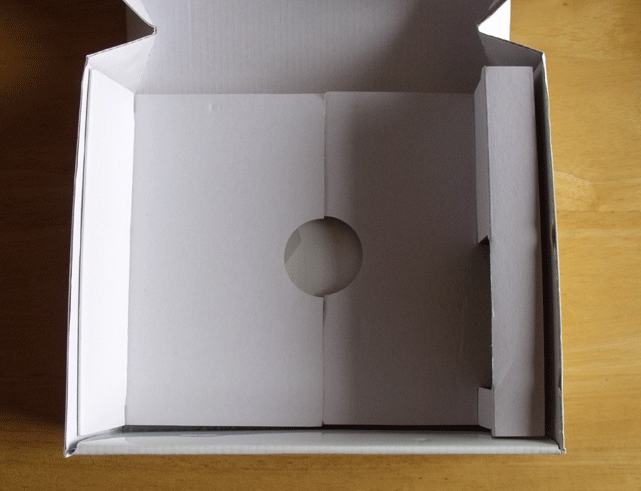 Gigabyte has done a good job with the packaging of the GA-E350N-USB3. The motherboard sits on top of accessories with a little hole cut out of the surrounding cardboard that the back panel connectors fit into to keep the motherboard from moving too much during shipping. The user manual ships on top of the board to add a layer protection which was necessary in my case as my box had been roughed up during shipping resulting in a puncture mark. That's way my box picture is messed up. Sorry.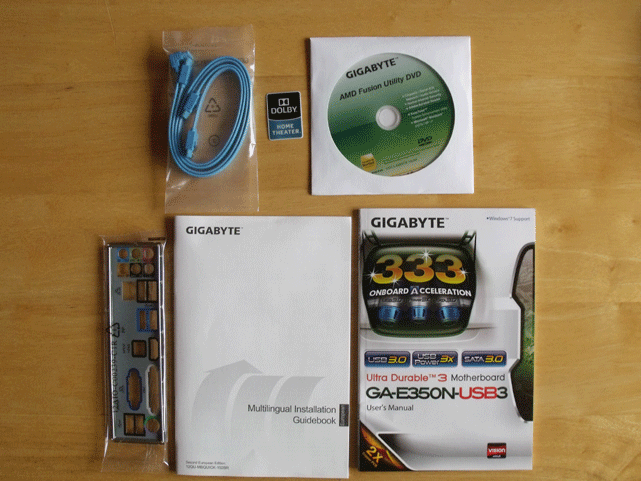 Not much is included with this board in the way of accessories. All you get are a couple of angled SATA connectors, a rear I/O shield, a user's manual, a quick install guide, a driver DVD and a Dolby case badge.
Layout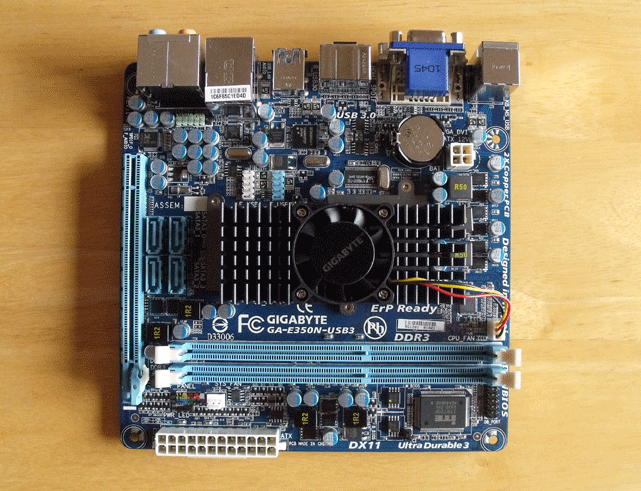 This mini-ITX motherboard crams in a lot of stuff into such a small package. The board's real-estate is dominated by the combined APU/Northbridge heatsink that is topped with a 40mm fan. By the way the fan is pretty quite even under heavy loads. You get a pair of DDR3 memory slots that can be populated with up to 8GB of single channel memory. If the included HD 6310 graphics don't suit your needs than you have a PCI-Express x16 (x4 electrical) slot to throw in a discrete graphics card of your choice however I don't see a need for a beefed up graphics solution as the APU isn't stout enough for serious gaming and the APU's HD 6310 has all the graphics horsepower you need for HD video playback as you will see later. Maybe if you wanted to watch 3D Blu-ray movies. That would be the only viable reason to add a discrete graphics adapter at this point in time. There are also four SATA 3 headers and two USB 2.0 headers for whatever internal connectors you may have for them. There is also a spare 3-pin power connector you can never have too many of these. Of course you get Gigabyte's Ultra Durable 3 that blends a two times copper layer, solid Japanese capacitors, and ferrite core chokes.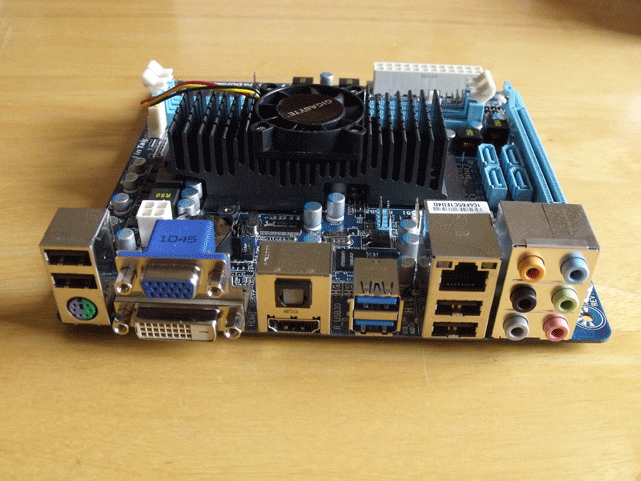 The rear panel gives you plenty of I/O options. Most notable are the graphics outputs with D-Sub, DVI, and HDMI. There are also plenty of USB ports four of which are USB 2.0 and two are USB 3.0. The rest of the connectors are a PS/2 port, an optical S/PDIF output, a RJ-45 gigabit LAN port, and analog audio out. Overall not a bad layout at all, and as I said earlier you get a lot in a small package.

Overclocking

As with most Gigabyte motherboards of today you get the M.I.T. (Motherboard Intelligent Tweaker) option in the BIOS. This allows you to tweak the CPU, memory, and integrated graphics clocks and voltages. I was able to get my test sample to clock at 1,680Mhz without an increase in voltage.

Test Hardware

I put the GA-E350N-USB3 through its paces and pitted it against an Atom D510 based setup. I thought it would be nice to see how these two CPUs compare at the same clock speed. Here are the particulars.
Processors
AMD E-350 @ 1.6GHz
AMD E-350 @ 1.680GHz
Intel Atom D510 @ 1.66GHz
Motherboards
Gigabyte GA-350N-USB3
Jetway NC94FL-510-LF
Memory
Mushkin 4GB DDR3 1600 @ 533 MHz (DDR 1066) 7-7-7-20 Single Channel Mode
Mushkin 4GB DDR3 1600 @ 559 MHz (DDR 1118) 7-7-7-20 Single Channel Mode
G.SKILL 4GB DDR2 1100 @ 400 MHz (DDR 800) 5-5-5-15 Single Channel Mode
Hard Drive
Western Digital Caviar Green WD5000AADS 500GB 32MB Cache SATA 3.0Gb/s
Video
AMD Radeon HD 6310
Intel GMA 3150
Optical Disk Drive
LITE-ON HES208
Power Supply
FSP Blue Storm II 500W
Operating System
Windows 7 Ultimate x64
General Computing Benchmarks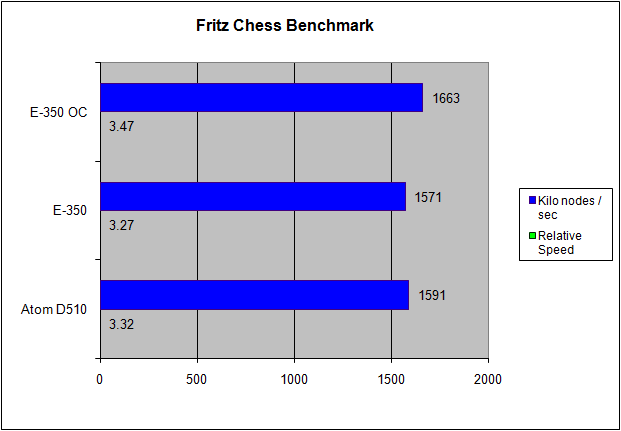 Frtiz Chess Benchmark shows the D-510 has a slight edge over the default clocked E-350.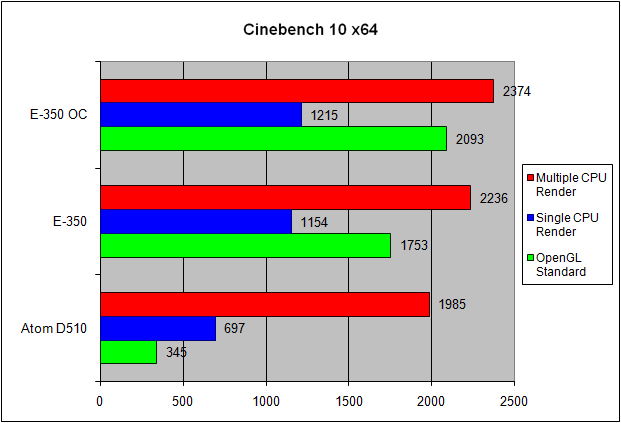 The Cinebench 10 numbers are all about the E-350. Even with four logical processors the D-510 still couldn't match the E-350 in multiple CPU rendering.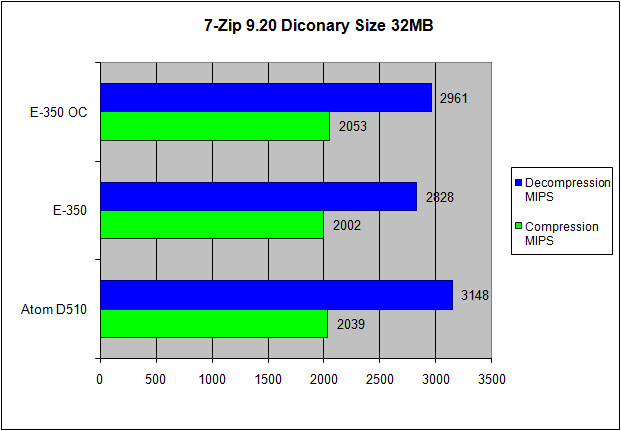 The numbers get pretty tight in the 7-Zip tests. The D-510 edges out a slight win over the default clocked E-350.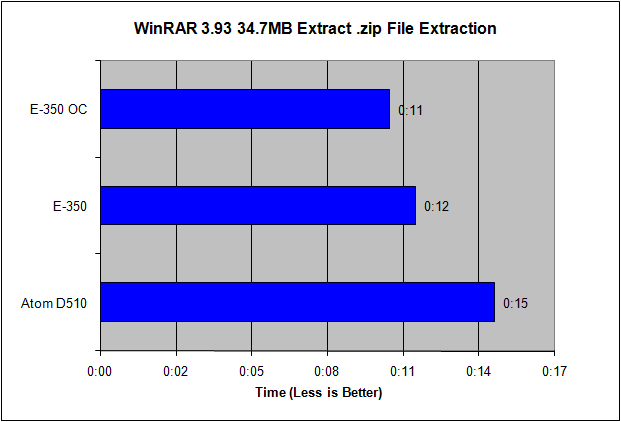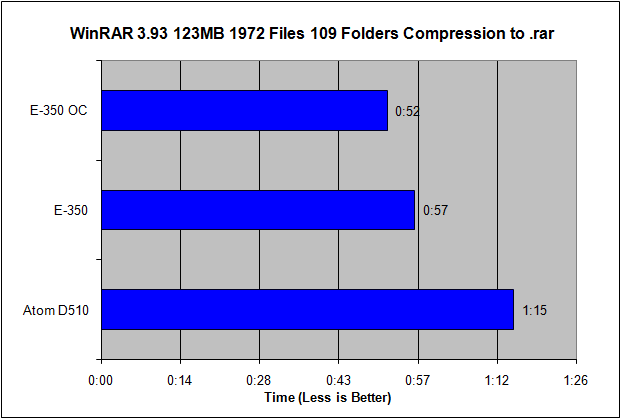 The D-510 can't keep up with the E-350 when extracting and compressing files using WinRAR.
Taking all the general computing tests into consideration it looks like a tit-for-tat situation between the E-350 and the D-510 as far as raw CPU power is concerned, but just using Windows 7 on the Brazos based setup seems to be a lot smoother than on the Pine Trail based one.
Gaming Benchmarks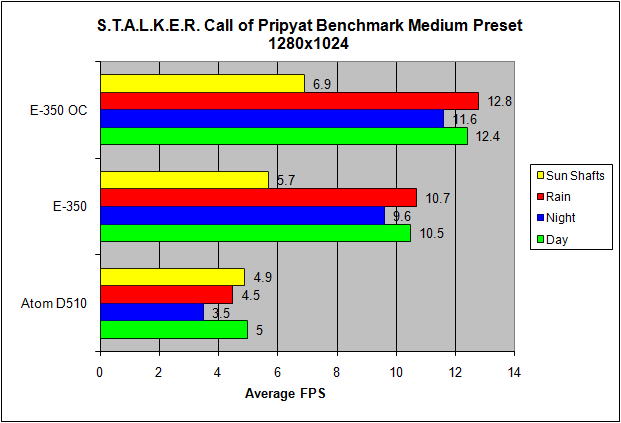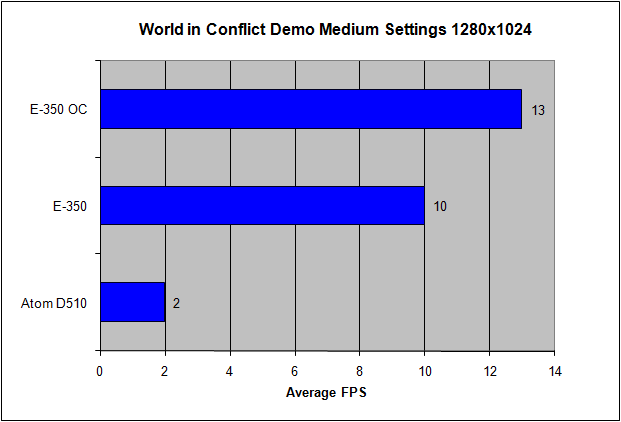 As the gaming tests clearly show the AMD's HD 6310 clearly bests Intel's GMA3150 when it comes to gaming. Not that any of these numbers represent playable frame rates.
Blu-ray Playback
Power DVD 10 would not playback Blu-ray content when using the GMA 3100.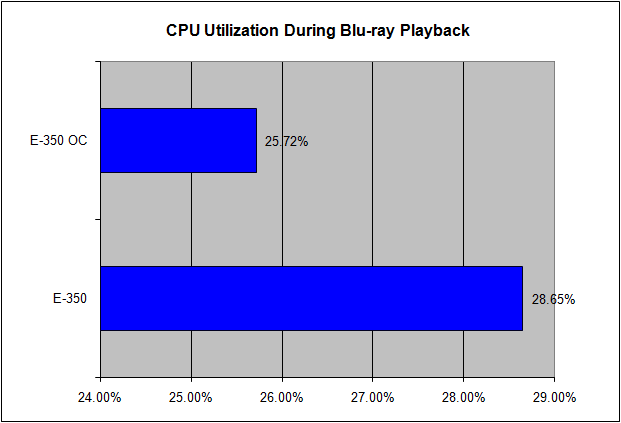 Power Consumption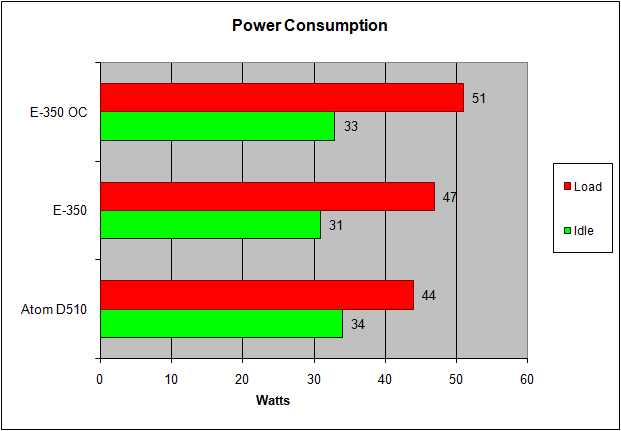 When idle the Brazos setup uses less power than the Pine Trail setup, but when you apply a load to the test systems the Pine Trail setup uses less power and has significantly less video performance. So at least you know the added power usage of the Brazos setup comes with added performance.
APU Temperature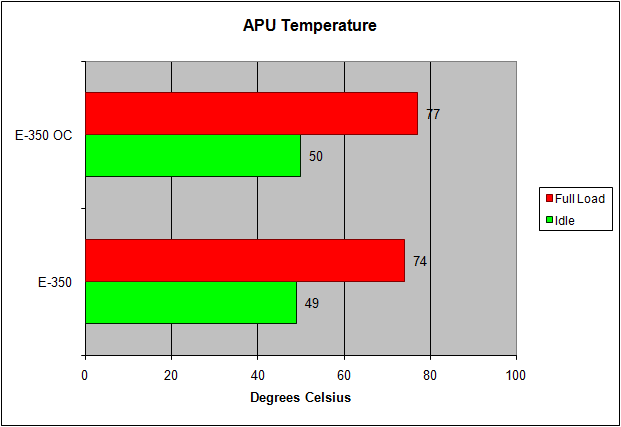 Gigabyte has done a decent job at keeping the APU on the GA-E350N-USB3 running at tolerable levels. It would have been nice to see the APU temperature stay under 60 degrees Celsius.

Conclusion

The Gigabyte GA-E350N-USB3 is a great entry level computing solution that brings the ability to play HD video at 1080p resolutions with the latest in connectivity options like USB 3.0 and SATA 3. The $150 price tag may seem a little steep for a Brazos based motherboard when they can be purchased for as low as $115, but you won't be getting USB 3.0 or the Ultra Durable 3 treatment. The added $35 may not be worth it to some people, but if you use any USB 3.0 connected devices like external hard drives and large flash drives with any regularity then it is worth it I would have to say.

Looking at the whole Brazos platform as a whole it far surpasses the aging Pine Trail platform. This is due solely to AMD's integrated video solution which is hands down far and above Intel's GMA 3100 and this could be attributed to Intel's inability to release a good graphics driver. If they ever figure that out they may be able to compete with AMD's superior graphics solutions. Then Intel could compete with AMD by offering a complete usable platform until they do the Fusion inchoative is going to wreak havoc on Intel on the low end of the spectrum. AMD has definitely raised the bar for low power computing with added the ability to play 1080p video and smooth Windows 7 usage.