Gigabyte's GeForce GTX 560 Ti: Overclocked and Ready to Rock
George Ross, March 5, 2011
Introduction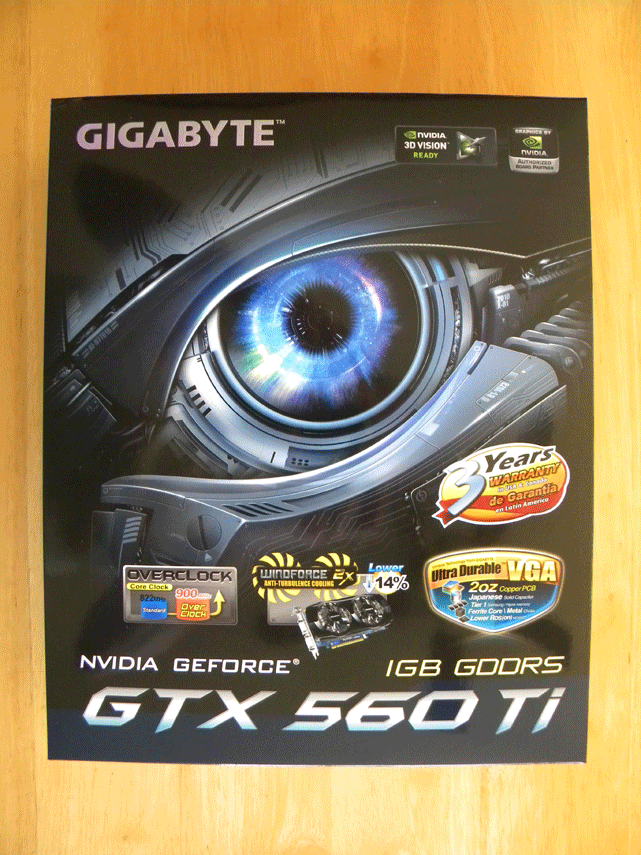 When TSMC canceled its 32nm node in 2009 it forced both NVIDIA and AMD to rethink their strategies for their second round of DX11 supporting GPU's. Rather than just packing more shader units into a smaller process both camps were forced to rely on engineering savvy to increase their GPU's performance from the previous generation. With the power and heat issues the ravaged the GTX 400 series NVIDIA decided to use the setback dealt to it from TSMC to retool the GF104 into the refined GF114. Since NVIDIA has recaptured the single GPU performance crown AMD has put pressure on NVIDIA in the $200-$300 price segment. NVIDIA has used its newly optimized GTX 560 Ti to put pressure back on AMD in the aforementioned market segment with a $250 price point. Does the GTX 560 Ti have what it takes to take on AMD in this market segment? We grabbed a factory overclocked GeForce GTX 560 Ti from Gigabyte and compared it to a similarly clocked Radeon HD 5870 to find out.

Packaging and Contents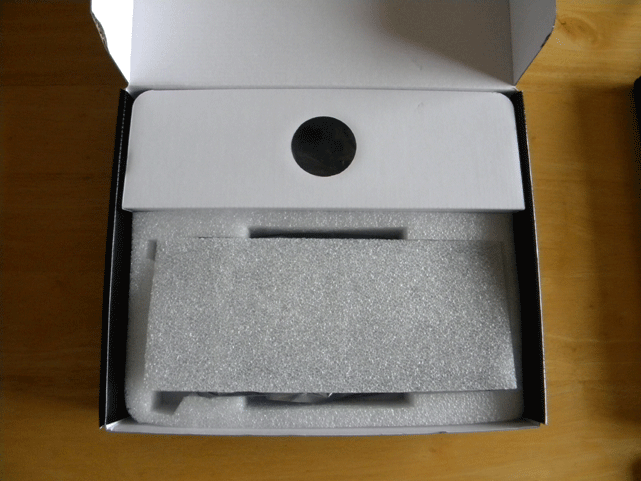 Gigabyte has done a good job with the packaging of the GTX 560 Ti. The card is protected by 360 degrees of foam to keep the card safe from the rigors of shipping. I liked how the accessories are tucked away in their own compartment.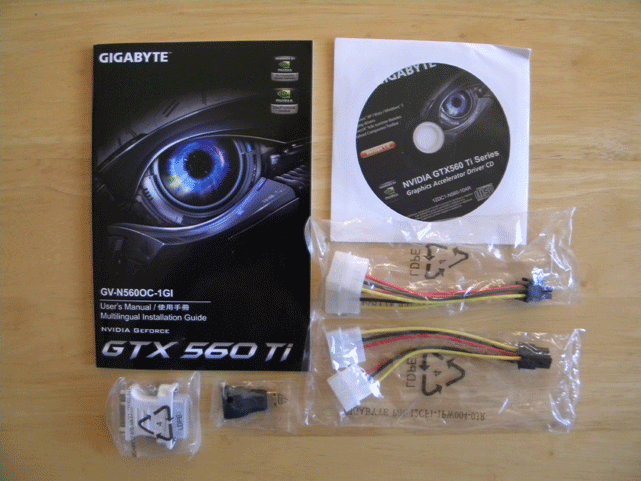 Everything you need to get this card up and running is included a pair of 4-pin molex to 6-pin power adapter, a mini HDMI to HDMI adapter, a DVI to D-Sub adapter, a driver CD, and a manual.

The Card

This card isn't the bog standard GTX 560 Ti it features Gigabyte's Ultra Durable VGA giving you the peace of mind that you got high quality components such as Japanese solid capacitors, ferrite core chokes, and the like. To keep the GPU cool Gigabyte used a custom designed cooler they call Windforce that sports a pair of fans instead of the reference designs single fan solution.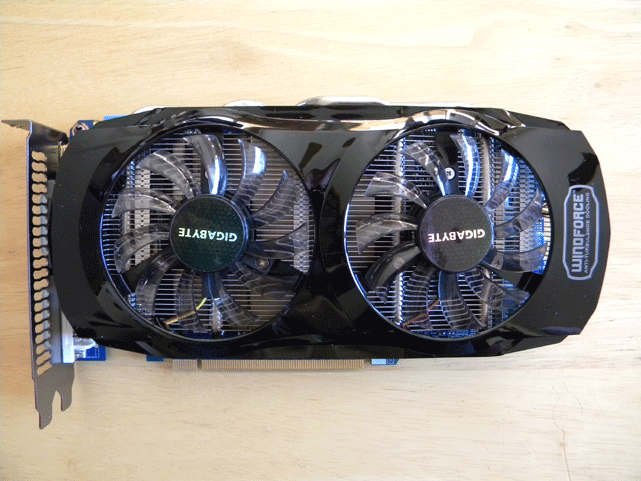 Gigabyte didn't change anything as far as connectivity options go. You still get two DVI outputs and a mini HDMI output like the reference models, but Gigabyte does give you dust covers for all of the output ports including the SLI bridge. Speaking of which the single SLI connector allows for 2-way SLI only. This is the only serious drawback I can see with the GTX 560 Ti series as a whole as AMD allows for 3 and 4-way CrossFire at the same price point with its HD 6950 1GB models.

I like what Gigabyte has done with this card. It comes overclocked 88MHz on the core over the reference design and this isn't the model they are claiming to be in their Super Overclock Series. This is their base model.

Test Hardware

We are comparing this card to an overclocked HD 5870 that runs at the same 900MHz core clock as the GTX 560 Ti that is being tested. Here is the rest of the information on the test systems.
Processor
Intel Core i7-920 @ 4,084MHz
Motherboard
EVGA E758-TR
Memory
OCZ 6GB DDR3 1600 @ 778MHz (DDR 1556) 11-11-11-28 Triple Channel Mode
Hard Drive
Seagate Barracuda ES.2 ST3250310NS 250GB 7200 RPM 32MB cache SATA 3.0Gb/s
Video Card
Gigabyte GeForce GTX 560 Ti @ 900 MHz Core 1800MHz Shader 1000MHz (4,000 Gb/s) Memory
Driver 266.66
Radeon HD 5870 @ 900 MHz core 1,200 MHz (4,800 Gb/s) Memory
Catalyst 11.2
Optical Disk Drive
LITE-ON HES208
Power Supply
Seventeam ST-850PAF 850W
Operating System
Windows 7 Ultimate x64
Gaming Benchmarks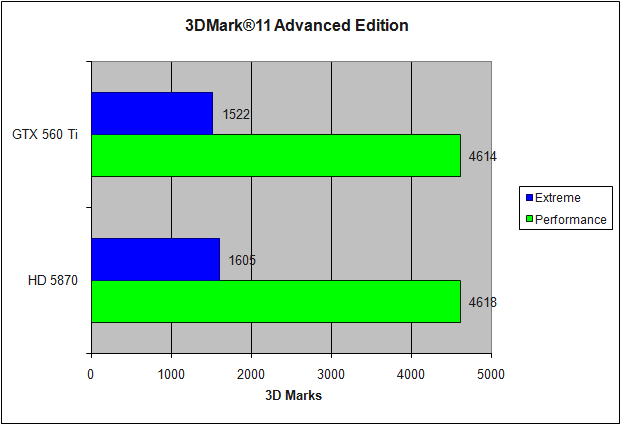 The 3D Mark 11 scores show the GTX 560 Ti and HD 5870 are neck and neck. The HD 5870 has only a slight edge.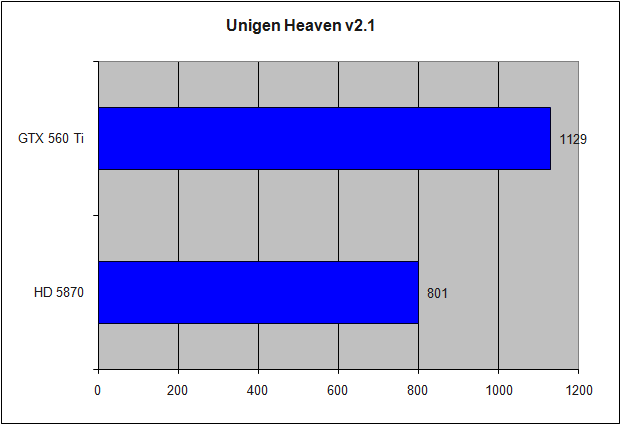 In the Unigen Heaven Benchmark the GTX 560 Ti takes a clear lead.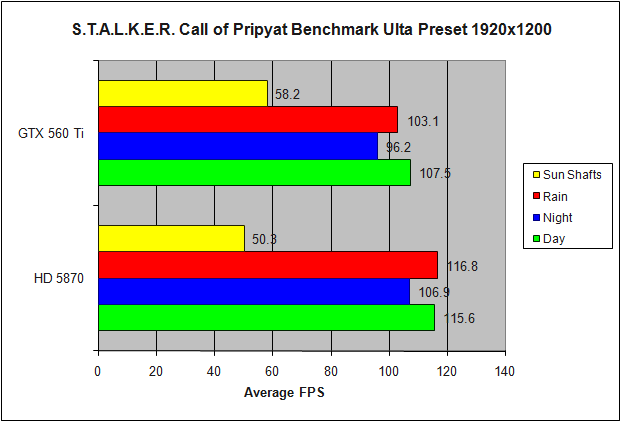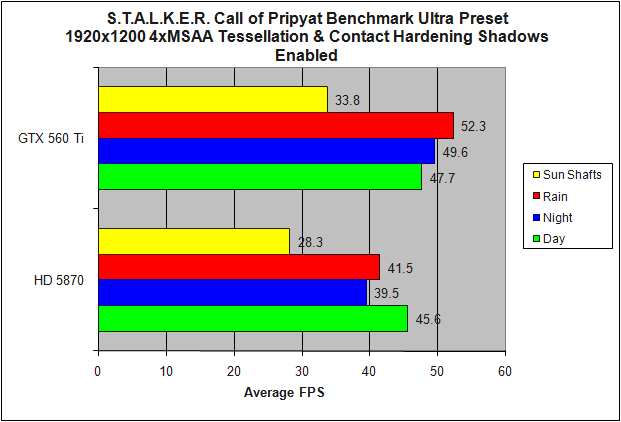 The S.T.A.L.K.E.R. Call of Pripyat numbers show that when tessellation and anti-aliasing are enabled the HD 5870 can't keep up with the GTX 560 Ti.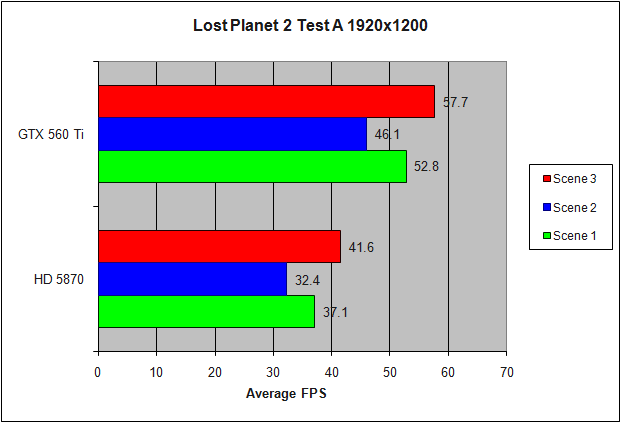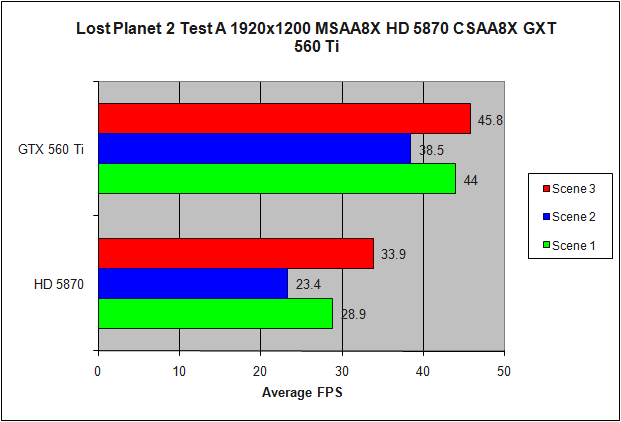 In Lost Planet 2 the GTX 560 Ti shows its stuff. The HD 5870 can't even keep up even without anti-aliasing.

When you look across all the game tests there is less than a 1% difference in overall average frame rates between the two cards. However the GTX 560 Ti did manage to beat out the HD 5870 when tessellation and anti-aliasing were enabled.

GPU Temperature

All tests were done in a test environment with an ambient temperature of 21.6 degrees Celsius. Gigabytes Windforce cooler even outperforms the T-Rad2 cooler that was used to cool the HD 5870.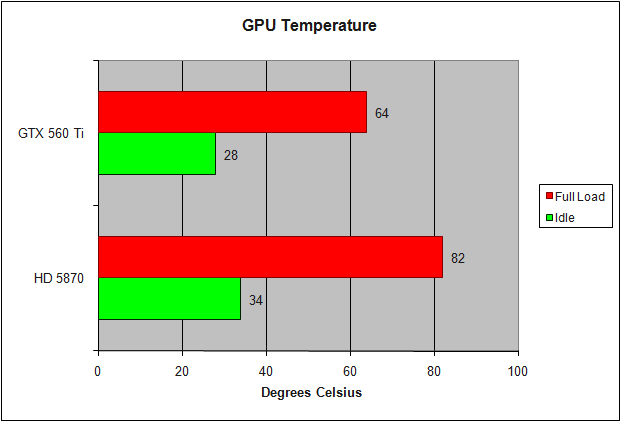 Power Consumption

The transistor level optimizations that were employed in the GF114 have paid off in the power consumption department as these numbers clearly show.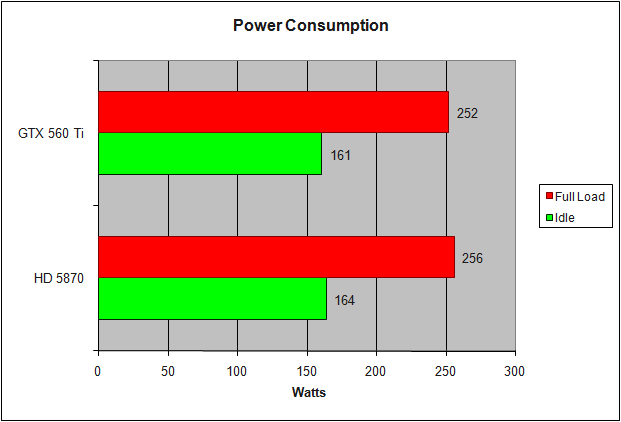 Conclusion

For $250 Gigabyte's GeForce GTX 250 Ti offers performance that is hard to beat at that price point. It's got an 88MHz overclock when compared to the reference model and the Winforce cooler does a great job of keeping the GPU cool. So for the same price as most manufacturers are offering their reference model GTX 560 Ti's Gigabyte is giving you a fair bit more. As for the GTX 560 Ti series as a whole it appears that NVIDIA has come up with a winner for the mainstream performance market.