Celeron J1900 Thin Mini-ITX Motherboard Comparison: Habey vs. Mitac
George Ross, August 6, 2015




Introduction

A few years ago Intel came up with the thin mini-ITX standard. This standard was full of promise with customizable all in one PC's, small form factor VESA mountable PC's, and custom server appliances. Sadly the market never really grasped the promise that the standard could bring and with Intel's departure from board making the thin mini-ITX standard is all but dead nowadays. There still are a few manufacturers who keep the standard alive and today we will be doing a comparison of two motherboards from two such manufacturers. Mitac with their PD10BI(MT) and Habey with their MITX-6770.

These motherboards are based on Intel's Celeron J1900 processor. As the J1900 is not exactly a performance power house today's comparison will focus on features rather than performance. So without further ado here we go.

Packaging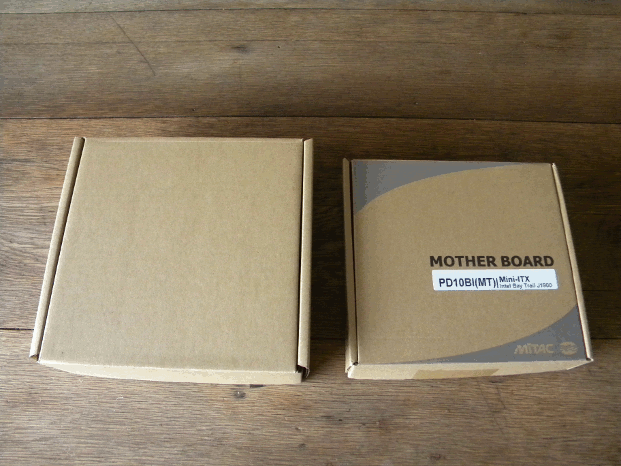 Neither of these motherboards boxes are meant for retail shelves and are designed to provide the essentials of keeping the motherboard from harm and housing the accessories. Both boxes are plain vanilla card board boxes. Mitac has added a little 'flash' with printed graphics. While Habey only has a sticker on the side with the manufacturer's name, model number, Product Code, UPC, MFG PN, HBSI, HBPO, and country of origin printed on it. Upon opening the boxes you will find Mitac's board sits on a nice tray with the accessories housed underneath. While Habey sits the accessories on a cardboard flap that covers the motherboard. Both motherboards come with anti static bagging, but Habey adds a little more protection buy adding bubble wrap on top of the anti static bag and a foam square on the underside of the board. This results in the Habey box being somewhat bigger than the Mitac box.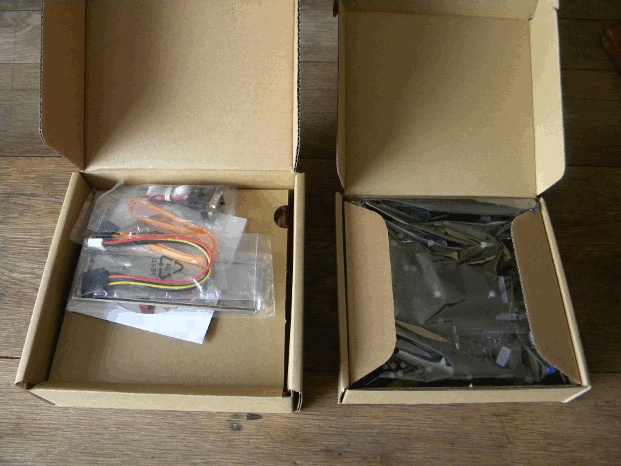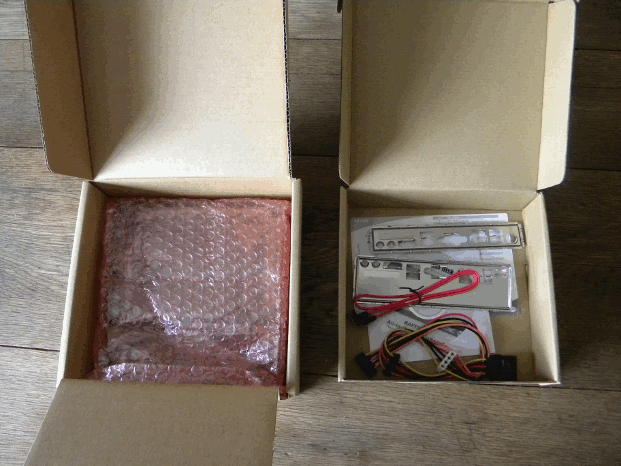 Contents/Accessories

Of course both motherboards come with similar accessories such as a driver CD and a SATA cable. This is where the similarities end as each has something over on the other. The Habey board has a 9-pin COM cable included that the Mitac board does not come with, but two RS-232 headers are included on both boards. Mitac did include both a regular ATX and thin mini-ITX rear I/O sheild. Habey chose a regular ATX rear I/O shield only. This is most likely due to the fact that Habey also makes cases and as far as I'm aware of none of those are thin mini-ITX. The power cable is also something that these two motherboards differ on. Mitac's can supply power to two SATA devices and one Molex device while the Habey supplied one will only supply power to one SATA device. Mitac has also supplied a printed components chart that Habey does not supply. Something else worth noting Habey has supplied the screws for the mini-PCIe cards in a bag with the accessories while Mitac has put them on the motherboard itself.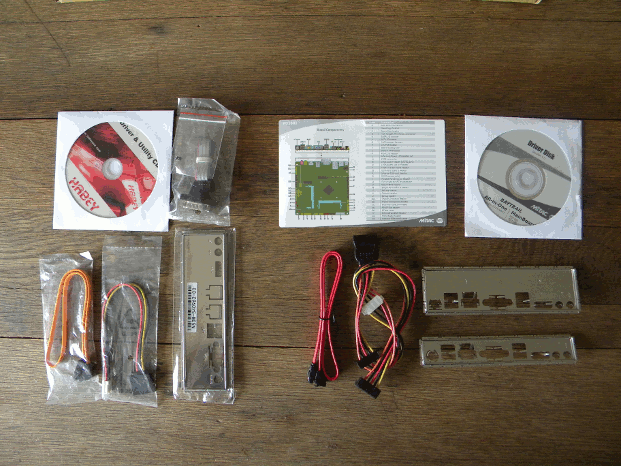 Just looking at the accessories alone could sway some people one way or the other.
Board Features/Layout

These motherboards are very similar at first glance. They both have fan-less heat sinks, two DDR3L memory slots, a half height mini-PCIe slot, a full height mini-PCIe slot, a PCIe x1 slot, two SATA headers two RS-232 headers, and a LPT header. From here on it is differences galore.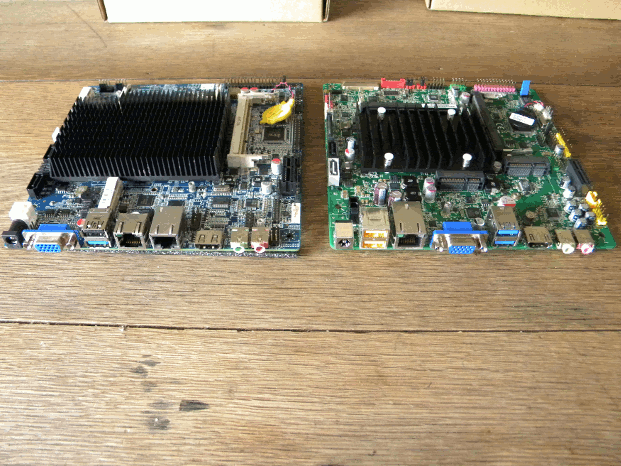 Looking at the rear I/O area the differences are easy to see. While they both have VGA output, HDMI output, and audio output and input. The USB and LAN connectors is where they differ. The Habey board features two gigabit Ethernet connectors both utilizing Intel I210/I211 chips. While the Mitac board only has one gigabit Ethernet port sporting the Realtek RTL8111G-CG chip. However the Mitac board has two USB 2.0 and USB 3.0 connectors whereas the Habey board only has one USB 2.0 and USB 3.0 connector.
Digging in deeper the differences only get more stark. The Mitac board has variable DC input valtages (8V-19V) while the Habey board only supports 12V. The Mitac board has more on board video output options with the inclusion of LVDS and Embedded DisplayPort, but the Habey board does support LVDS via an add-on module.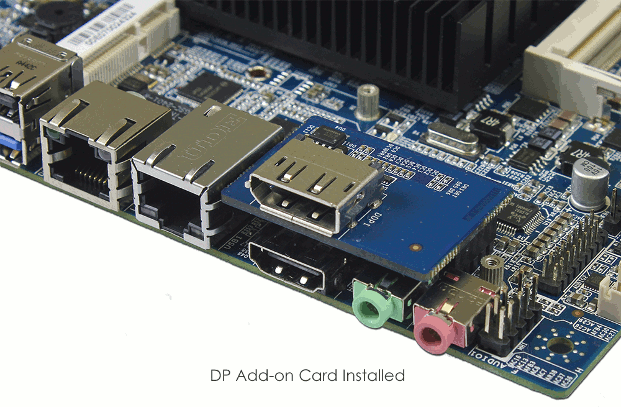 Picture from Habey's website

Since I mentioned the add-on's. Habey's MITX-6770 supports proprietary add-on's. Habey has three add-on's available for the MITX-6770. They are the DDI 2nd HDMI add-on card, the DDI LVDS add-on card, and the POE+ 802.3at add-on module (Think more like a seperate POE power supply). These add-on's add extra functionality to the MITX-6770. Of course they also add extra cost too. Mitac's PD10BI(MT) does not have any proprietary add-on's however the POE+ 802.3at add-on module can be used to power the PD10BI(MT).

While it is quite apparent that these two motherboards are quite different. There is one feature the Habey board has that really sets it apart. That is it's SIM socket. This allows for cellular radio connectivity. One can easily see how this one feature could sway you into buying this board just for such connectivity.

Test Hardware

Here are the specifics on the hardware that was used in testing.
Processors
Intel Celeron J1900
Motherboards
Mitac PD10BI(MT)
Habey MITX-6770
Memory
G. SKILL F3-1333C9D-8GSL 8GB DDR3L 1333 (PC3L 10666) 9-9-9-24 Dual Channel Mode
SSD
Mushkin Enhanced Chronos MKNSSDCR120GB 2.5" 120GB SATA III MLC
Video
Integrated graphics
Power Supply
Rosewill RMNA-11001 Universal automatic Notebook Power Adapter 90W
Habey HB-POE1230 POE+ 802.3at
Operating System
Windows 8.1 Pro 32-bit
Heat sink Performance
As mentioned earlier both of these motherboards feature a fan-less heat sink to cool their Celeron J1900's. I averaged the temperature readings from each core of the Celeron J1900 in order to get these figures. The full load temperatures were recorded after ten minutes of Prime 95 runs using the maximum temperature readings. The graph below shows how well they done in an open air environment.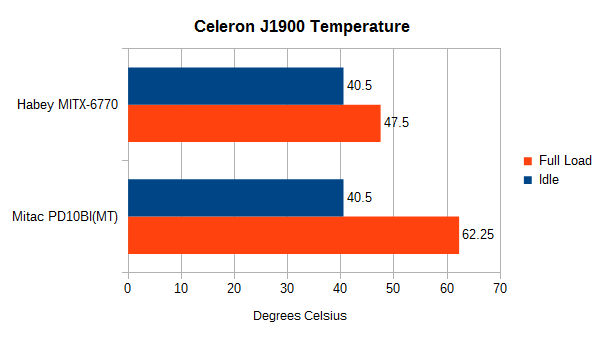 The MITX-6770's larger heat sink does better job of cooling the Celeron J1900. Not that the PD10BI(MT) does a bad job. It is just not near as good as the bigger heat sink on the MITX-6770.

Conclusion

So at the end of the day which board should you chose if your in the market for just such an animal? Both of these boards feature similar specifications and price points (around $150 depending on where you buy one). So I can't say that there is a clear winner due to the differences between them. What I can tell you is this. If you are needing a motherboard that is geared toward digital signage than the PD10BI(MT) is the way to go. If you are looking for a motherboard that has the most networking options than the MITX-6770 is the way to go. So all you can really do is look at the available features and decide which one fits your needs best.

It is nice to know you have a couple of nice thin mini-ITX low power solutions available. I would prefer to see more options available in the low power thin mini-ITX market segment.