HD 3870 vs. 8800GT: The Fight for the DX10 Mainstream Crown
George Ross, December 28, 2007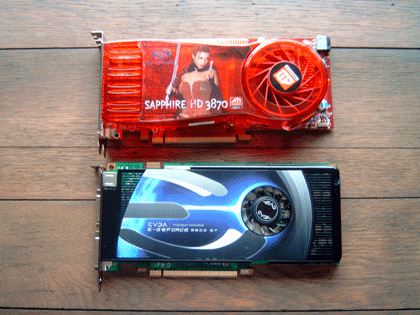 Introduction

When AMD released the HD 3870 (RV670) it was positioned to be the mainstream video card, but NVIDIA had a trick under its sleeve in the form of the 8800GT (G92). At the time of the HD 3870 release the 8800GT had already had been in the market for a few weeks and was suffering from stock shortages. This put the HD 3870 in a nice spot not to mention it was $20 cheaper. And so it was the battle for the DX10 mainstream crown.

Comparison

Let's take a look at the specifications of both cards to see what kind of animals we are dealing with.
| | | |
| --- | --- | --- |
| GPU | Radeon HD 3870 | GeForce 8800GT |
| Core clock | 775MHz | 600MHz |
| Stream Processors | 320 stream processing units | 112 |
| Memory Type | GDDR4 | GDDR3 |
| Memory Interface | 256-bit | 256-bit |
| Memory Size | 512MB | 512MB |
| Memory Clock | 1125MHz (2250MHz DDR) | 900MHz (1800MHz DDR) |
| Interface | PCI Express 2.0 | PCI Express 2.0 |
Cooling

It is surprising to such a difference in what it takes to cool these beasts. First off the HD 3870 is a double slot solution while the 8800GT is a single slot solution. Not only that the HD 3870 uses copper while the 8800GT uses aluminum. The fan on the HD 3870 is bigger than the one on the 8800GT, and it is also a tad louder. However neither of these cards is real loud.

Power Consumption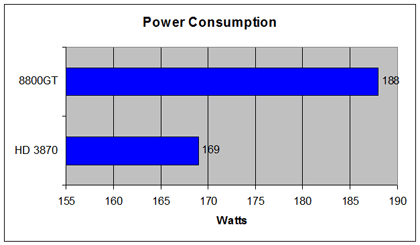 While the 8800GT uses more power it requires less cooling this is indeed a head scratcher. The only thing I can think of is the larger die size of the 8800GT gives it better heat dissipation.

Test Setup

Here is the test setup that was used to test these video cards. The 7.11 Catalyst and 169.02 ForceWare drivers were used in the testing.
Processor
AMD Athlon 64 X2 5600+
Motherboard
ABIT KN9
Memory
2GB GeIL DDR2 800 (PC6400) @ 5-5-5-15 Dual Channel Mode
Hard Drive
Western Digital WD Raptor 74GB 10,000RPM 8MB cache
Video Cards
SAPPHIRE HD 3870
EVGA e-GeForce 8800 GT KO @ 600MHz (Core) 900MHz (Memory)
OS
Windows Vista Ultimate x64
Benchmarks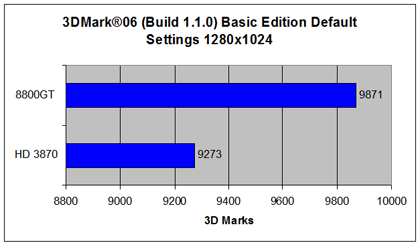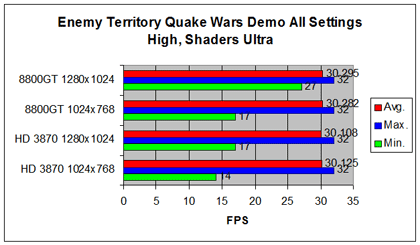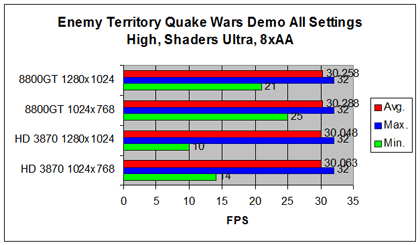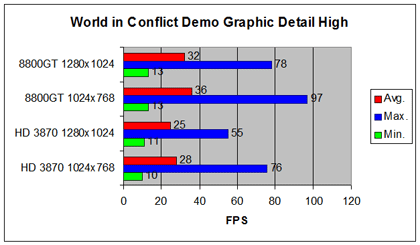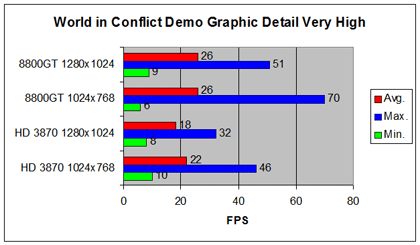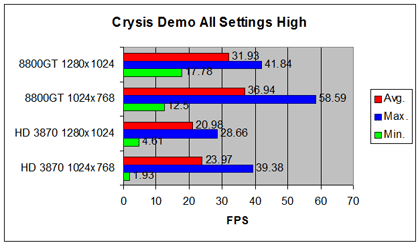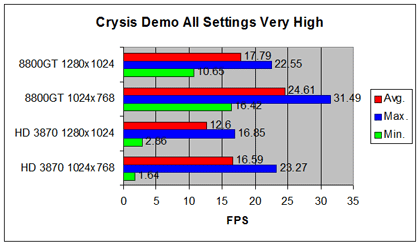 All of the scores are very tight with the exception of World in Conflict and Crysis. That is were the 8800GT really starts to outpace the HD 3870.

Conclusion

Both of these cards fill the gap in what has been an all but empty mainstream video card market. The performance of these two cards are real close to each other, but the 8800GT is faster and widens that margin at higher resolutions. The difference does not matter all that much except in Crysis were the HD 3870 does not give playable frame rates and the 8800GT just barely getting the job done. In my opinion the 8800GT is the better of the two with its higher performance and single slot cooling.