Jetway's NC94FL-510-LF: Gaming With Intel's Atom Again?
George Ross, April 2, 2010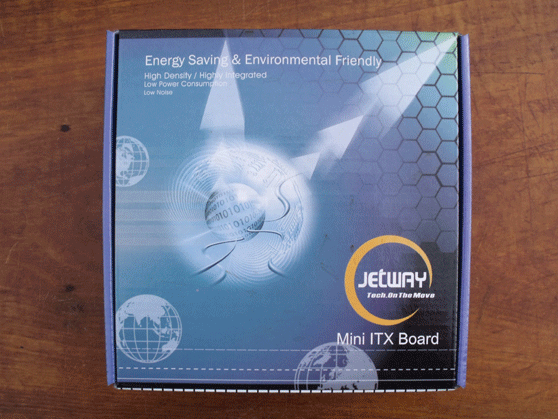 Introduction

Awhile back we looked at using Intel's top performing Atom processor of the time the N330 for gaming, and found it to be lacking in the gaming performance department. Since then Intel has refreshed there line up of Atom processors. Does the new king of the hill the Atom D510 have what it takes to be used for gaming? Jetway has released a motherboard that provides us the means to determine whether or not you can use the Atom D510 for gaming in the form of the NC94FL-510-LF. This motherboard combines the Atom D510 with a PCI express x16 slot in a mini-ITX form factor. Let's see what kind of performance the NC94FL-510-LF provides.

Packaging and Contents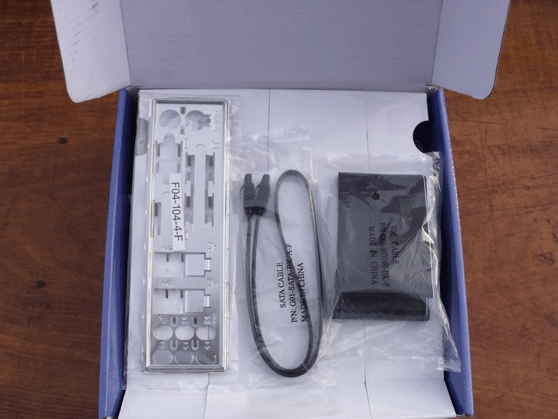 The NC-94FL-510-LF comes in a decent box that keeps the motherboard from moving around inside the box to much during the shipping process. Jetway packs the obligatory I/O shield, SATA cable, and IDE cable on top of the motherboard and putting the driver CD inside the manual which is then placed under the motherboard. Even though there are only the barest of essentials included with this motherboard Jetway did include a hardware monitoring utility MyGuard and a Norton Internet Security 2010 on the driver CD. Hardware monitors are always a welcome addition.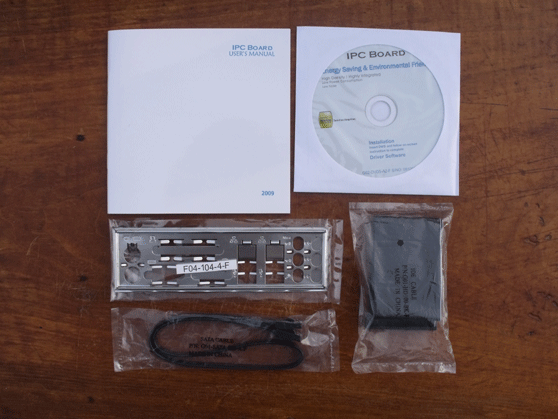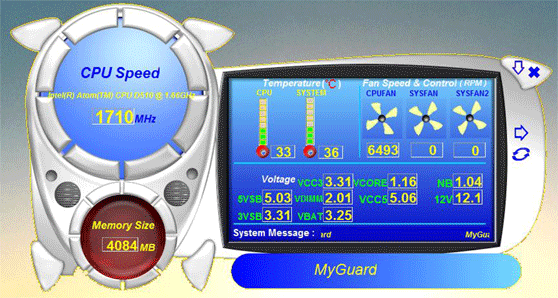 Motherboard Layout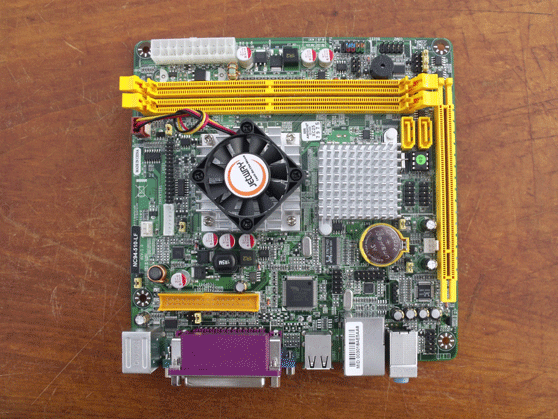 Given that this is a mini-ITX motherboard the layout of the NC-94FL-510-LF is pretty good. With my only real criticism being the placement of the floppy connector although I didn't use it in this review if one were so inclined to install an floppy drive in a mini-ITX case most likely the floppy cable would cover the CPU fan reducing airflow in that area. Chances are that no one ever uses the floppy connector nowadays, but if you would have to I would use a rounded floppy cable. I would also like to point out that there are two unpopulated 3-pin fan headers in covenant locations. As for the rest of the connectors and slots I think they are pretty well placed given the small stature of this motherboard.

Now on to the funny part as I stated earlier this motherboard comes with an IDE cable. So where does it plug into the motherboard at?

Specifications
CPU
Atom Processor D510 (45nm,1.66GHz,1024MB L2 Cache)
Chipset
INTEL® Atom Processor D510 + NM10 Express Chipset
Front Side Bus 667MHz
Memory
240-pin DIMM Sockets for un-buffered Single Channel DDR2 800/667 SDRAM up to 4 GB
Expansion Slot
PCI-E x16 slot(by 4)
Storage
2 * Serial ATA2 3Gb/s connectors
1 * Floppy connector
Audio
Realtek ALC662 6-Channel HD Audio CODEC
Ethernet LAN
INTEL 82552V 10M/100M LAN
USB
Embedded 8 * USB 2.0/1.1
Special Features
Intel Atom Processor D510
Support DC FAN
Support CPU Smart Fan
Rear Panel I/O
4 * USB 2.0/1.1 ports
1 * PS/2 Mouse & 1 * Keyboard connector
1 * RJ-45 port
3 * Audio I/O ports ( Line-in, mic and line-out )
1 * VGA port
1 * COM port
1 * Parallel port
Internal I/O
2 * USB 2.0 headers for 4 USB 2.0 ports
3 * NB / Chassis Fan connectors
1 * 20-pin ATX Power connector
1 * LVDS header/1* CD IN/1*LPC
1 * AUDIO header
1 * RS232/RS422/RS485 connectors
1 * GPIO header
BIOS
AMI 8MB Flash ROM
Functional
ATM, Automation, Medical Equipment, Security, Networking, POS, General Application, Gaming Machine, Transportation
Temperature
Operating within 0~50 centigrade
Storage within -20-85 centigrade
Form Factor
Mini ITX Form Factor(17cmx17cm)
Overclocking

The NC-94FL-510-LF's BIOS let you tweak a couple settings namely the FSB, memory clock divider, and memory voltage. Don't expect to get much past the default clocks. This is probably do to the motherboard only being fed with power from a 20-pin main power connector. While not an ideal solution for overclockers only having the 20-pin main power connector is a huge plus for anyone who is upgrading and doesn't wish to purchase a new power supply. So here is what I got out of the Atom D510 I tested.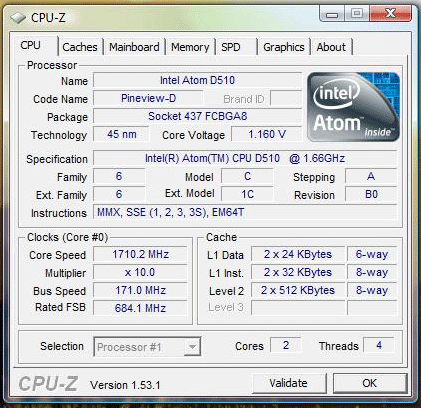 Test Hardware

I paired the NC-94FL-510-LF with a slightly overclocked HD 4890. The NC-94FL-510-LF is also limited to an electrical 4 PCI express lanes even though Jetway used a physical x16 connector. Here are the rest of the particulars on the systems that were used in testing.
Processor
Intel Atom N330 @ 1.596GHz
Intel Atom D510 @ 1.66GHz
Motherboard
ECS 945GCD-M
Jetway NC94FL-510-LF
Memory
GeIL Evo One 4GB DDR2 1066 (PC2 8500) @ 400MHz (DDR 800) 5-5-5-8 Single Channel Mode
GeIL Evo One 4GB DDR2 1066 (PC2 8500) @ 400MHz (DDR 800) 5-5-5-15 Single Channel Mode
Hard Drive
Western Digital Caviar Green WD5000AADS 500GB 32MB Cache SATA 3.0Gb/s
Video Card
Radeon HD 4890 @ 900 MHz core 1,000 MHz (4,000 Gb/s) memory
Catalyst 10.2
Optical Disk Drive
Pioneer DVR-215DBK
Operating System
Windows Vista Ultimate x64
General Computing Benchmarks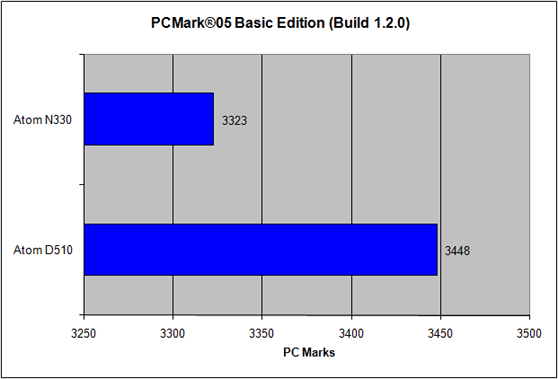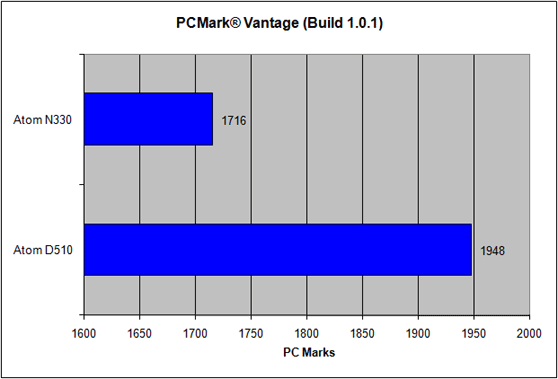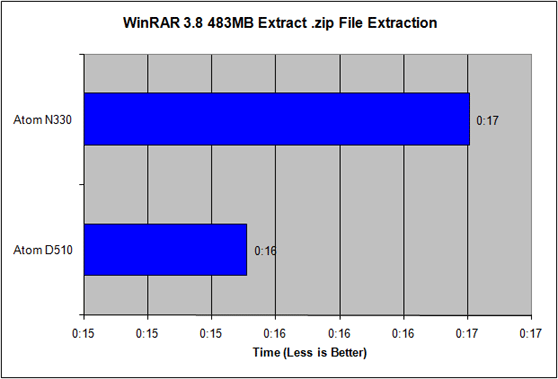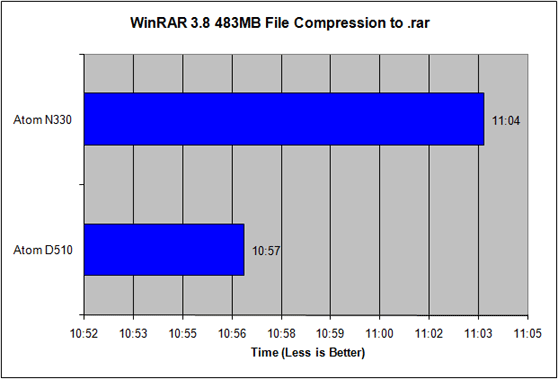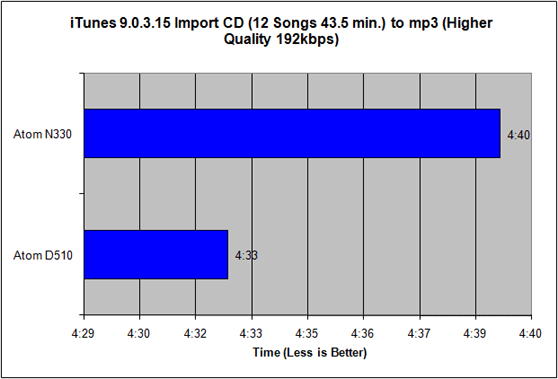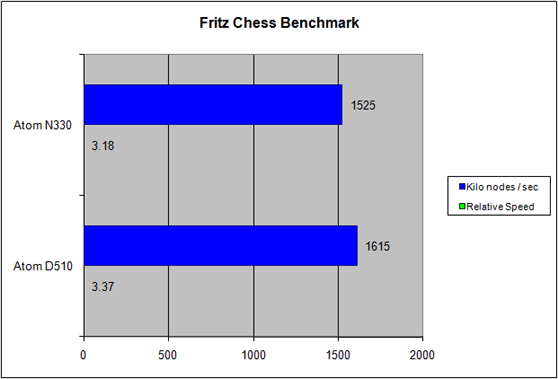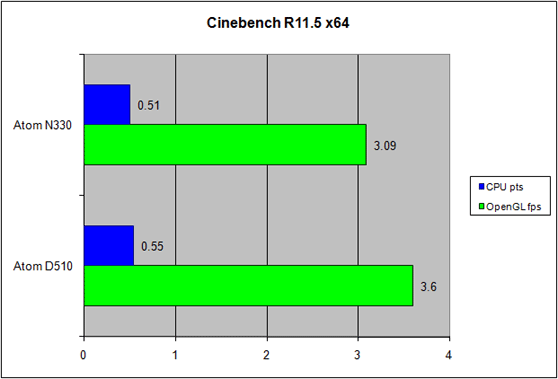 On average across all general computing tests the Atom D510 bests its older sibling the Atom N330 by 6%.
Gaming Benchmarks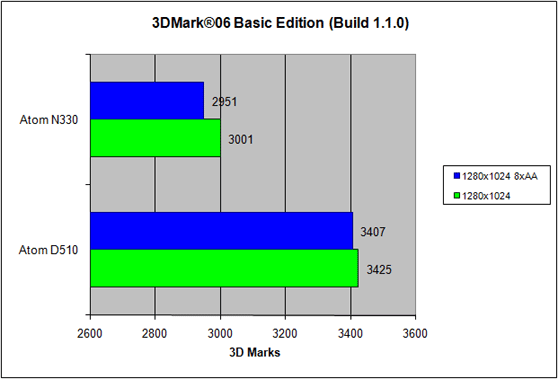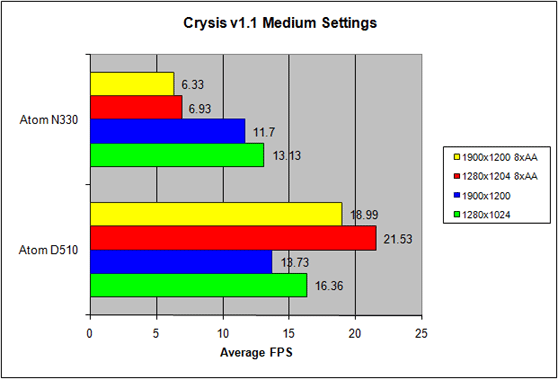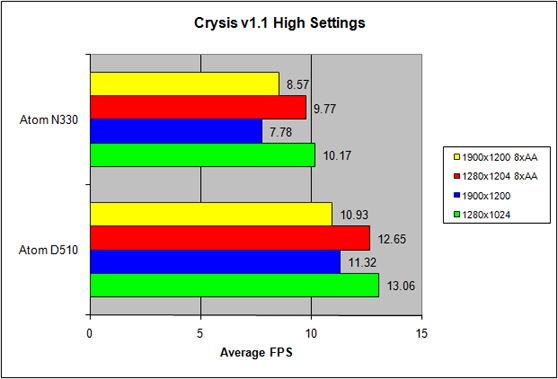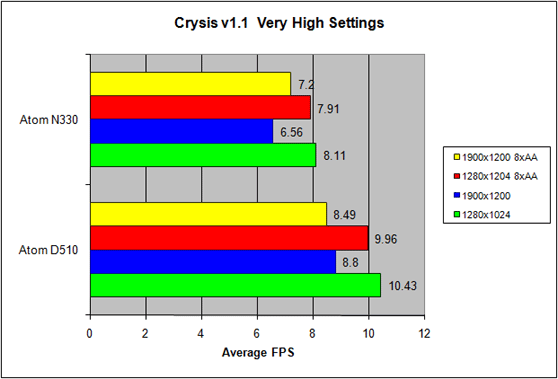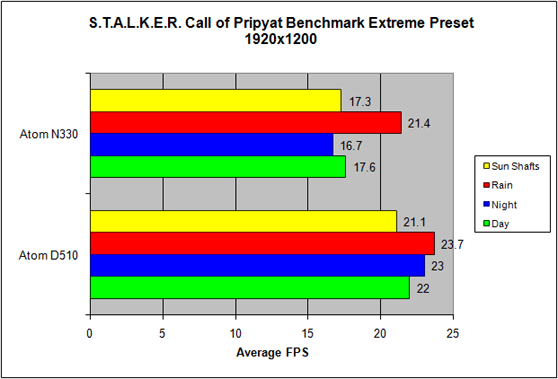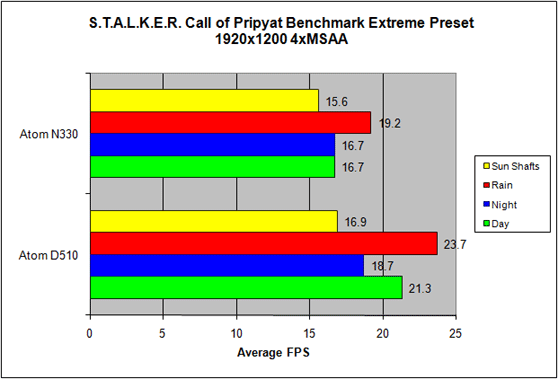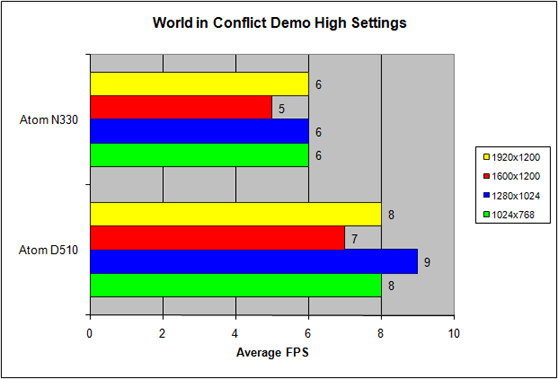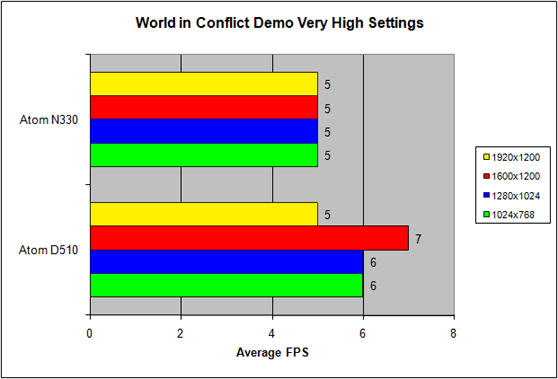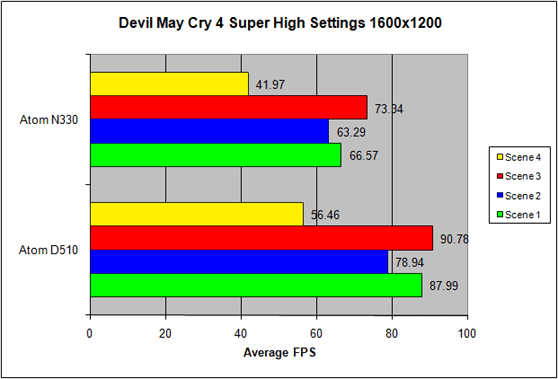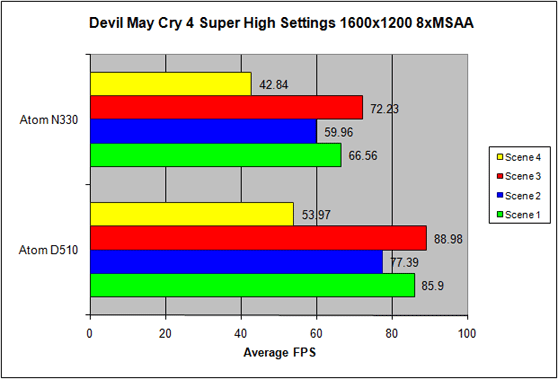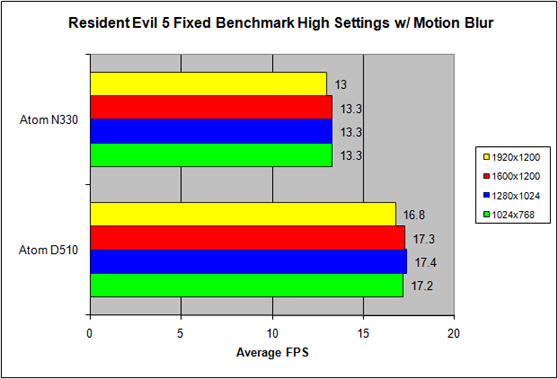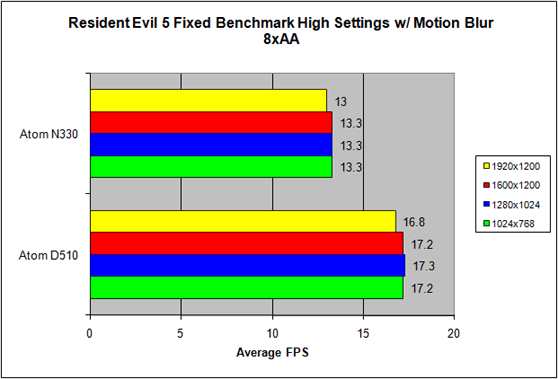 You may have noticed that the usual 3DMark Vantage tests were missing that is because I could not get the Atom D510 setup to complete the test without crashing. Looking at all the actual game tests the Atom D510 setup gives you a 29% hike in overall average frames per second over the Atom N330 setup. This is with a quarter of the PCI express lanes. That goes to show you that there is something to be said for CPU performance in games, but neither system has playable frame rates except for in the Devil May Cry 4 tests.

CPU Temperatures

Being that the Atom D510 CPU consists of a dual core CPU with a single channel memory controller and integrated graphics it is real important to keep cool. Jetway keeps the Atom D510 pretty cool in my open case test environment.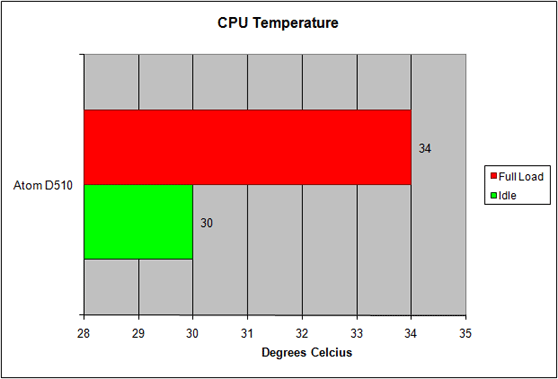 Power Consumption

The Atom D510 uses more power under load than the Atom N330, but less power when idle. At least the extra power comes with a slight performance advantage.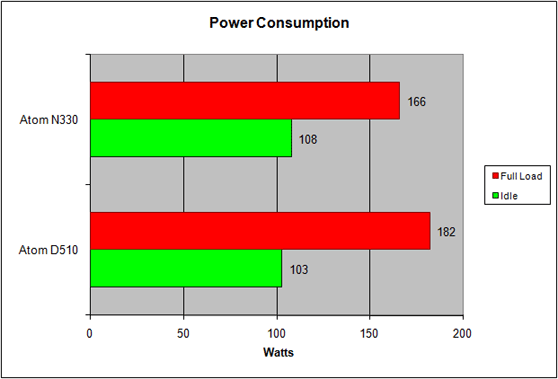 Conclusion

So what does your $115 investment get you in terms of usablitilty? Well you get a motherboard with an overclockable (don't expect much) Atom D510 with the ability to add a PCI express x1 ' x16 expansion card. The only major drawbacks to this motherboard are its lack of a gigabit network adapter and being limited to 4 PCI express lanes. If it weren't for that this would be the perfect Atom NAS solution, and not having the ability to install a TV tuner card and a video card at the same time limits this motherboards uses in the HTPC realm. Keep in mind that the NC-94FL-510-LF is being built for the ATM, medical equipment, security, POS, transportation, and gaming machine (think slot machines) markets. So this board has some limited applications outside of being your basic web surfing basic computing machine for your average user however the NC-94FL-510-LF adds the ability to overclock the Atom D510. Just don't expect any overclocking miracles. All in all the plethora of connectivity options make this motherboard an attractive choice for those who need some flexibility with their Atom based computing solution.