Jetway's JNF77-N1G6-LF: VIA's Nano Put to the Test
George Ross, August 19, 2009




Introduction

With environmentally friendly or 'green' computing solutions being all the rage nowadays I thought it a good time to check out a low powered motherboard featuring VIA's Nano processor. Let's find out how this low power computing solution stacks up against a more traditional Athlon 64 X2 4600+ based setup.

Packaging & Contents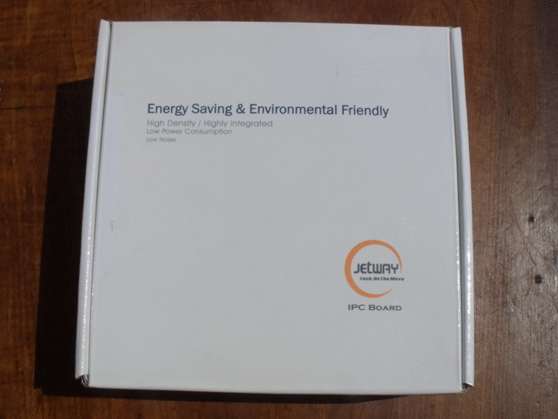 The JNF77-N1G6-LF comes in a box that does its job of protecting the motherboard from damage during shipping. The included accessories are nothing to get excited about giving you an I/O back plate, an IDE cable, a SATA cable, a driver CD, and a manual.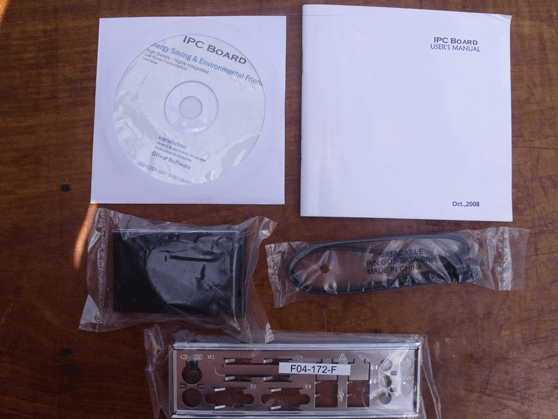 Layout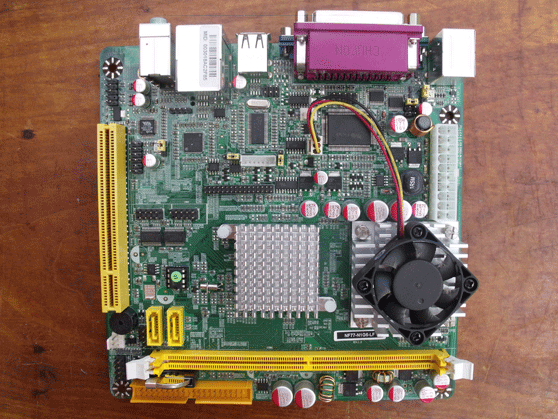 Being that this is a mini ITX motherboard Jetway has done a good job with the layout. The memory can be installed without hassle, and the USB headers are easily accessed. The SATA headers are also well placed. The only thing that I see missing is a floppy disk header. You may also have noticed that this board only has a single 40mm fan cooling the processor and the northbridge is passively cooled so it doesn't make to much noise.

Test Hardware

All tests were conducted with the Chrome9 HC3 IGP only being given 64MB of memory to work with. Here the rest of the particulars on the test systems.
Processors
VIA Nano L2200 @ 1.6GHz
AMD Athlon 64 X2 4600+ @ 2.4GHz
Motherboards
Jetway JNF77-N1G6-LF
GIGABYTE GA-MA770-DS3
Memory
GeIL 2GB DDR2 800 (PC2 6400) @ 667 MHz (DDR 1333) 5-5-5-17 Single Channel Mode
GeIL 2GB DDR2 800 (PC2 6400) @ 800 MHz (DDR 1600) 5-5-5-15 Single Channel Mode
Hard Drive
Western Digital Raptor WD1500ADFD 150GB 10000 RPM 16MB Cache SATA 1.5Gb/s
Video Cards
VIA Chrome9 HC3 IGP
Driver version 21.09.01L
ASUS EAH3450 Radeon 3450
Catalyst 9.7
Optical Disk Drive
Pioneer DVR-111DBK
Power Supply
FSP AX450-PN 450W
Operating System
Windows Vista Ultimate x86 SP1
General Computing Benchmarks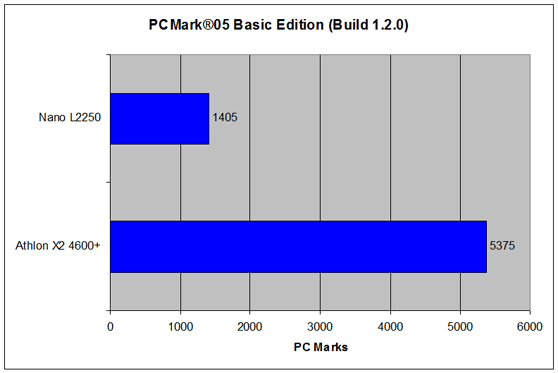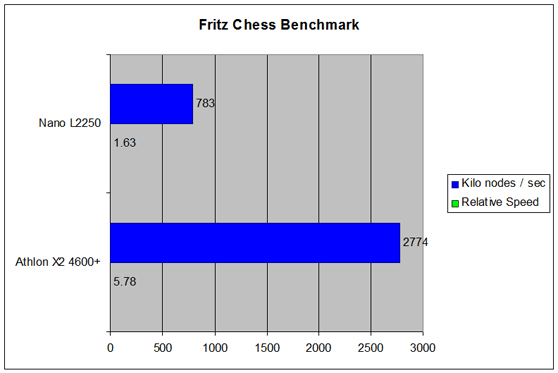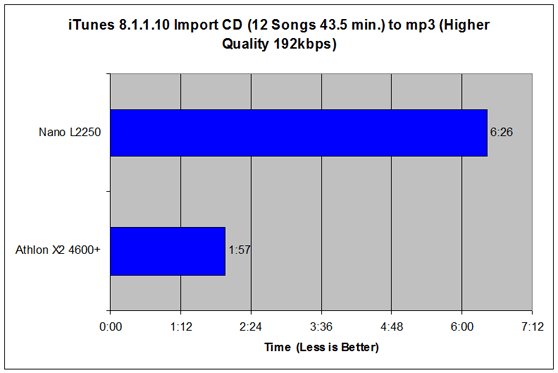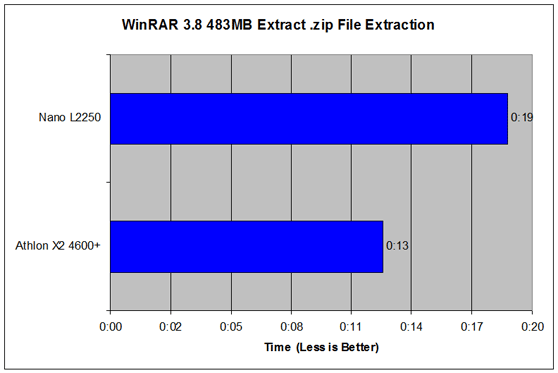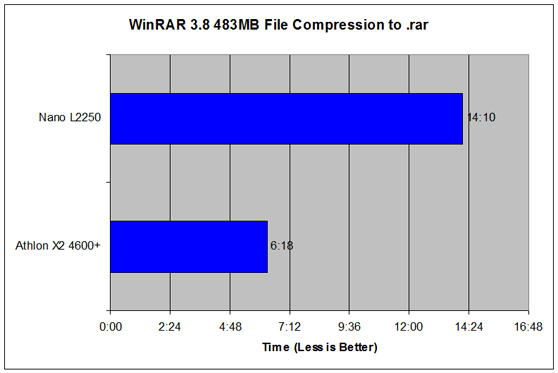 As you can see the JNF77-N1G6-LF cannot compete Athlon 64 X2 4600+ based setup, but that is not the goal of the JNF77-N1G6-LF be the fastest computing solution out there. Considering the Nano L2200 processor has 800MHz less clock speed than the Athlon 64 X2 4600+ and only has one processing core I think that the JNF77-N1G6-LF puts up some decent numbers.
Power Consumption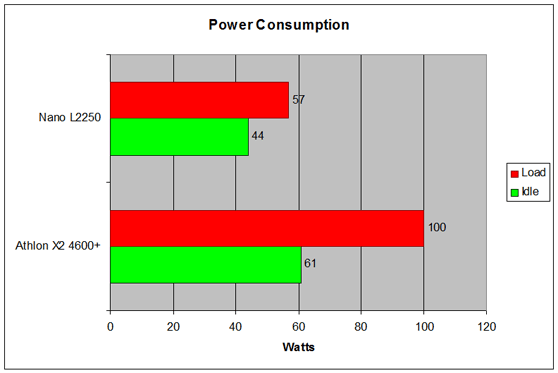 This is were the JNF77-N1G6-LF shines it keeps the power bill down. Notice that even at load the JNF77-N1G6-LF consumes less power that the Athlon 64 X2 4600+ based setup does when it is at an idle state.

Conclusion

So a $135 gives you the ability to run the resource hogging Windows Vista while keeping the power consumption low. The JNF77-N1G6-LF could be what you are looking for when building a computer for someone who doesn't need more than the ability to check emails and surf the web. It could also be used for a NAS setup, web server, or car PC. It is nice to see a small form factor low power computing solution that can run the latest software.

Stay tuned for overclocking the Nano L2200 processor.