ASUS M2R32-MVP: Solid Performance Few Flaws
George Ross, November 3, 2007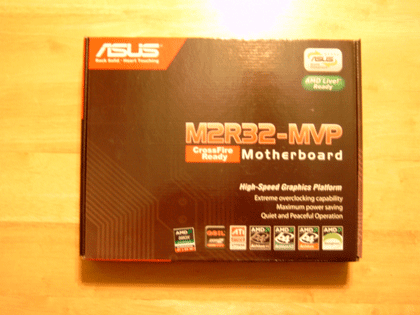 Introduction

A while ago back when AMD was first taking over ATI AMD decided to rebrand ATI's chipset offerings. This motherboard just happens to be one of those that got a rebranding. The chipset used to be called ATI CrossFire Radeon Xpress 3200 now it is called the AMD 580X CrossFire. This motherboard does have a few features worth mentioning such as dual PCI Express x16 lanes, gigabit LAN, SATA2, external SATA, BTX style memory positioning (Stack Cool2), and overclocking potential. Let's see what came in the box.

Package Contents

The M2R32-MVP has a rather sparse selection of accessories just the essentials with a few extras an updated driver CD for Vista, Q-connector kit, and USB back plate. However I really liked the user manual. It was detailed and had lots of info not just on the motherboard itself, but also on the included software that came with the package. Overall the package was not bad but in this price range I expected a little more.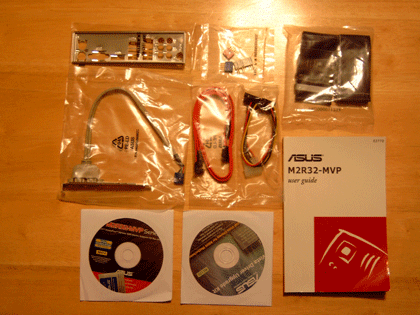 Specifications
CPU
Socket AM2 for AMD' Athlon' 64 X2/ Athlon' 64 FX/ Athlon' 64/ Sempron'
Chipset
AMD 580X CrossFire Chipset/SB600
Memory
4 x DIMM, max. 8GB, DDR2 800/667/533, ECC and non-ECC, un-buffered memory Dual Channel Memory Architecture
CrossFire
Support ATI CrossFire graphics cards (both at x16 mode)
Storage/RAID
ATI SB600 South Bridge:
- 1 x UltraDMA 133/100/66/33
- 4 x Serial ATA I/II 3.0Gb/s with RAID 0, 1, 0+1 support
Jmicron360 SATA controller supports:
- 1 x External Serial ATA 3.0 Gb/s hard disk (SATA On-the-Go)
Audio
ADI 1988A 8-channel CODEC
Universal Audio Jack
Multi-Streaming
Coaxial S/PDIF out ports on back I/O
LAN
Marvell 88E8001 Gigabit LAN Controller, featuring AI NET2
IEEE 1394a
VIA VT6308P
USB
Max. 10 USB 2.0/1.1 ports
Special Features
Stack Cool2
SATA On the Go (External SATA on back I/O port)
Noise Filter
Back Panel I/O Ports
1 x PS/2 Keyboard
1 x PS/2 Mouse
1 x Coaxial S/PDIF Out
1 x IEEE1394
1 x External SATA
1 x RJ45
4 x USB 2.0/1.1
8-Channel Audio I/O
1 x COM connector
Internal I/O Connectors
3 x USB 2.0 connector supports additional 6 USB 2.0 ports
1 x IEEE1394a connector
4 x SATA connectors
1 x IDE connector
1 x Floppy disk drive connector
1 x CPU/ 2 x Chassis/ 1 x Power FAN connectors
1 x S/PDIF Out connector
24-pin ATX Power connector
4-pin ATX 12V Power connector
Chassis Intrusion
CD audio in connector
Front panel High Definition Audio connector
System panel connector
Layout

The layout of this motherboard has its ups and downs. I really liked how the memory slots are positioned. It allows for better circulation of air through the memory. The rear I/O panel was to my liking. I did not like the position of the USB and CD input connectors by a video card slot. The chipset cooler was also really very close to the same video card slot, and was actually notched by the manufacturer to miss a larger video card. While on the subject of larger video cards using a dual slot video card will block a PCI Express x1 slot or a vanilla PCI slot or both if you are going the CrossFire route. I guess when straying from the standard ATX specification in order to achieve a certain design goal things have to move somewhere and not all things come out the way you want it.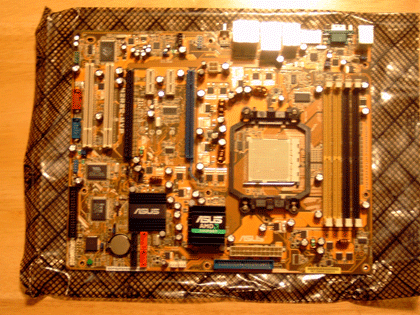 Installation

The installation was a good experience. The board already came with the latest BIOS. The BIOS is nice and has lots of options it will let you tweak everything that you would need to. Plus it even lets you save two profiles. The bright spot for me was in the Q-connector. It is a jumper extension that is labeled and lets you connect the system panel wires to the Q-connector then slide it on the jumpers for the system panel. It was great I got the polarity right on my HDD and power LED's right the first time. Sometimes the simplest things are the best. The PC Probe II software is a good utility for monitoring temps and voltages which will be handy with the overclocking.

Overclocking

I done the overclocking with the processor's multiplier set to the lowest setting (4). This was done to ensure that the processor was not the limiting factor. In the end I was surprised to see that 390 MHz was the highest I could achieve. I thought it would be lower. At the 390 MHz level stability was not an issue. I could play games and run benchmarks. At the 391 MHz level the system would not even post. I may have been able to get a higher clock by raising the nothbridge voltage, but did not see the need having only 10 MHz to go before I reached the maximum allowable of 400 MHz. In my opinion this board was made to overclock. If one were to pair this board with a processor that liked speed I believe the processor would give out before the motherboard.

Test Setup

Here is a look at the major system components. The only difference is the motherboard.
| | | |
| --- | --- | --- |
| Processor | AMD Athlon 64 X2 6400+ "Windsor" @ 3.4GHz | AMD Athlon 64 X2 6400+ "Windsor" @ 3.4GHz |
| Motherboard | ABIT KN9 | Asus M2R32-MVP |
| Memory | 4GB GeIL DDR2 800 (PC6400) @ 4-4-4-12 Dual Channel Mode | 4GB GeIL DDR2 800 (PC6400) @ 4-4-4-12 Dual Channel Mode |
| Hard Drive | Western Digital WD 150ADFD-00NLR1 150GB 10,000RPM 16MB cache | Western Digital WD 150ADFD-00NLR1 150GB 10,000RPM 16MB cache |
| Video Card | SAPPHIRE X1900GT PCI Express x16 | SAPPHIRE X1900GT PCI Express x16 |



General Computing Benchmarks

Let's see how this motherboard compares to Abit's KN9 motherboard based on the nForce4 Ultra.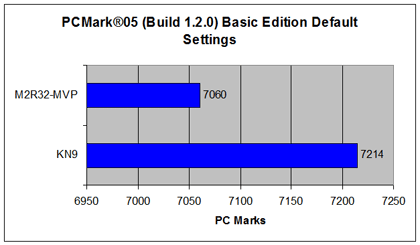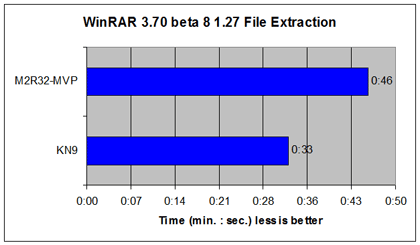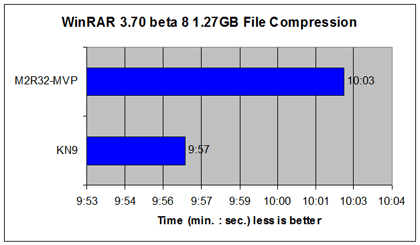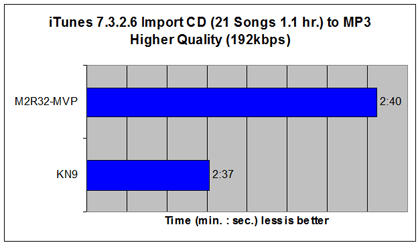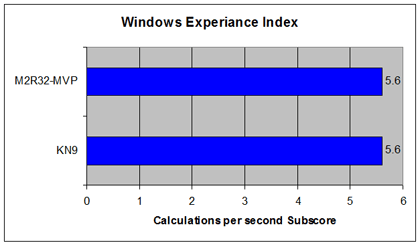 Hard Drive Benchmarks

Now let's see if the there is any difference in using the SB600 compared to the single chip design of the nForce4 Ultra.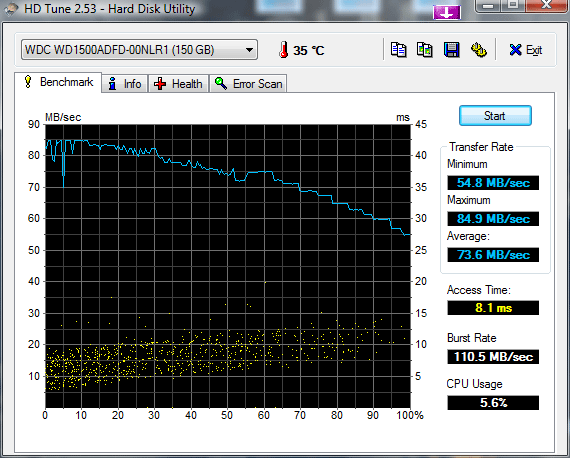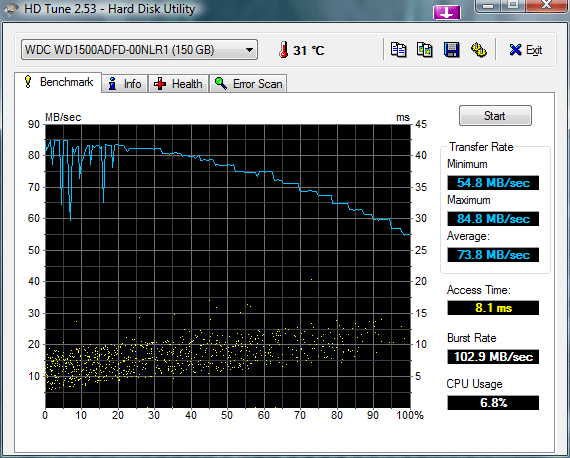 There are no real differences other than the CPU usage is up when using the SB600.



Gaming Benchmarks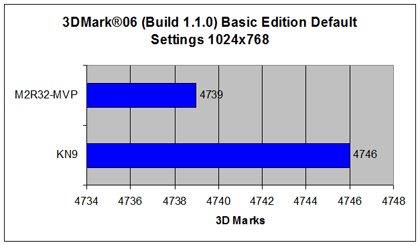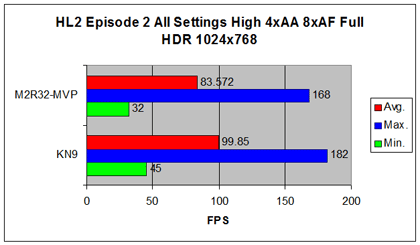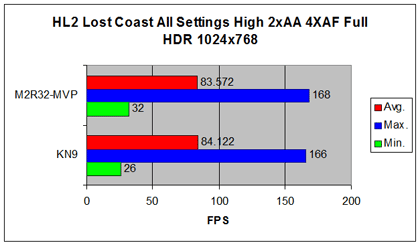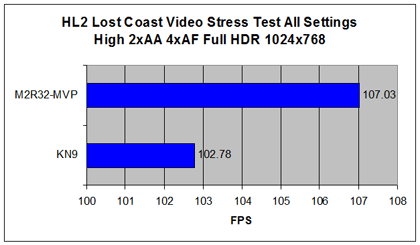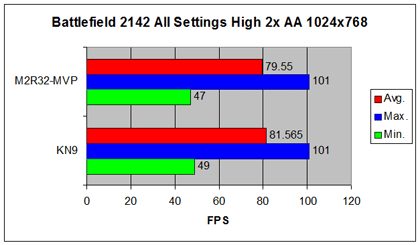 Power Usage

Here are the power usage numbers. The tests were done without using the PowerNow technology of the Athlon 64 X2.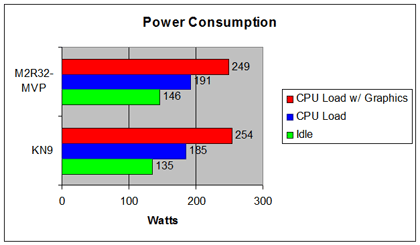 It would also appear that the traditional style of a northbridge and southbridge combo consumes more power than the single chip solution, but for some reason the 580X CrossFire uses less power when gaming.

Conclusion

All in all the ASUS M2R32-MVP is a fine product with only a few minor little hiccups. Performance wise it is on par with other competing products, but it does lag a little bit. If you are looking to building a machine that can handle this fall's gaming releases and you are an AMD/ATI fan this motherboard is a real good starting point for that overclocked Crysis running monster. On the other hand if you are a looking to build that bleeding edge machine the RD790 is due out later this month, and promises to top this generations offerings with its DDR2 1066, PCI-Express 2.0, and HyperTransport 3.0 support. This is not to say this motherboard is obsolete just that it is starting to show some age.