Foxconn's P45A-S: A Good Choice for the Gamer on a Limited Budget
George Ross, August 18, 2008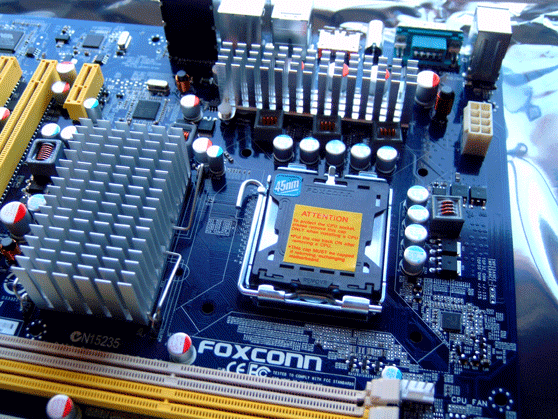 Introduction

Today we are taking a look at a P45 based motherboard from Foxconn. The first thing you may notice about the board is that it has two PCI-E x16 slots. Therefore leaving no doubt that this board it targeted at gamers, and of course this means it will be able to run all the latest and greatest thingamabobs Intel has to offer for the time being. This board is not as flashy as some other P45 boards, but this board relies on DDR2 memory making it friendly to the gamer on a tight budget. There is one catch the P45A-S does not officially support DDR2 1066 just DDR2 800.

Packaging & Contents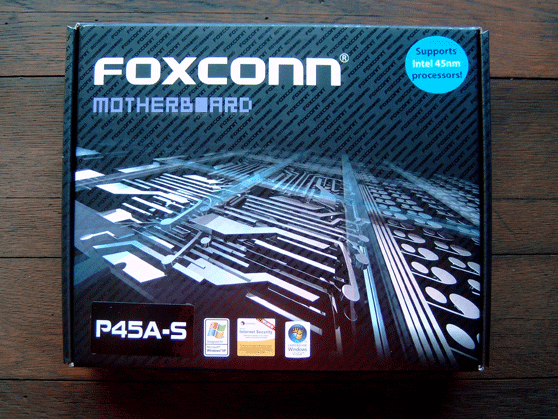 The P45A-S sports your basic motherboard box with a sparse amount of accessories quick install guide, user's manual, driver disk, rear I/O panel shield, IDE cable, floppy cable, SATA cable (x2), and 4-pin Molex to SATA power cable (x2). One thing that is different is the motherboard is on top of the accessories. Something you do not see everyday in motherboard packaging. Overall the packaging and the accessories are adequate nothing special.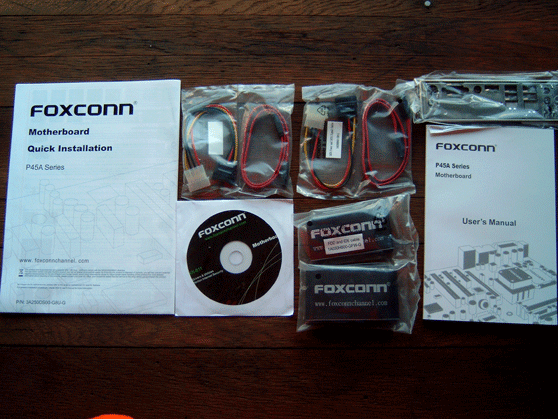 Layout

I like the layout of this board. It has plenty of room for all of your components. Even if you where to have a CrossFire setup with two slotted video cards you would still be able to use one PCI-E x1 slot and one PCI slot. The passive cooling system is not the best, but it gets the job done. I like the four USB headers and the IEEE 1394a header is nice to. External SATA is fast becoming a must have in motherboards in my opinion and it to is included. The eight pin CPU power connector insures that the CPU you use will get the power it needs. As I said before I like the layout of this board.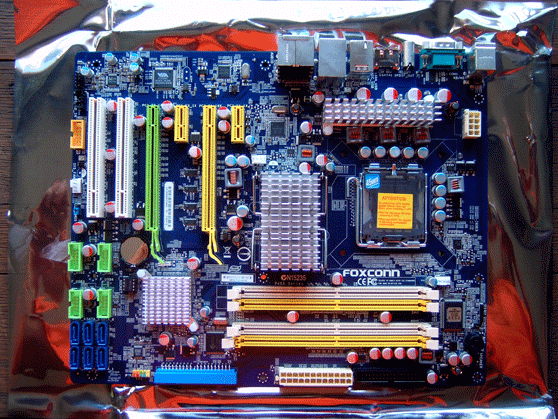 Overclocking

The P45A-S is a good little overclocker the BIOS sports an array of overclocking options. I was able to get my Q6700 up to 3.2GHz with stock voltages. The memory runs just fine at 480MHz (960 DDR) at 2.286V.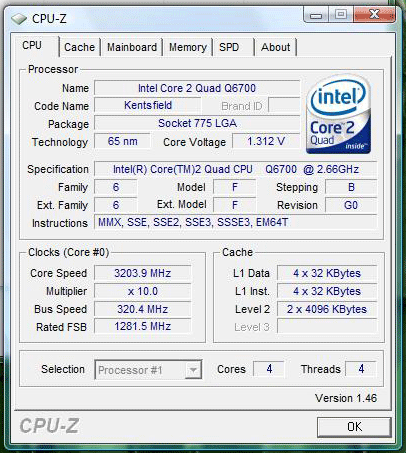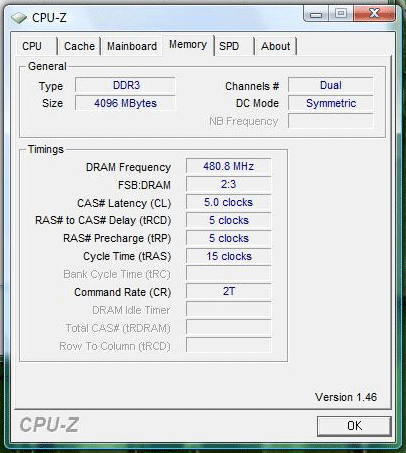 CPU-Z incorrectly recognizes the memory as DDR3.

The BIOS does have a cuple of cool features they are the Step Up Over Clock (an automated CPU overclocking tool) and the ability to apply voltages without rebooting. However there is no way to save profiles. Witch is something that does come in handy when you are trying to reach the absolute maximum overclock.

Test Hardware

I used this board to replace the one that was being used in my test system. There were differences in the comparison other than just the motherboard. The P31 setup had the video card running 710/1125 (core/memory in MHz) where the P45 setup had 675/1150, and the P45 setup the processor was overclocked to 3.2GHz while the P31 ran the processor at 2.6GHz. The P45 setup also was using the newer Catalyst 8.7 compared to the 8.6 that was used in the P31 setup.
Processor
Intel Core 2 Quad Q6700
Intel Core 2 Quad Q6700 @ 3.2GHz
Motherboard
GIGABYTE GA-P31-S3G
FOXCONN P45A-S
Memory
GeIL Evo One 4GB DDR2 1066 (PC2 8500) @ 5-7-7-20 Dual Channel Mode
GeIL Evo One 4GB DDR2 1066 (PC2 8500) @ 480 MHz (DDR 960) 5-5-5-15 Dual Channel Mode
Hard Drive
Seagate Barracuda ES.2 ST3250310NS 250GB 7200 RPM 32MB cache SATA 3.0Gb/s
Video Cards
SAPPHIRE Radeon HD 4850 @ 710 MHz core 1125 MHz (2250DDR) memory
Catalyst 8.6
SAPPHIRE Radeon HD 4850 @ 675 MHz core 1150 MHz (2300DDR) memory
Catalyst 8.7
Optical Disk Drive
Pioneer DVR-215DBK
Operating System
Windows Vista Ultimate x64
Gaming Benchmarks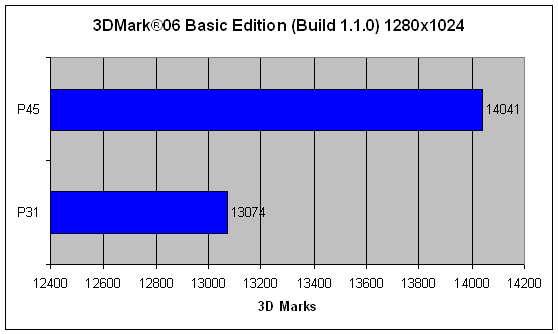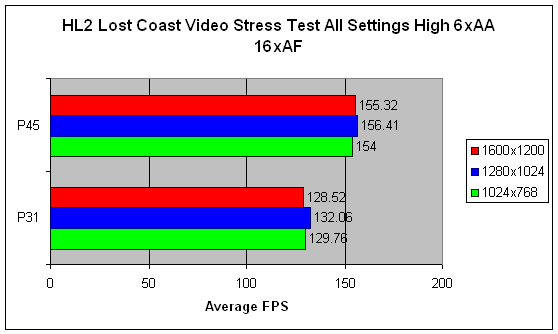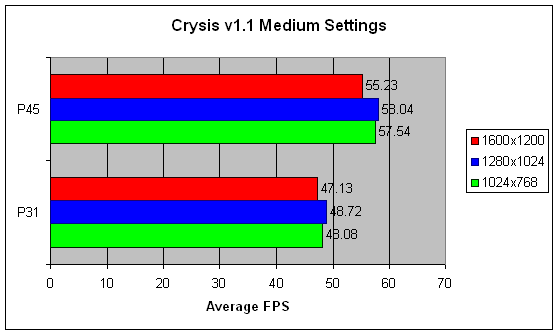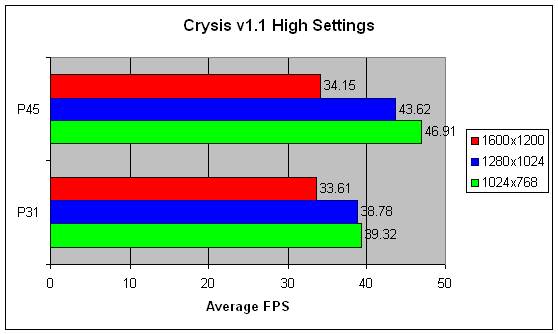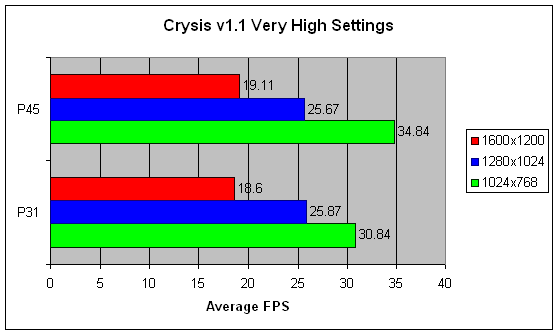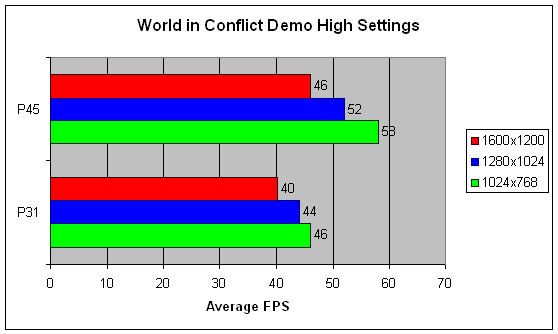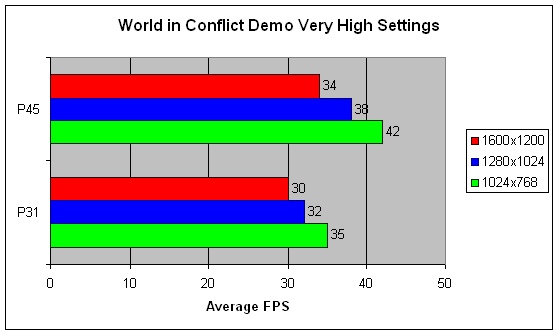 With a 15% increase in performance with a video card that is clocked lower than the one in the P31 setup. It smells like the HD 4850 is a little CPU bound.

Power Consumption

Of course this increase in performance also means an increase in power consumption. 15% at idle and 7% at full load is not bad given the performance boost.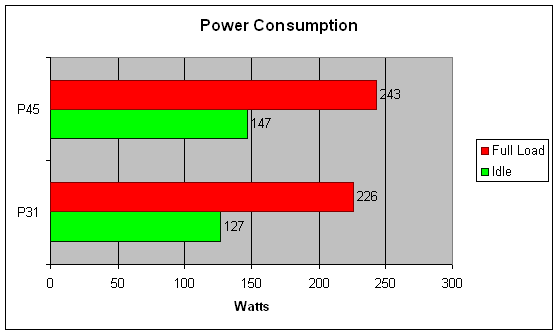 Conclusion

For $140 the P45A-S makes a real solid basis for that Intel based gaming or overclocking rig. Just don't expect it to be as bloated with extras like some other motherboards that are based on the P45 chipset. What you will get is a solid performing overclocking friendly motherboard and that is about it. The only real drawback is with the memory support not officially working at DDR2 1066. So be aware if you are not going to overclcock this board chances are your memory will not work at its full potential.