AMD's Phenom X4 9850 Black Edition: Is AMD Still Playing Catch-up in the CPU Arena?
George Ross, May 29, 2008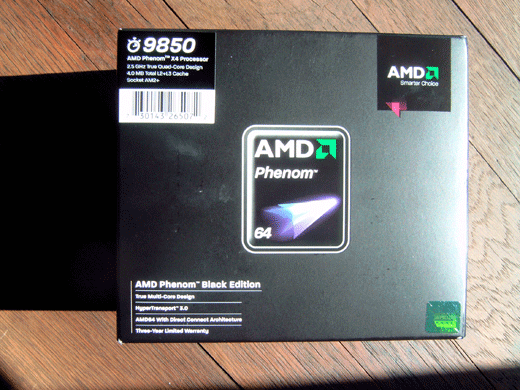 Introduction

AMD and Intel are selling the fact that more cores are needed in order to accelerate future computers. While the people who sell software drag there feet on making multi threaded apps. Intel has started providing the masses with great performing quad core processors. AMD on the other hand has had a hard time getting there all be it 'native' quad core in line. We all know about the TLB bug the hounded the first release of the Agena core, and the clock speeds did not come in as AMD had hoped. But now AMD has released the B3 revision of the Phenom line. Things are looking better for AMD now with TLB bug out of the way, but with the clock speeds are still a thorn in AMD's side.

Today we are going to take a look at the current flagship model from AMD the Phenom X4 9850 Black Edition and compare it to similarly clocked quad core the Intel Core 2 Quad Q6700 and AMD's old flagship model the Athlon 64 X2 6400+ Black Edition without bringing overclocking in the picture. Now let's see the rest of the hardware that was used in testing.

Test Hardware

I tried to get the Q6700 setup to match the 9850 setup as much as possible to achieve a sort of quasi apples to apples comparison.
Processors
AMD Phenom X4 9850 Black Edition
AMD Athlon 64 X2 6400+ Black Edition
Intel Core 2 Quad Q6700
Motherboards
GIGABYTE GA-MA770-DS3
GIGABYTE GA-P31-S3G
Memory
GeIL Evo One 4GB DDR2 1066 (PC2 8500) @ 5-7-7-20 Dual Channel Mode
GeIL Evo One 4GB DDR2 1066 (PC2 8500) @ DDR 800 4-4-4-12 Dual Channel Mode
GeIL Evo One 4GB DDR2 1066 (PC2 8500) @ 5-7-7-20 Dual Channel Mode
Hard Drive
Seagate Barracuda ES.2 ST3250310NS 250GB 7200 RPM 32MB cache SATA 3.0Gb/s
Video Cards
Nvidia GeForce 8800GT @ 675MHZ core 1688MHz shader 975MHz memory
ForceWare 169.25
Optical Disk Drive
Pioneer DVR-215DBK
Operating System
Windows Vista Ultimate x64
General Computing Benchmarks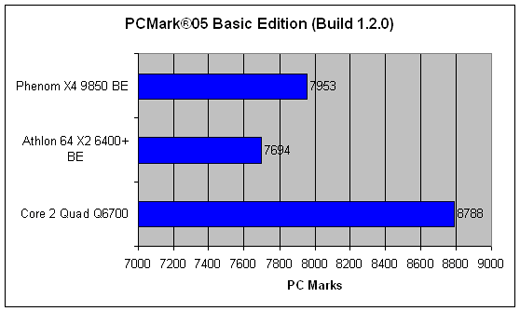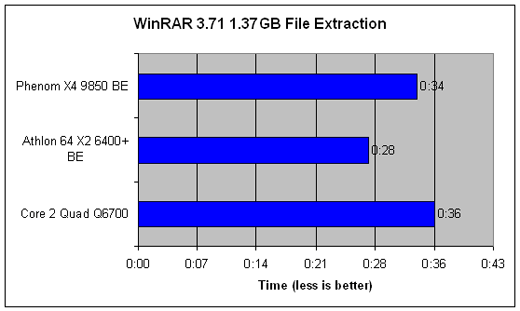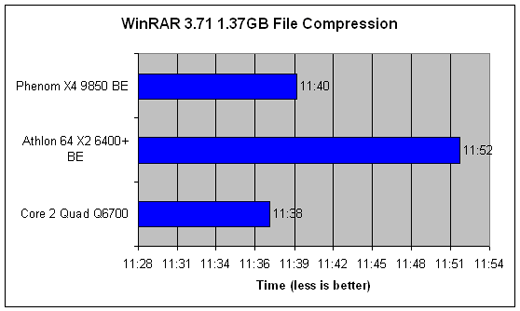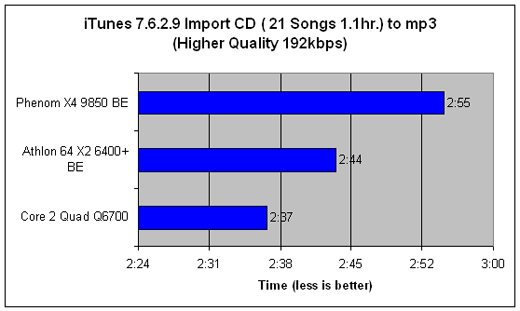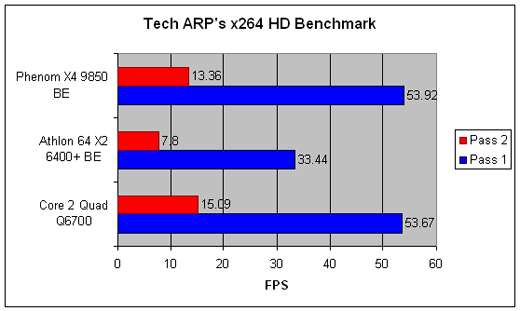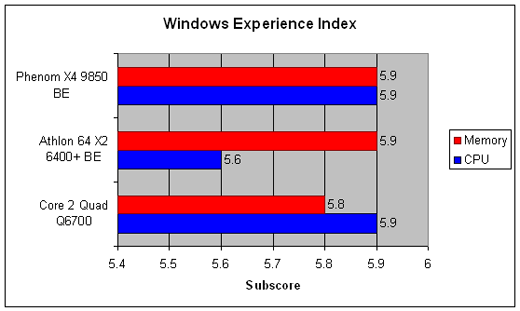 You may have noticed that the x264 HD Benchmark from Tech ARP has been added to the mix. Thanks a million Tech ARP and graysky. You can download the benchmark here.
The 9850 lags behind the Q6700 all the way. While it can compete with the X2 6400+ the 9850 still loses out to the X2 6400+ in file extraction, file compression, and mp3 encoding. If you are upgrading an AM2 setup beware more cores do not necessarily mean more performance in most cases at his point in time.
Gaming Benchmarks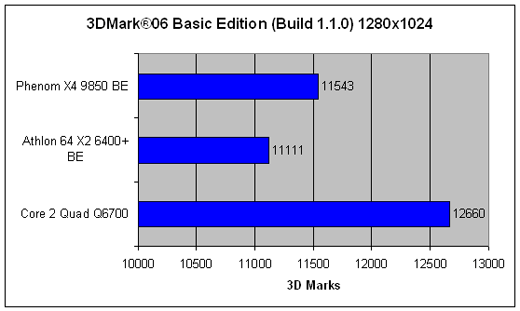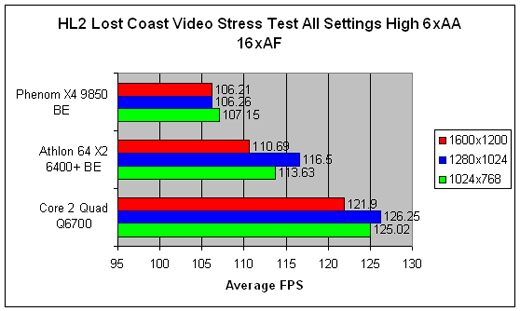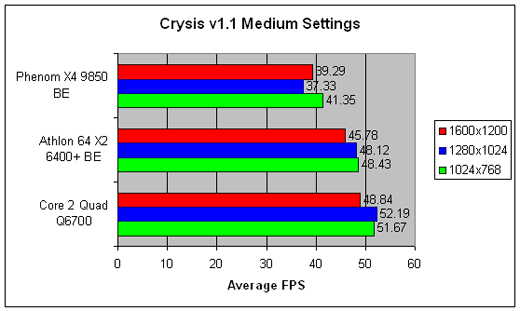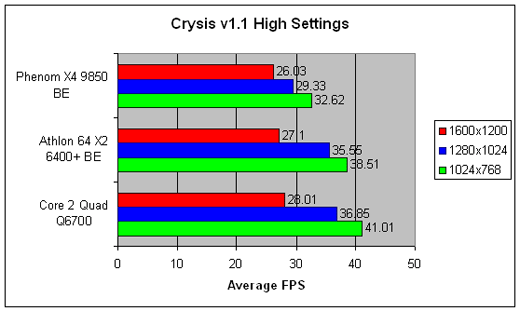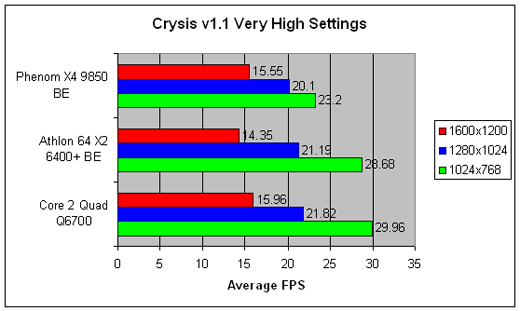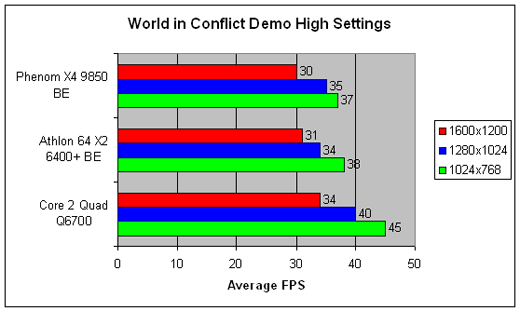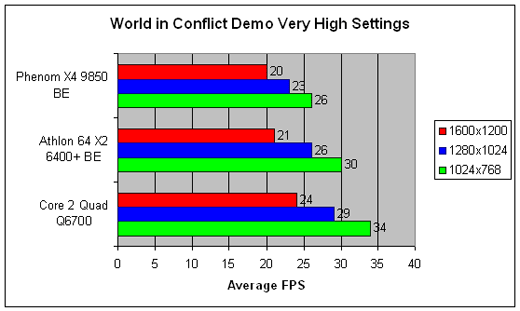 Games too are guilty of not making full use of the available processing power that multi core CPU's offer. So as a consequence the 9850 takes a beating from both the higher clocked CPU's as the results clearly show.
Power Consumption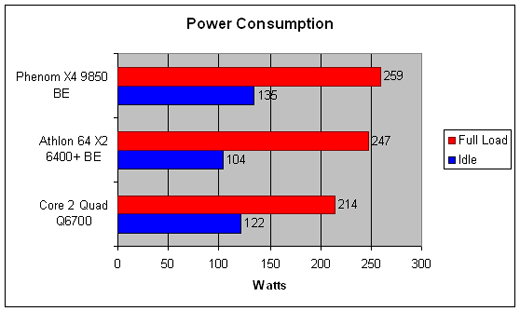 I had to bump the 9850's voltage up to 1.3V to get stable operation. If one could get the CPU to run at 1.2V lower power consumption could be achieved, but as it stands the 9850 eats up the power compared to Intel's similarly clocked quad core. Now I was a quite surprised Intel's Q6700 also beats out the X2 6400+ at full load.

Conclusion

If you are into hardcore gaming and all that matters is FPS then the Phenom X4 9850 Black Edition is not for you. If you are a current socket AM2 user looking to upgrade I would suggest looking at the application of the machine to be upgraded. As most apps are still not making full use of the processing power that is available to them.

Hopefully the transition to a 45nm process (Hopefully this year) can help AMD catch up to Intel in the CPU race, but for now AMD has done a good job of covering the mid-range quad core CPU segment. The prices are right compared to similarly performing Intel counterparts. So if you see a need for a quad core, but don't have to the fastest out there then the Phenom X4 9850 Black Edition will fit the bill. Other than that save your money better things should be coming in due time.