Thermal Compound Roundup: Helping to Keep Your Chips Cooler
George Ross, October 2, 2009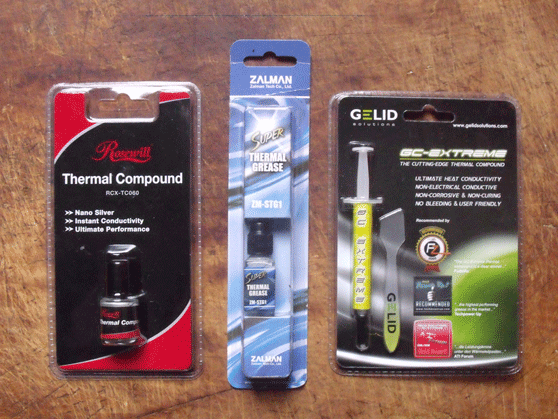 Introduction

Often times when you buy an aftermarket CPU or GPU cooler the manufacturer supplies the user with some sort of generic thermal compound. Some people use this included thermal compound and never give it a second thought, but there is a better way. Using high performance thermal compounds more often than not provides the user with no curing time and better cooling performance by transferring more heat off the chip and onto the cooler making the cooler more effective.

Today we will be taking a look at some thermal compounds from three different manufacturers to see which one does its job the best.

Contender #1 Rosewill RCX-TC060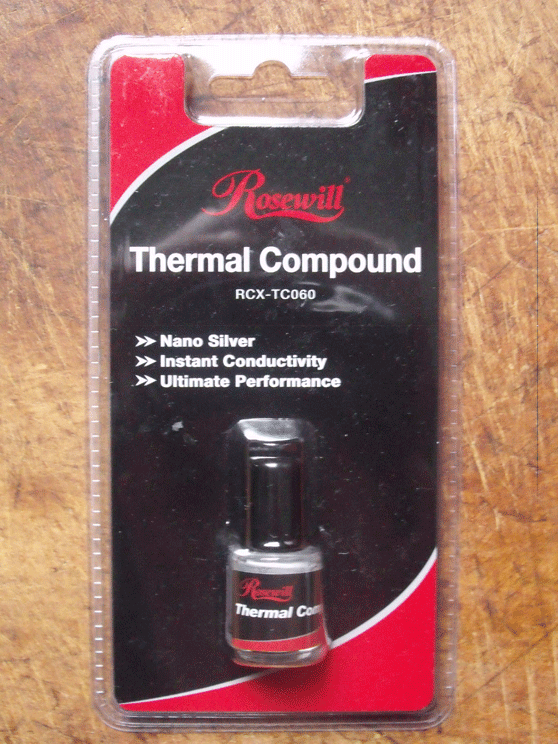 While Rosewill is not the first name that comes to mind when thinking about cooling solutions they have managed to put out a top notch thermal compound. It is based on nano silver technology and provides instant conductivity with no curing time. This compound has a nail polish styled brush applicator that greatly simplifies application.

Contender #2 Zalman ZM-STG1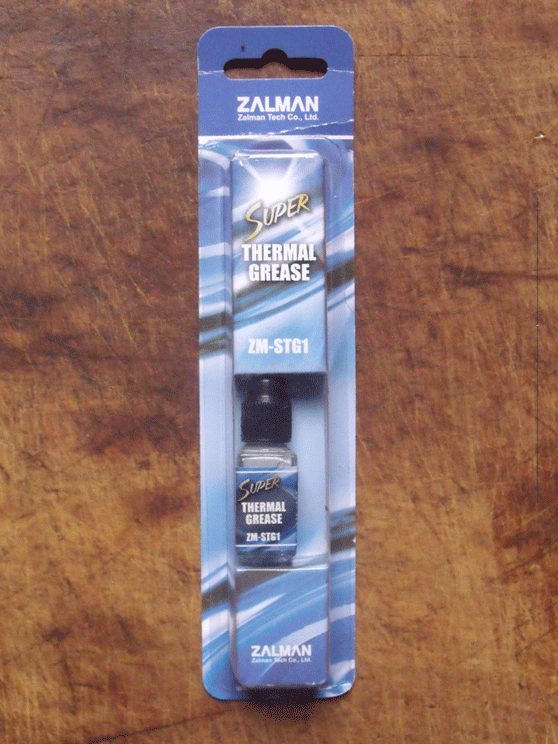 Zalman a long time player in component cooling of course also makes a solid non-curing thermal grease. Like Rosewill's thermal compound Zalman's features the nail polish styled brush applicator. ZM-STG1 has to be applied to both the chip and the base of the heatsink when it is used. Something you should keep in mind when using this stuff.

Contender #3 GELID Solutions GC-EXTREME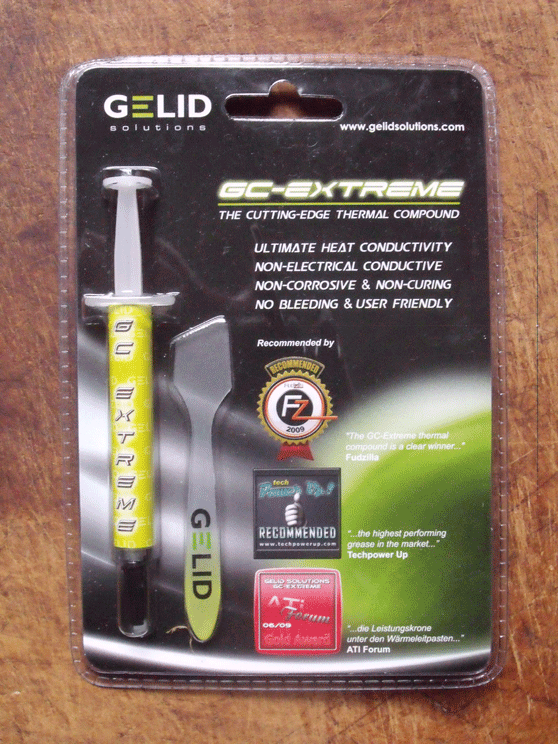 GELID is a newcomer in the PC cooling game and they claim to have the best heat conductivity of any thermal compound. It comes in a more traditional syringe like container and comes with an applicator to help you smooth it out when applying it. Just like the others there is no curing time. Maybe your seeing a pattern here.

Test Hardware

All tests were run on a HD 4870 with a VF1000 GPU cooler and ZM-RHS90 VRM heatsink in an open case environment that had a 20.5 degrees Celsius ambient temperature. Here is the rest of the information on the test system.
Processor
Intel Core 2 Quad Q6700 @ 3.6GHz
Motherboard
GIGABYTE GA-EP45C-DS3R
Memory
OCZ 4GB DDR3 1600 (PC2 12800) @ 720 MHz (DDR 1440) 7-7-7-28 Dual Channel Mode
Hard Drive
Seagate Barracuda ES.2 ST3250310NS 250GB 7200 RPM 32MB cache SATA 3.0Gb/s
Video Card
ATI Radeon HD 4870 @ 800 MHz core 1,100 MHz (4400 Gb/s) memory
Catalyst 9.9
Thermal Compounds
Rosewill RCX-TC060
Zalman ZM-STG1
GELID Solutions GC-EXTREME
Optical Disk Drive
Pioneer DVR-112DBK
Power Supply
FSP Blue Storm II 500W
Operating System
Windows Vista Ultimate x64 SP1



GPU Temperature

The GC-EXTREME has the best cooling performance with the ZM-STG1 nipping at its heels. Rosewill's offering shows its weakness under load conditions. So I wouldn't recommend it for overclocking situations.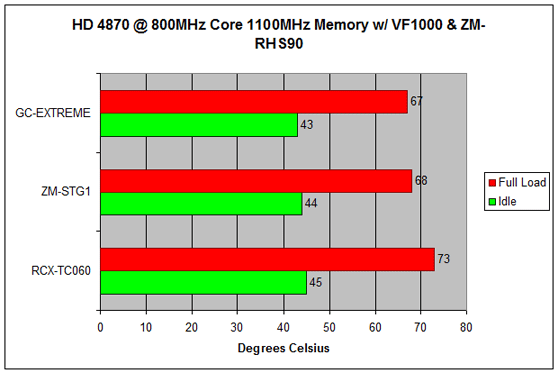 Conclusion

While GELID's GC-EXTREME offers the best performance out of the three tested thermal compounds it also comes with the highest price tag. $14 is what a tube of that stuff will cost you. If that sounds like too much money than perhaps you could settle for the ZM-STG1 that carries a price tag of $10. A bottle of RCX-TC060 also costs $10 so why not just get the ZM-STG1. If you are using that generic white thermal compound on your chips it may be time to look into getting more performance from your CPU, GPU, chipset, or VRM cooler and put a good thermal compound in between your cooler and your chip.