ECS's HDC-I2: The Cheapest E-350 Mini-ITX Motherboard Money Can Buy
George Ross, June 30, 2011
Introduction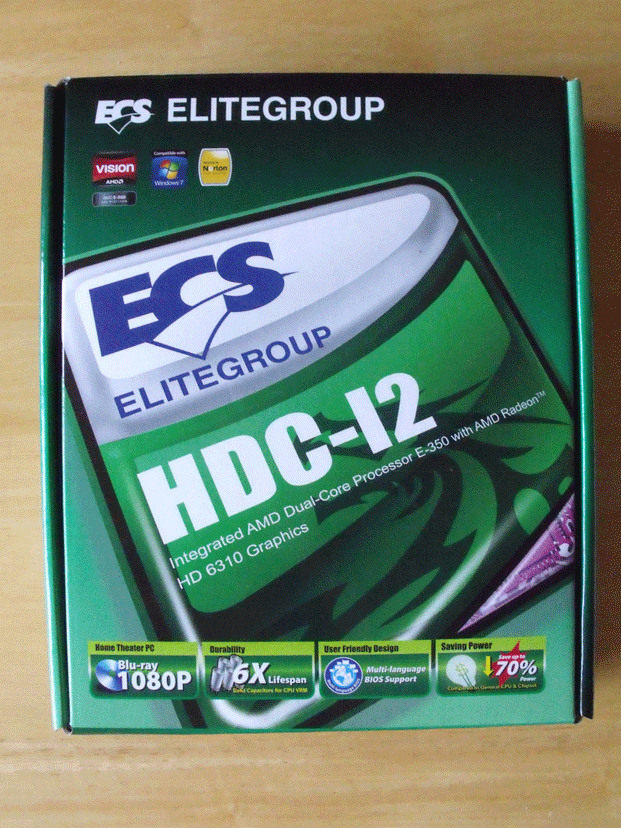 Are you trying to build low power PC that has the ability to playback full 1080p HD content on the cheap? If so then the HDC-I2 from ECS may just be what you are looking for. ECS has built the HDC-I2 with the primary goal of making it the cheapest E-350 based motherboard out there and as of right now they have succeeded. So what has been given up in order to achieve this level of pricing? Read on to find out.

Packaging & Contents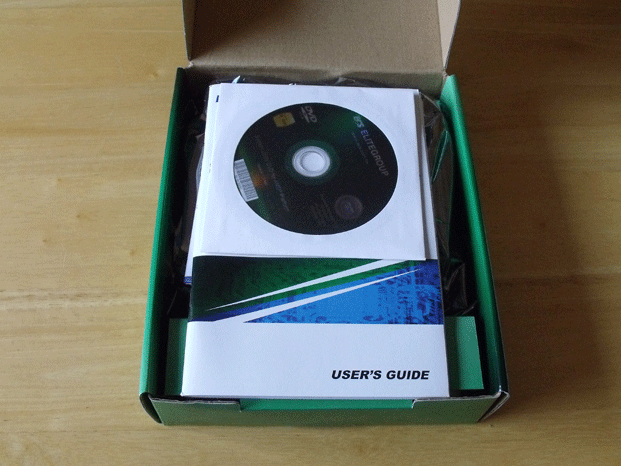 ECS has done a good job of packaging the HDC-I2. The motherboard is stuffed into an anti-static bag on top of a piece of foam and sits beside the accessories and is separated from them by a cardboard divider.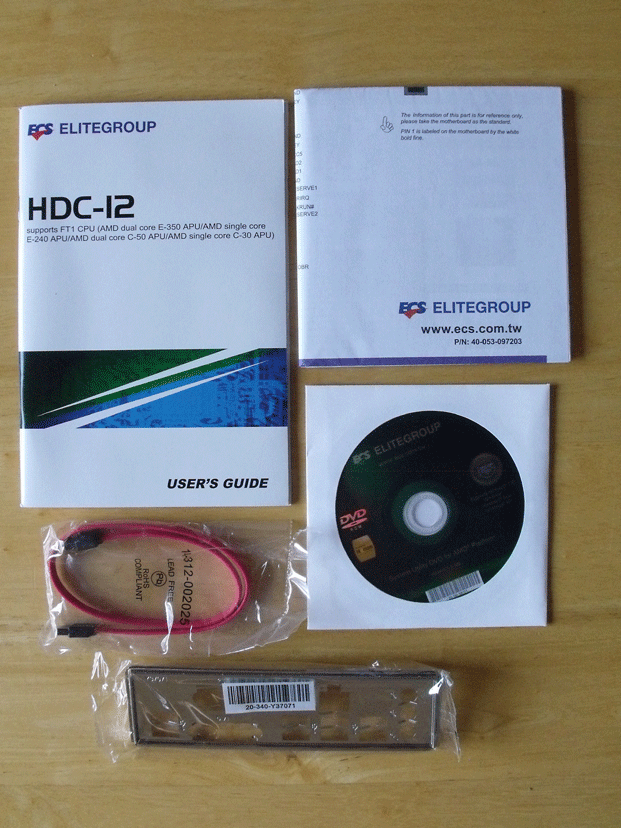 The HDC-I2 has everything that is necessary to it up and running a pair of SATA cables, an I/O backplate, a user manuaThe HDC-I2 has everything that is necessary to it up and running a pair of SATA cables (only one in the pic), an I/O backplate, a user manual, and a driver CD. I purchased my board before ECS started this offer, but now you get a coupon for CyberLink's MediaShow 5.1LE and MediaEspresso 6.5 LE. This ends December 31, 2011. Offering software that takes advantage of AMD's APP (Accelerated Parallel Processing) is a good move for the customer and in helping to push parallel processing into the mainstream.
Specifications
CPU
AMD Dual-Core Processor E-350
Chipset
AMD Hudson D1 FCH

Graphics
' On APU(ATI' Radeon HD6310 graphics)
' Integrated DirectX 11 graphics processor
' Support UVD 3
Memory
' 2 x 240-pin DDR3 DIMM socket support up to 8 GB
' Support DDR3 800/1066 SDRAM
Due to the operating system limitation, the actual memory size may be less than 4GB for the reservation for system usage under Windows' 32-bit OS. For Windows' 64-bit OS with 64-bit CPU, there is no such limitation
Expansion Slot
1 x PCI slot
Storage
' Support by Hudson D1
' 2 x Serial ATA 3.0Gb/s devices
Audio
VIA' VT1705 6-channel audio CODEC
LAN
' Atheros AR8151 GIGA LAN
' AR8152 10/100 LAN(optional)
Rear Panel I/O
' 1 x RJ45 LAN connector
' 1 x Audio port
' 1 x D-sub(VGA)
' 8 x USB 2.0 ports
' 1 x DVI connector
' 1 x HDMI Port(Optional)
Internal I/O Connectors & Headers
' 1 x 4pin CPU_FAN connectors
' 1 x Clear CMOS header
' 1 x Case Open header
' 1 x Speaker header
' 2 x USB 2.0 header support additional 4 USB ports (USB3, USB 4)
' 1 x F_Audio header
' 1 x SPDIF out header
' 1 x F_Panel header
System BIOS
AMI BIOS with 16Mb SPI Flash ROM
Form Factor
Mini ITX 170x170mm
Layout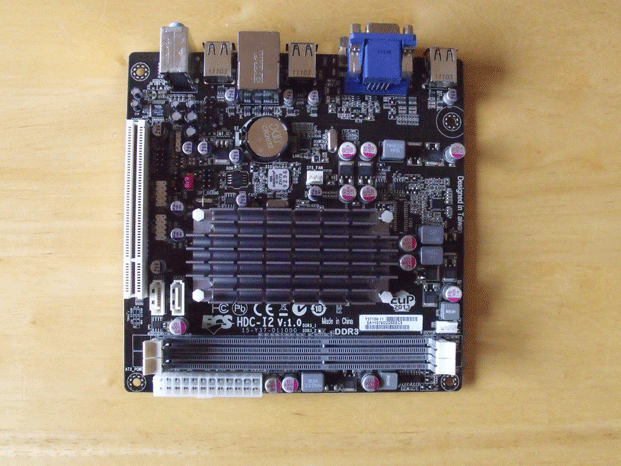 This motherboard is cooled by a passive heatsink that covers both the APU and chipset. This heatsink is very similar to the one that's featured on the 945GCD-M. There is a pair of memory slots for up to 8GB of DDR3 1066 memory. It would have been nice to see a PCI express slot instead of an older PCI slot. The HDC-I2 is only powered by a 24-pin main power connector. There is no 4-pin CPU power connector. The SATA connectors are limited to two even though the Hudson-D1 FCH (Fusion Controller Hub aka chipset) supports six SATA 2 connections. Anymore you want to see at least three SATA connectors so you can have an optical drive, a SSD drive, and a hard drive. Front panel connections include two USB 2.0 headers a front panel audio header, and a front panel LED/button header which are all are well placed. The clear CMOS header is located in amongst all the front panel connections. This makes it hard to access with all the wires and so forth in that area. Even though the HDC-I2 is passively cooled there are a couple of fan power headers a 3-pin one and a 4-pin one. Adding a cooling fan to this setup couldn't hurt as you will see later. The capacitors are a mix of solid and capped.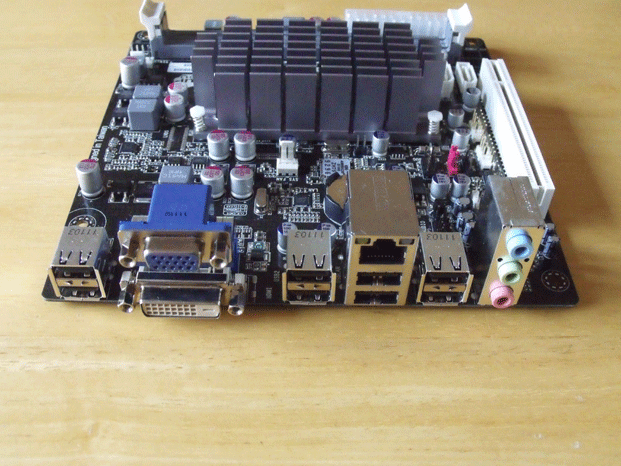 The attention to price is again evident when looking at the rear panel. While you do get eight USB 2.0 ports, DVI, D-Sub, and basic audio I/O there is no PS/2, HDMI, digital audio output, or S/PDIF output to speak of.

My overall impression of this board's layout is mixed. The attention paid to the price of this motherboard has stripped it of some of the Zacate platform's connectivity and expandability options. The real issue for me is the lack of SATA ports. Nowadays only having two SATA ports just doesn't cut it.

BIOS

ECS does use a UEFI but it is made to look like the old BIOS and lacks mouse support. All of the usual settings can be tweaked with the exception of APU voltages and clock frequencies. You can play with the memory timings and frequencies.

Test Hardware

The HDC-I2 was pitted against the E351-M Pro and an Atom D510 based configuration. Here are the rest of the particulars on the test systems.
Processors
AMD E-350 @ 1.6GHz
Intel Atom D510 @ 1.66GHz
Motherboards
ECS HDC-I2
ASUS E35M1-M Pro
Jetway NC94FL-510-LF
Memory
Mushkin 4GB DDR3 1600 @ 533 MHz (DDR 1066) 7-7-7-20 Single Channel Mode
Mushkin 4GB DDR3 1600 @ 533 MHz (DDR 1066) 7-7-7-20 Single Channel Mode
G.SKILL 4GB DDR2 1100 @ 400 MHz (DDR 800) 5-5-5-15 Single Channel Mode
Hard Drive
Western Digital Caviar Green WD5000AADS 500GB 32MB Cache SATA 3.0Gb/s
Video
AMD Radeon HD 6310
Intel GMA 3150
Optical Disk Drive
LITE-ON HES208
Power Supply
FSP Blue Storm II 500W
Operating System
Windows 7 Ultimate x64
General Computing Benchmarks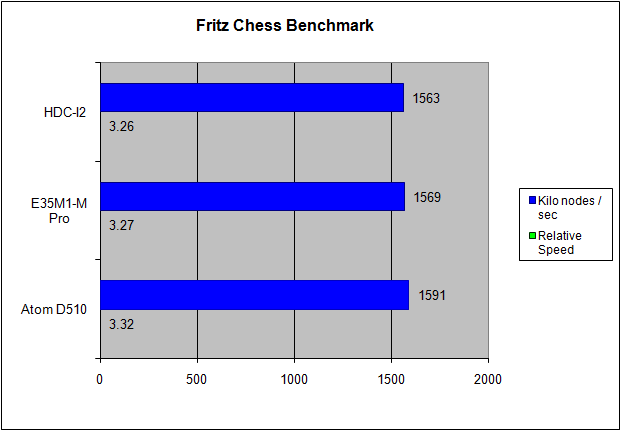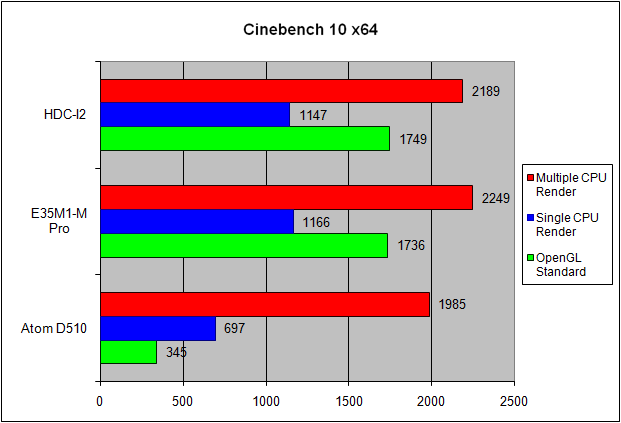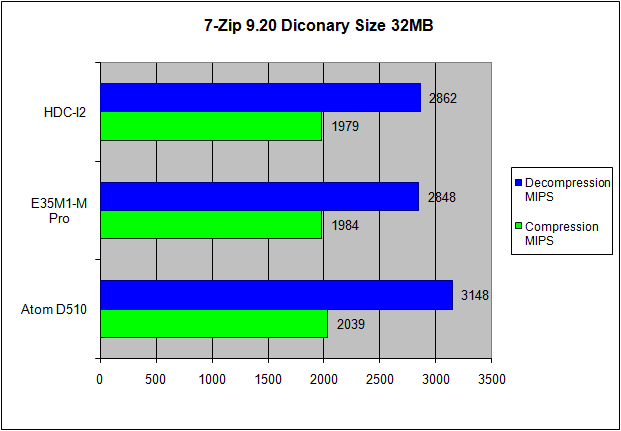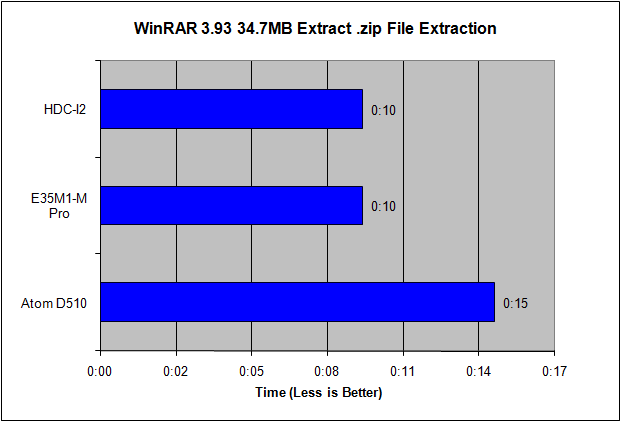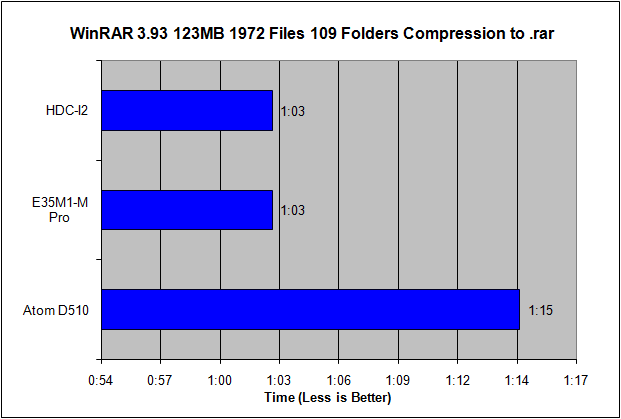 The HDC-I2 seems to perform on par with the other E-350 based motherboard.
Gaming Benchmarks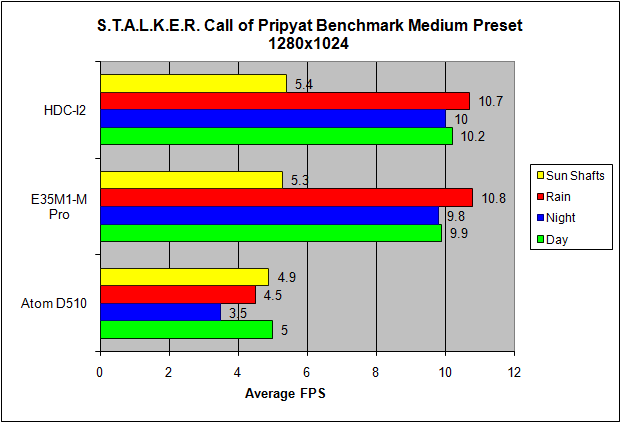 No one is going to game with the integrated HD 6310 graphics. These tests do show the clear performance advantage that the integrated HD 6310 graphics do have over Intel's GMA 3150.
Power Consumption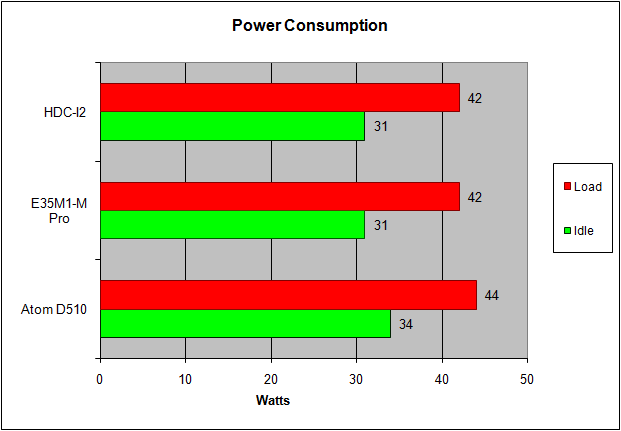 The HDC-I2 and the E351-M Pro consume the same amount of power.
APU Temperature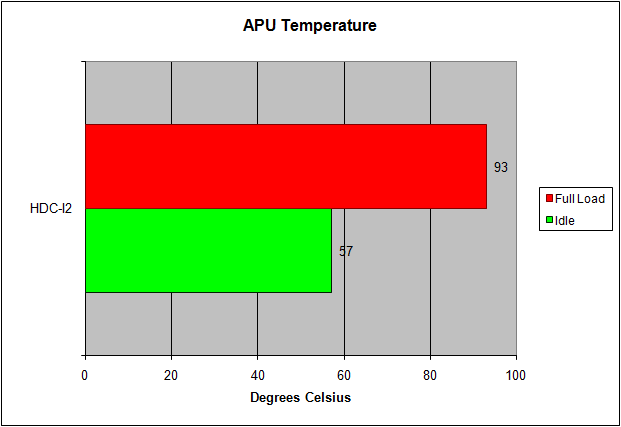 While I have seen and liked other passively cooled Zacate based motherboards the HDC-I2 gets a little too hot for my taste. These tests were done in an open case environment with an ambient temperature of 24.44 degrees Celsius. I recommend that you make sure you have good air flow to anyone who would use this motherboard.

Conclusion

ECS did do the one thing the set out to do when designing the HDC-I2. Make it inexpensive. The HDC-I2 is least expensive Zacate based motherboard that I have seen being priced at $107 shipped. Although the HDC-I2 packs all the performance of other Zacate based motherboards for less money it also comes with less storage, connectivity, and expandability options. So buyer beware make sure that if considering the purchase of a HDC-I2 for a build that it meets all of your storage, connectivity, and expandability requirements. If it does a good deal is what this motherboard serves up and for a limited time you can get some free software that showcases the APU's features just to sweetn' the pot for ya.